Lifelong Harbour dairy farmer Jim Hunt passes at 83
By Jake Davies - West Carleton Online
FITZROY HARBOUR – James 'Jim' Hunt lived his entire life in Fitzroy Harbour dedicated to the dairy industry operating Whitlock Farms.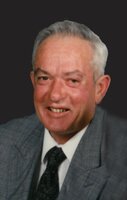 Hunt passed away on March 18, at his home surrounded by family, at the age of 83.
Jim's wife Kathy (nee Coe) passed away 16 years ago on Oct. 30, 2006 peacefully at the Arnprior Hospital following a long battle with cancer. Jim is survived by his two children Jeffrey and Eleanor as well as three grandsons. He is survived by his brother Jean Hunt.
"Jim devoted his life to Whitlock Farms working hard over the years and was a longtime member of St. George's Anglican Church in Fitzroy Harbour," his children wrote in his obituary. "He will be missed by his community and many friends and colleagues throughout the area."