Last household hazardous waste drop-off Sunday off Carp Road
By Jake Davies - West Carleton Online
CARP – The city's last household hazardous waste event of 2022 is tomorrow (Oct. 23) and it's nearby.
The household hazardous waste depot will be held at the Westbrook Snow Dump Oct. 23 at 200 Westbrook Rd. just off Carp Road. The depot will operate from 8 a.m. to 4 p.m.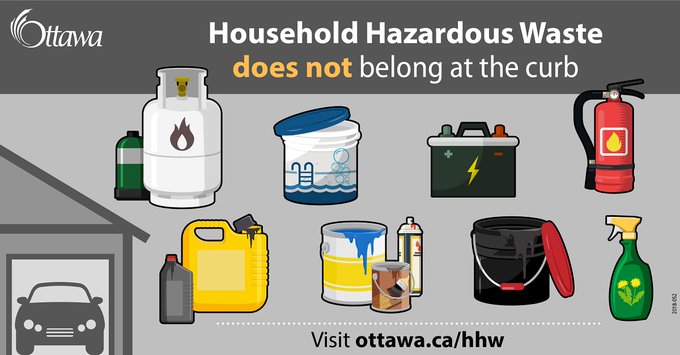 "Upon arrival, residents will be directed into a queue where they will wait their turn to park in a designated area," city staff released in a statement. "All vehicles will be spaced accordingly, and residents must remain in their vehicle at all times."
Residents arriving on bicycles are permitted to drop-off materials, and they must follow the instructions provided by staff on site.
Residents will not be able to sort their material on site. Residents must remain in their vehicle at all times.
"Staff will remove the material from the trunk of the vehicle by complying to restrictions of physical distancing," staff said.
The event will accept household hazardous waste only. No electronic waste will be accepted. Residents can bring electronic waste to the Trail Road Landfill facility at no cost or can contact a participating Take it Back! member to arrange for proper disposal.
Bins, totes, gas cans, etc. will be returned to the resident, if requested.
If using a cardboard box to transport your material, please line the box with a garbage bag for possible leaks.
The last vehicle will be emptied at 4 p.m.
"Did you know that you can safely dispose of many kinds of household hazardous waste year round," staff said. "Items including fluorescent bulbs, batteries, paint and oil, can be returned to participating local retailers during their regular business hours."
For a list of retailers who accept returns of household hazardous waste, enter the item in the Waste Explorer.