Kelly: Spring flood update
The Councillor's Column
This week has seen a slow recession of flood waters, much to the relief of myself and our entire community.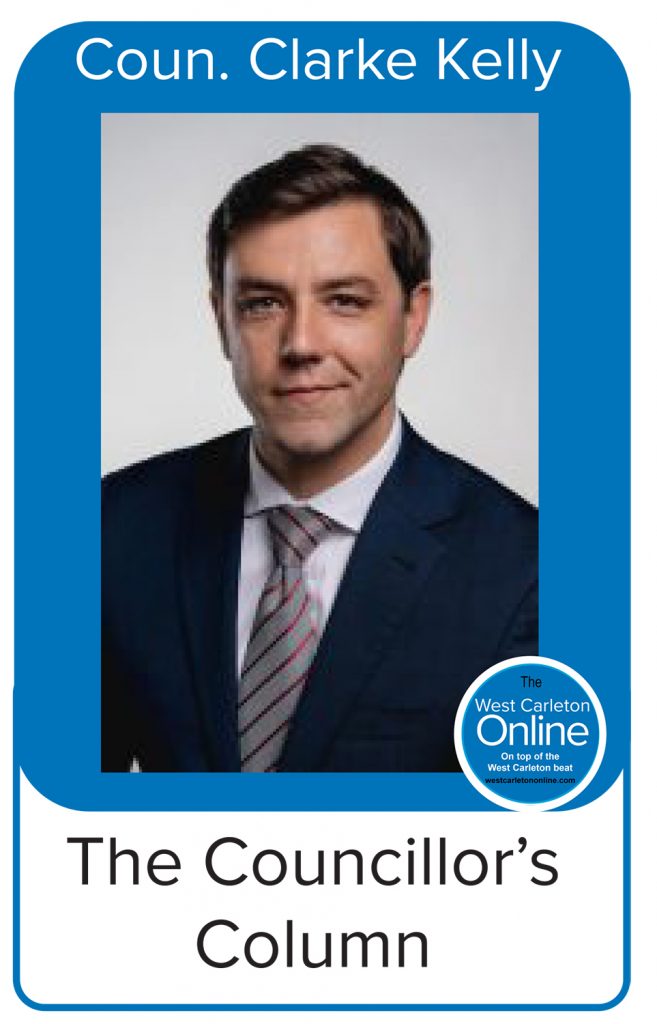 I have been consistently impressed with the work of volunteers, City staff, Councillors, and other colleagues who made the long trip out personally and also those who helped with coordinating sandbagging activities. The help and support of the entire Council staff was much appreciated during this difficult time and anything we managed to accomplish was due to the group effort.
I must also personally thank West Carleton Disaster Relief, the Capital Framers group, the 20/20 Roofing crew, Malwood, Christian Aid Ministries, Mennonite Disaster Relief, West Carleton Secondary School, St. Michael School Fitzroy Harbour, All Saints Catholic High School, the ESA and Enbridge contractors, and anyone who came out to assist in helping. I spoke to Ottawa residents who lived downtown, who lived in Alta Vista, who lived on farms and in houses far removed from any flood risk and seeing them come out for the people of West Carleton – March was truly heartwarming.
Now comes the time for a review of lessons learned so we can better prepare ourselves in the future and understand what mitigation procedures need to be put in place.
Spring Flooding Cleanup Operations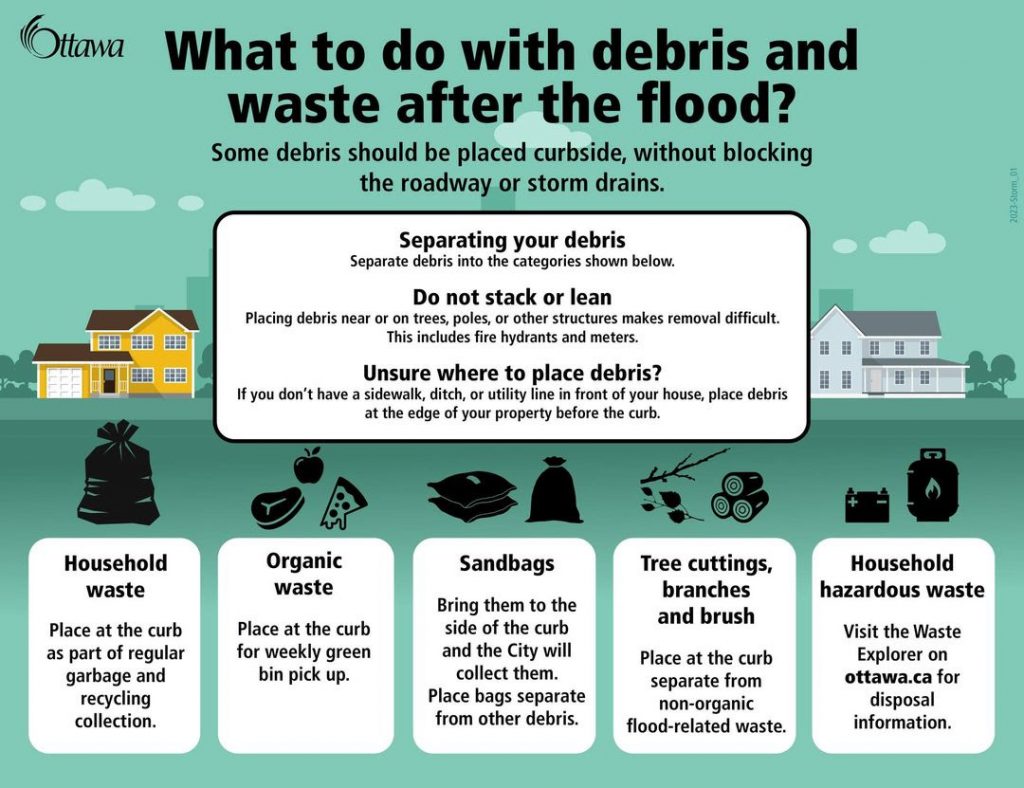 Curbside collection of used sandbags begins Tuesday and will continue intermittently for the next couple of weeks until the need has subsided. Please bring filled, used sandbags to the curb for collection.
Sand and sandbags that have come into contact with flood waters may have been exposed to contaminants. Please wear gloves when handling them. Also, never dispose of sandbag contents in lakes, rivers, beaches, parks or other protected areas.
Any flood-related household waste/trash can be placed at the curb as part of your regular garbage collection. Visit the City's Spring Flooding 2023 page for information about:
• restoring septic systems after a flood
• resuming use of your private well after a flood
• restoring power after a flood
• cleaning up after a flood
While homeowners are responsible for bringing bags to curbs, we are working on coordinating volunteers to help those who are unable to move bags themselves. Please contact WCDR or our office to report your address as needing assistance with removal if you are not able to do it yourself.
Priorities in West Carleton-March
I had the opportunity to sit down with fellow Councillors and the Mayor to discuss a strategic plan for the city. Having a clear goal in mind helps our entire group work more cohesively for the people of the city who have given us the opportunity to be their representation. I used my time to press for rural road maintenance as a major part of what needs to be accomplished moving forward. I also pressed for increased investments into paramedics, additional food supports, and support for local agriculture. We live in a Ward that has few (nearly no) options for groceries, some roads that are barely passable, and our residents have a longer wait time for ambulances than others in the city. These are some of the priorities I wanted to share with the mayor in hopes that we can work together to make this area of the city much more livable.
West Carleton Food Access Centre
This past week it was a pleasure to attend and take part in the Annual General Meeting for the West Carleton Food Access Centre. The last several years have been hard on people in many ways and increased food insecurity caused by financial hardship is obvious when looking at the increase in demand for the services of the WCFA, which sadly is up fifty-four percent from last year. The good news is that the hard work and dedication shown by those involved with West Carleton Food Access Centre has allowed the organization to provide food and other household necessities to all of those who are in need. It was incredible to see how this group manages to support the dignified assistance of those who need help with food security. I walked away from this meeting extremely proud of the community I grew up in.
Disaster Preparedness Meeting This Week

I was also pleased to take part in an educational event put on by West Carleton Disaster Relief. With the increase in adverse weather events over the last number of years it has become clear that we need to be more prepared, not just as a community, but also as families and individuals. This event was well attended and focused on educating residents on what we can do to be more prepared for floods, tornadoes, wildfires, ice storms and more. There were speakers from Ottawa Fire, Ministry of Natural Resources, City of Ottawa, Red Cross, and West Carleton Disaster Relief. The main take away from this event was to have a plan and be prepared with all the supplies you will need for several days. We should all be prepared for 72 hours without power.
You can find out more on how to be ready for a disaster here by visiting West Carleton Disaster Relief's website.
Please enjoy the spring weather and have a safe and happy Victoria Day weekend.
To read all Coun. Clarke Kelly's columns, click here.
The preceding column was written by City of Ottawa Ward 5 Coun. Clarke Kelly, part of the councillor's ongoing, bi-weekly column for West Carleton Online, made available to the entire community through an agreement with the publisher.