Harbour to host second COVID-19 vaccine clinic starting Aug. 17
Special to WC Online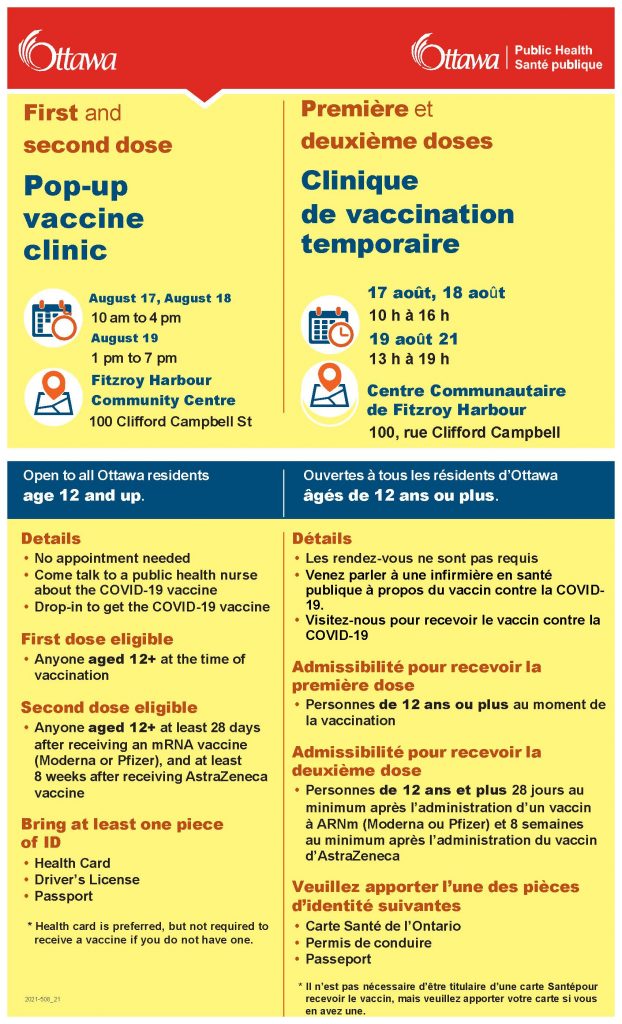 FITZROY HARBOUR – The town so nice, Ottawa Public Health (OPH) is visiting it twice.
Hot on the heels of last week's pop-up vaccine clinic at the Fitzroy Harbour Community Centre, the OPH will host a second clinic for first and second dose COVID-19 vaccinations back at the centre, Aug. 17, 18 and 19.
The clinic will operate from 10 a.m. to 4 p.m. on Tuesday and Wednesday, and from 1 to 7 p.m. on Thursday. No appointments are necessary.
"Please bring at least one piece of identification (Health Card, Driver's License or Passport)," El-Chantiry's office said.
"Appointments can only be made in-person and on a first come first served basis, while supplies last."
The first vaccination clinic held in Fitzroy Harbour over the Aug. 6 weekend hosted 54 vaccination recipients. Twenty-four came for a first dose, while 30 were there to receive their second dose.
Ottawa Public Health has held two previous vaccination clinics in West Carleton during the COVID-19 pandemic. The first was held at the West Carleton Community Complex over the April 1 weekend when 450 received first doses.
The second, a follow-up for those who attended the first, was held June 22 at West Carleton Secondary School.
The West Carleton Family Health Team hosted two drive-through vaccination clinics at their Carp-based clinic on April 19 and April 26.
Vaccinations are also available at two West Carleton pharmacies – the West Carleton Drug Mart in Carp and the Constance Bay Pharmacy.