Garlic Festival a Farmers' Market hit
CARP – It's been a challenging growing season as any West Carleton farmer will tell you, but the Carp Farmers' Market annual Garlic Festival waits for no herb.
The market celebrated its 20th festival under beautiful weather and thousands came out to enjoy the weekend long festival Aug. 10 and 11 and stock up on garlic supplies.
This year has tested the abilities of farmers across the region with an incredibly wet spring that had little sun and prevented farmers from getting equipment in the fields. And then at the flick of a switch, it became a very dry summer as weeks passed with nary a drop.
For Acorn Creek Garden Farm, a regular at the market, the loads of fresh, local garlic on display just came out of the ground just last week.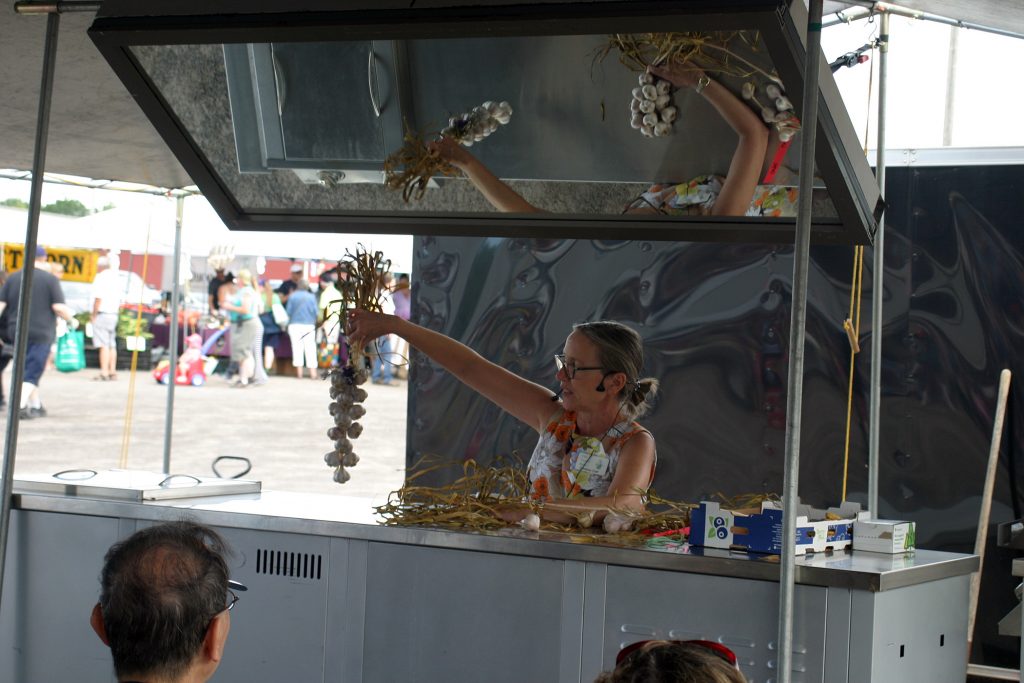 "It's been challenging," farmer Andy Terauds tells West Carleton Online from the festival Sunday morning (Aug. 11). "Sunday, Monday, we finished picking. Started braiding Friday. I had to bring in some help this weekend. They're braiding like crazy."
They have to. There's a lot of people at the market looking to buy garlic.
"It's been very good," Andy said. "Great weather. Lots of people. Selling lots. That's the most important thing."
Andy says the farming community has been working hard dealing with a tough growing season. Andy and his wife Cindy each have a degree in agriculture from McGill University. They farm roughly 100 acres near Carp. They bought the place in 1978 specifically because of the soil.
"We have very good soil," Andy said. "Most people don't grow on clay-loam soil. We do. If you want local garlic for winter, it doesn't matter who you buy it from, buy it soon. It won't be around long."
While garlic was plentiful at the festival, sweet corn was not. Hudson's Corn has long been a regular at the Garlic Festival, and despite not selling garlic, was conspicuous by its absence.
The famous sweet corn producer only started selling product this week. The slow start to the season, pushed the family farm's sweetest product back by a couple of weeks.
West Carleton Online caught up with Brian Hudson yesterday (Aug. 13), at the family's Panmure Road vegetable stand.
"That is normally one of our biggest weekends of the year," he said while closing up the stand for the day. "We just weren't ready."
The Garlic Festival featured more than 120 local vendors, not all of them selling garlic. Garlic-themed workshops were featured in a tented viewing area in the centre of the stalls. Catherine Cheff taught garlic braiding; John Moore talked Growing Great Garlic and Tristan provided a cooking demo.
Visitors could test their mettle and down garlic shots. Market vendor Hedgeview Farm Organics won the Jim Craig Memorial Award for the Best Garlic Booth.