Flood work continues through weekend
The Councillor's Column
(Editor's note: As we did during the 2017 flood, 2018 tornado, 2019 flood and COVID-19 pandemic, we are making our coverage of potential extreme flooding in 2023 free access to our entire community providing flooding updates, on-site coverage, important information and resources to West Carleton and beyond, so those outside the area can better understand what is happing in our rural community)
CONSTANCE BAY – While the Ottawa River Regulating Planning Board (PRRPB) expected the river to peak Friday (May 5), West Carleton Disaster Relief (WCDR) volunteers and riverside residents noticed a rise of several centimetres Saturday (May 6) as they continued to try to protect homes in West Carleton.
On Saturday, at 5 p.m., the ORRPC measured the Ottawa River at Constance Bay at 59.38 metres above sea level. That is two centimetres higher than the May 5 noon measurement of 59.36 m. While those numbers are lower than the first peak on April 21 (60 m), visually, when West Carleton Online visited Bayview Drive in Constance Bay Saturday afternoon around 3:30 p.m., the water looked higher than it had all freshet long and noticeably higher than the May 4 visit, there were more sandbags and pumps deployed and there were more houses surrounded by water.
The good news is there were many more volunteers working at the sandbag filling station at the Constance Bay community centre as well. West Carleton Online spoke to a small group from Kanata that came out to help their neighbours. Today (May 7), West Carleton Online was unable to visit Constance Bay but the volunteer organization Langar for Hungar was bringing their team to Constance Bay to fill sandbags. The organization also came out in 2017 and 2019 to help.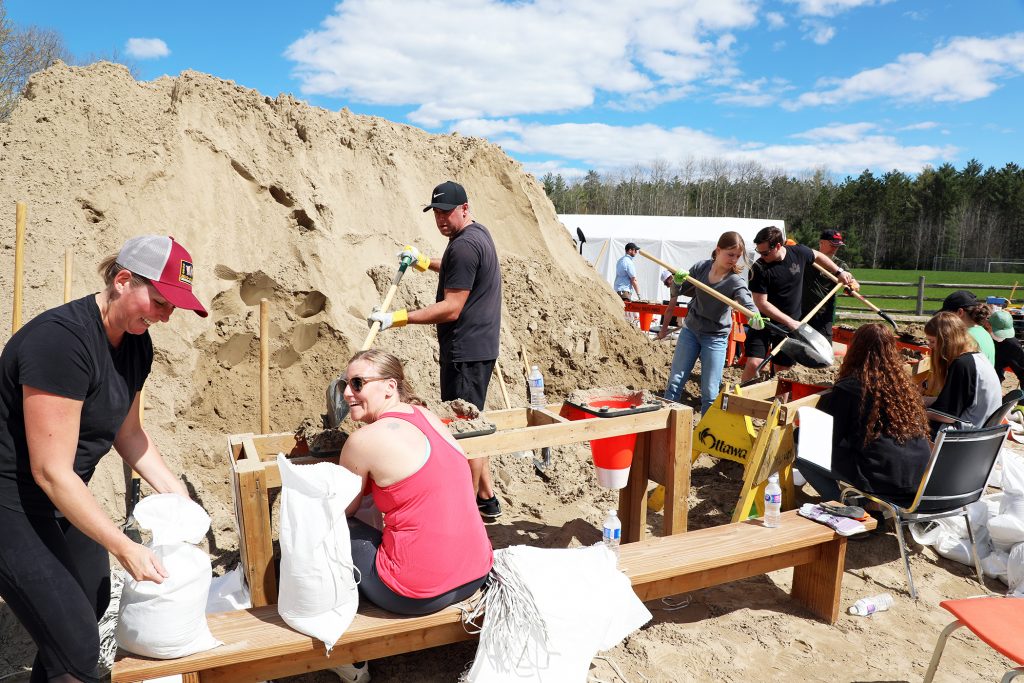 On Friday (May 5), three homes in West Carleton had both their electricity and gas utility services cut to their home due to the rising water. A handful of others had one or the other service cut.
On Saturday (May 6), Coun. Clarke Kelly told West Carleton Online that number was probably over 10 now. Of course, without electricity those homes can not continue to pump water out of the structures.
"It's supposed to come down over the next two days, according to the forecast," WCDR co-chair Hanns Baader told West Carleton Online from the community centre Saturday. "If the wind and the waves come up, we're not done with the work yet. Some of the walls are okay for today, but if the water does come up that could be a problem. If the waves come up, they can breach the walls. Today (May 6), a lot of the work was going around looking at where is the water was close to the top, putting another level on top of those sandbag walls, reinforce those walls. I was all around the Bay today, Bayview Drive, Baillie Avenue, and depending on how low the house and how old the house was, which means they're closer to the water, we're rebuilding and reenforcing those walls. Lots of houses that have water, more or less all around, you have to extend those walls back up so the water can't get around an in."
Another challenge, despite the daily updates from the ORRPB, what the river will do is still a big unknown. It's not really known if West Carleton has received all the runoff from the northern Ontario freshet. Predicting the weather is also a challenge, but at the moment there is no rain in the forecast until Thursday (May 11), when one millimetre is forecast.
Baader says volunteers are preparing for the worst but hoping for the best.
"Since we don't know what the weather is going to do over the next few days and the water is not going to come down quickly, it's all hands on deck to continue to fill sandbags," Baader said. "That way, if we do need to reinforce and do more work, we're ready to go. It's easier to get volunteers out when the sun is out on the weekend. People are back at work or high school students are back in class. We can always use more."
Along Bayview Drive, the road has been closed to local traffic only. Not quite as bad as 2019 when the road was closed to everyone with police positioned at roadblocks, and the entire section of street had its power cut off. But this past weekend the high water is now fairly high on both sides of the road, although not crossing Bayview at any point.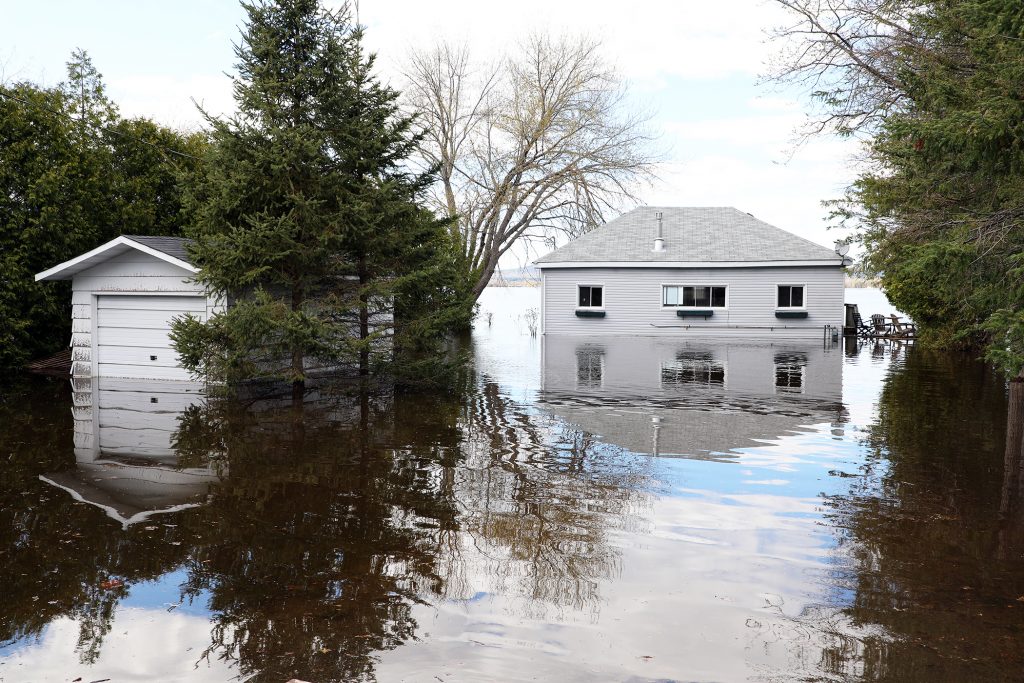 Retired Kanata resident Allan Ross is loading sandbags into a wheelbarrow at the end of the driveway; walking into the water in his son Greg's driveway; and working on a sandbag wall in about two-and-a-half feet of water (one metre). Greg is currently looking after his own sons, both of which are sick right now. He says he hasn't really noticed a change in the water levels.
"I can't really notice one centimetre," Allan told West Carleton Online Saturday while continuing to work on the sandbag wall. "The place belongs to my son. I'm his workforce today. He's owned the property since 2004. Three floods have set us back, and the building is still under construction. If we didn't have these floods, the place would have been finished five years ago."
Allan has spent the week here working on flood mitigation.
"Been here every day this week," he said. "I've put in five or six hours today, until my sandwiches and coffee runs out. We're fortunate in that we don't need heat, we don't need power, the electricity is cut off at the breaker, there's still power along the street, and as far as I know, the gas people haven't cut off our neigbours' yet either."
He says he isn't dreading the work.
"I don't really mind," Allan said. "I'm retired. It keeps me out of the bars. It's kind of confusing. We have a good friend who lives in Temiskaming, QC, and she said two weeks ago the Ottawa River was very low and they were pretty well finished their spring runoff. The water here is being contributed to by the Mississippi River, the Madawaska River, and that rain didn't help. We hear all the reservoirs are full and they're going to have to release some water. I can see that they have to keep the dams from flooding and from damage being done to the infrastructure and the dams, but it's at the expense of people down here. There needs to be a better plan. There needs to be a reservoir that can hold all the spring runoff, but that would be half the size of Quebec. We've had three 100-year-events in five years. Something is different, something's changed. The easy answer is global warming I guess, I kind of think there's water storing technology behind it too. As you can see the next door neighbours are flooded out too. The water over here (pointing to the other side of the road) is not connected to the river at all. It's groundwater because it's all a big sandbar."
The three-day forecast provided by the ORRPB expects the Ottawa River to hit a potential peak of 60.25 m.
If you are able to volunteer this week and help West Carleton riverside residents make it safely to the plateau expected this weekend, the best way to do so is through WCDR's website here. By registering, WCDR will ensure volunteers are well supported including food and water. Students who volunteer will be able to put that time towards their required volunteer hours needed for graduation.
To see all West Carleton Online's coverage of the 2023 freshet, click here.