Flood: Volunteers racing against time
By Jake Davies - West Carleton Online
CONSTANCE BAY – By the time West Carleton Online showed up at sandbag central in Constance Bay today (April 20) around noon, the stockpile of some 3,000 sandbags, all filled yesterday, was all but gone.
Day 2 of the call for volunteers saw another strong showing of people willing to give up their Easter weekend to support those facing an uncertain future and another day of challenges to overcome.
Estimates were around 90 came out to volunteer their time on Good Friday, and according to Sauvetage Bénévole Outaouais – Ottawa Volunteer Search and Rescue (SAR) member Laura Smith "when it's all said and done, we'll be on track to do that today (April 20) as well."
Day 2 also had an increase in the number of people coming by to pick up sandbags.
"We're here to make sure everything is orderly and safe," Smith said. "We want to make sure that our volunteers are taken care of and things are running efficiently. Everything is orderly and everything is safe and our volunteers are taken care of."
Weather-wise, Saturday was better than Friday for both sandbaggers and flood-prone homeowners. The clouds were thick and low, but the rain, more or less, held off all day.
"It's been cool with a breeze but the rain has held off and it's made the working conditions a bit better than yesterday," Smith told West Carleton Online. "The sand is dryer so it's not as heavy. Of course, it's always nice when you are worried about floods, to not have the rain coming down."
Smith volunteered her time during the 2017 flood and is back in Constance Bay this week as well – she says it's the only time she gets out here.
"Yesterday was really about stockpiling and we had a good stockpile last night of about 3,000 sandbags." Smith said. "People have been coming to pick up bags today and now we're just trying to keep up with the people coming in. Sometimes they're jumping out to help but they've got their homes to worry about and we're trying to take care of them as best we can."
As lunch started to arrive for the volunteers, there were about 30 working hard on the arduous task of filling sandbags. Yesterday, West Carleton Online reported volunteers came from all over the city to shovel dirt – but a lot of those volunteers were from West Carleton as well.
"People are amazing," Smith said. "They show up and they work really hard and a lot of times they can self-organize really well."
Jacob and Daniel Weedmark are brothers who are both Grade 12 students at West Carleton Secondary School. Both live "high and dry," Jacob in Dunrobin and Daniel in Carp, but they both have friends, peers and school mates in the flood-zone.
Jacob's girlfriend is a Buckham's Bay West resident. For the last two days, snow melt has created lots of fast-moving streams coming out of the woods, down the hill and over the road on its way to the bay.
"Initially we started grabbing bags to help build a wall around her dad's house," Jacob told West Carleton Online. "The rain was coming down the hill, so we had to divert it around the house. We took a lot of bags so we though we better help fill some bags as well."
"We've been going at it since 8 a.m.," Daniel said.
While the dryer than expected weather has helped, officials are still expecting water levels to approach those from 2017 – one of the worst floods in West Carleton history.
Rainfall amounts over the last four days have exceeded 100 millimetres in many areas and another 25 to 30 mm was forecast for today. The Mississippi Valley Conservation Authority (MVCA) said it is still expecting "severe flood levels to be reached at numerous locations" in an update released today (April 20).
While the lack of rain helped today, sky-fall isn't the only thing increasing the levels and flows in the watershed. The melting of a snowpack twice the normal size for this time of year is also adding to the increased risk of flood.
"Mississippi River flows are expected to continue to increase throughout the weekend," the MVCA said. "Elevations will vary due to the topography of the shoreline of the river. All residents along the river should keep a close watch on levels and take necessary precautions to protect their property."
While the MVCA thought the Carp River peaked last week, they are now revising their opinion.
"Flows have increased again over the last 24 hours to reach those experienced earlier in the week," the MVCA said. "Should rainfall occur today, flows will respond to that rainfall very quickly but are not expected to reach those experienced in 1998."
While there has not been widespread reporting of homes being flooded yet, the spring thaw and volumes of ground water have caused problems in West Carleton.
Several West Carleton roads were closed today due to flooding and complications from that flooding:
Mohrs Road: from Galetta Side Road to Riddledale Road
Torbolton Ridge Road: from Kinburn Side Road to Kilmaurs Side Road
Vances Side Road: from Torbolton Ridge Road to Woodkilton Road
March Valley Road: from Cameron Harvey Drive to Klondike Road
Upper Dwyer Hill Road: between Ritchie Side Road and Hanson Side Road
Bearhill Road: between March Road and Vaghan Side Road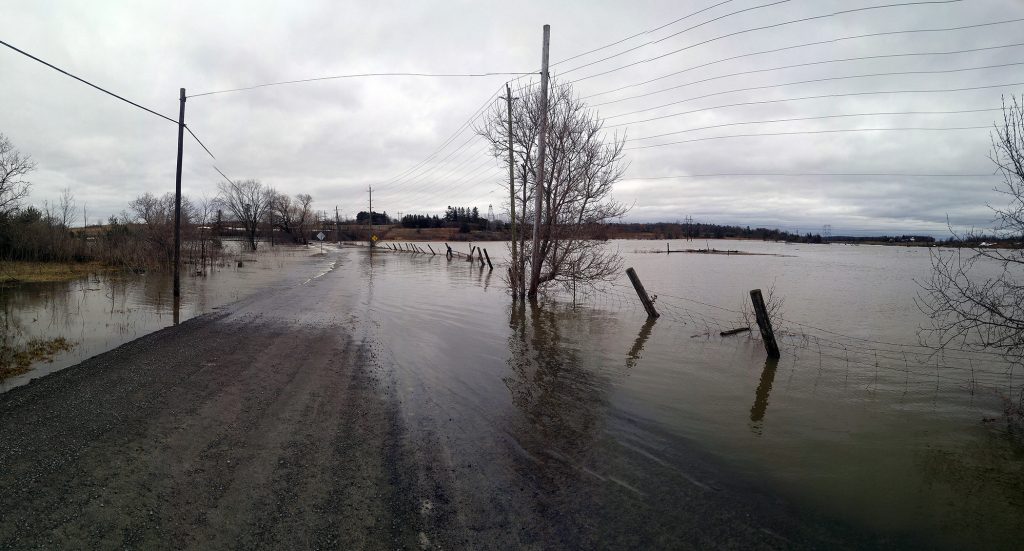 On top of water issues, West Carleton faced Hydro One power outages today as well. Electricity was out for some time in Dunrobin and Constance Bay.
Today was considered a minor victory for those preparing for flood, but water levels are still expected to increase over the next few days, with many in the village of Constance Bay not expecting the real danger to homeowners to arrive until mid-week.
While the rain is certainly an issue, the northern snowpack, which will feed the Ottawa River a few hundred kilometres upstream from West Carleton is only starting to melt and expected to have a noticeable affect on the river's level and flows over the next few days.
The City of Ottawa will be accepting volunteers in Constance Bay Sunday as sandbagging operations continue officially between 10 a.m. and 4 p.m.
West Carleton Online will continue to provide daily coverage.