El-Chantiry: river 'in hands of God now'
By Jake Davies - West Carleton Online
CONSTANCE BAY – By 2 p.m. today (Good Friday), 75 volunteers had registered in the community centre and were now in the parking lot doing the difficult task of filling sandbags made even more difficult by the constant rain making clothes wet and sand heavy.
"I tried it, with the wet sand and being out of shape, you have to be careful," Coun. Eli El-Chantiry told West Carleton Online from the NorthWind Wireless Fibe Centre this afternoon. "If you're lucky you can work a couple hours until you need a break."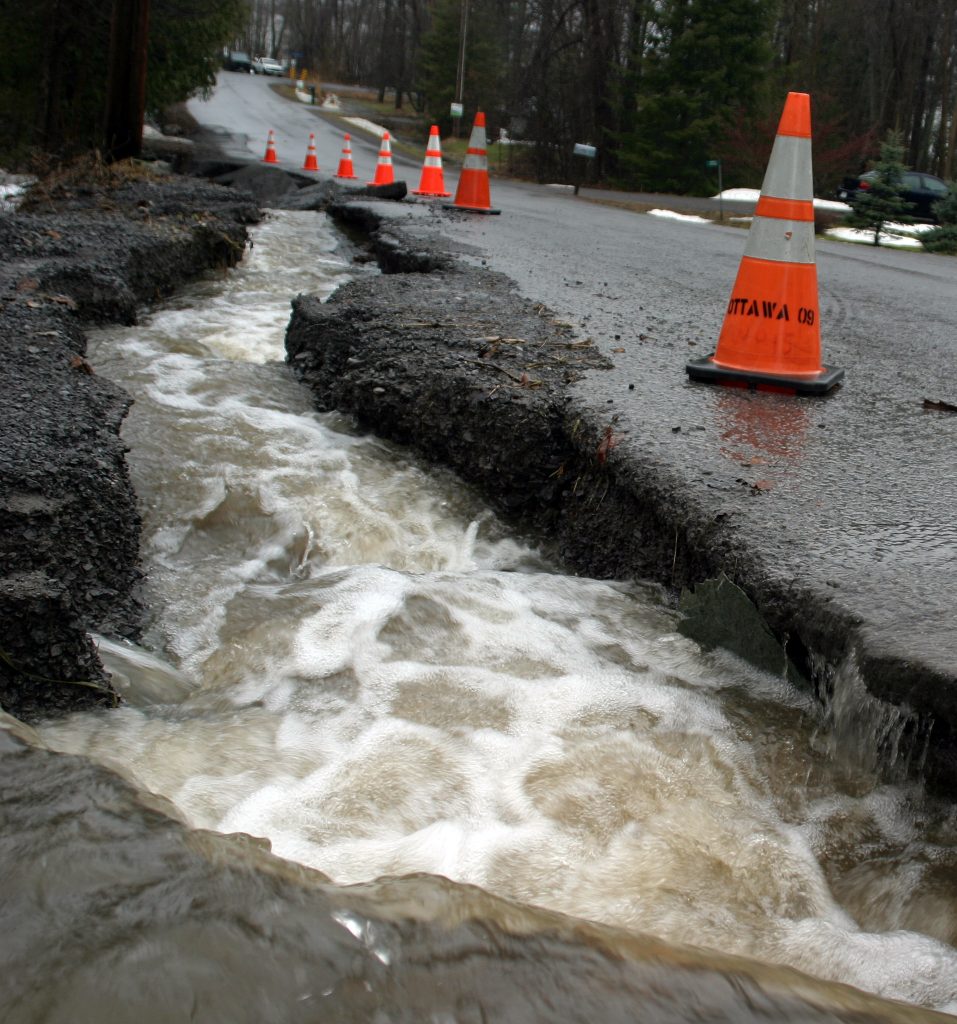 The city is trying desperately to stay ahead of the water as large amounts of rain fall over the long weekend all the while a twice-as-large-as-normal snowpack begins to melt with the warmer weather.
"It doesn't take a genius," El-Chantiry said. "If you see Pembroke, it's already flooded. So, you know it is coming."
But officials are still unsure how much is coming. About 20 to 40 millimetres has fallen over the Ottawa River basin since last Thursday. A forecasted 20 to 35 mm is expected by Saturday evening.
"Forecasted precipitation and warmer temperatures will melt a large portion of the remaining snowpack in the central areas of the basin," the Mississippi Valley Conservation Authority (MVCA) stated today in its April 19 flood forecast update. "Rainfall and snowmelt will combine to produce very high runoff, causing levels to continue rise sharply on the Ottawa River throughout the weekend."
The MVCA expects the Ottawa River to rise nearly a metre over the next four day.
"Based on model outputs from the Ottawa River Regulation Committee, water levels in the Constance Bay area are projected to rise .75 m above the current elevation over the next four days," the MVCA said. "Updates to this projection will be provided as they become available."
El-Chantiry said the area got a bit lucky last night.
"We got a little bit of a break from the rain yesterday," he said. "They were expecting more rain and we didn't get as much. But today, they are getting more than what they were forecasting. All predictions say we should expect levels like we had in 2017 if we get all the rain they are expecting. There's a lot more flooding than just the Ottawa River. Last night I was in MacLaren's Landing. Riverwood Drive has a lot. We had to send a backhoe down there twice to make sure the water could get through."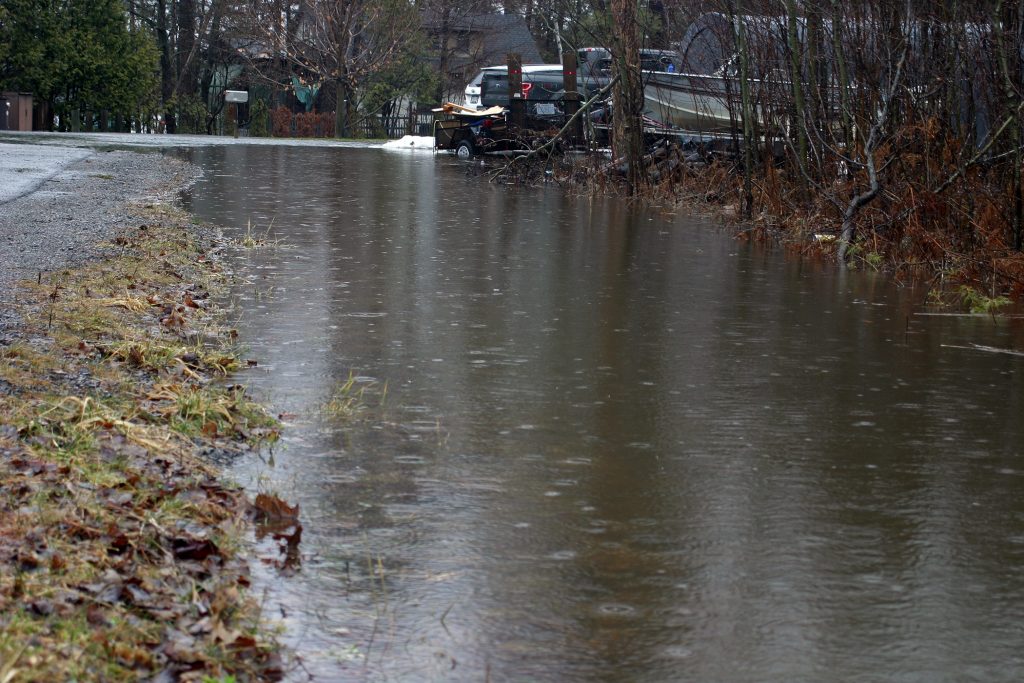 Coun. El-Chantiry says city staff are working to stay ahead of the issue.
"Again, on one hand you don't want to panic, but you do want to be ready," he said. "We're trying to be ready and that's why we have all the logistics in place. Sand, volunteers, emergency command, food, water. So, we are ready. Right now, we are focusing on organizing everybody. Last night we were meeting with the emergency response team. And we had a conference call with the community centre here, to let them know the Ottawa volunteer search and rescue team is going to be here working with the city to lead the volunteers."
Over at the Lighthouse Restaurant it's an unusually busy Good Friday afternoon. Some of the patrons are Ottawa firefighters and volunteers taking a break from preparing for the flood.
Staff member Jeannine Gaudette took a break from her break to talk to West Carleton Online. In 2017 the Ottawa River broke its banks, crossed Bayview Drive and filled the basement of the restaurant.
"Last time we waited too long for sandbagging," Gaudette said. "We waited until the last day, and then we got swamped. We had water all around the restaurant and it came right up to the floor in the basement. So this year, maybe they get sandbags, but I guess they are going to wait until Wednesday. See if the water rises."
Gaudette is confident there is still some time.
"I heard the water had to go up another meter before people needed to be concerned.," she said.
Gaudette says she has heard of a few basements that have already taken on water in the 900s of Bayview Drive but for now, at the restaurant "I think we're still good."
El-Chantiry says he has toured Ward 5's flood-prone areas including MacLaren's Landing, Willola Beach, Buckham's Bay West and others.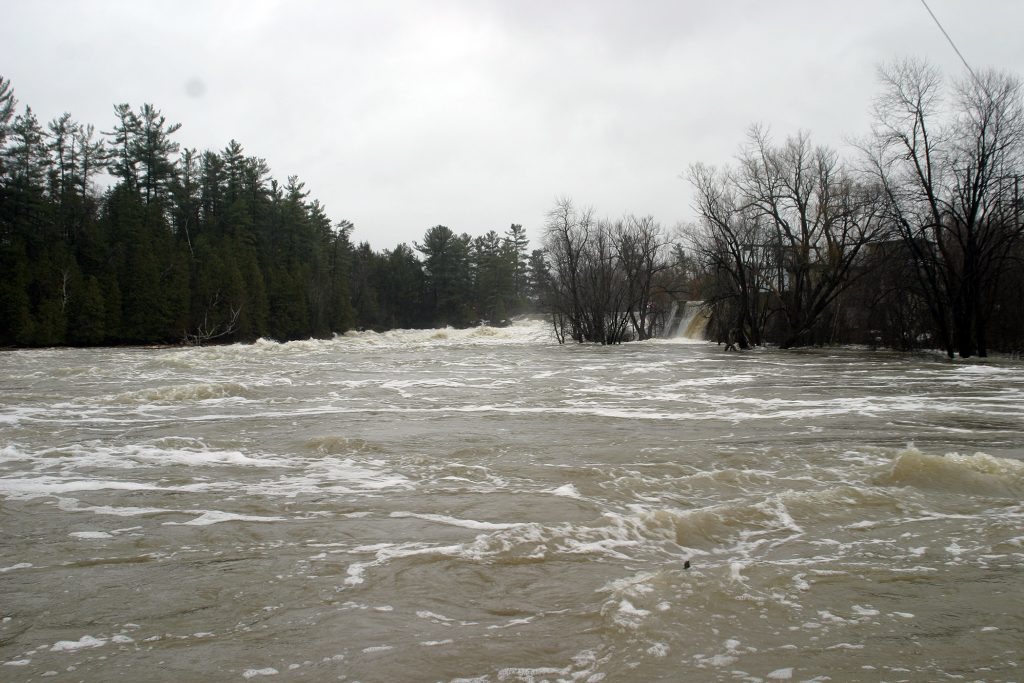 "I don't want to create panic, but at the same time, I want to be ready," he said. "We just don't know what's going to happen. We know the water is going to get high, but we don't know how high it's going to get. It's in the hands of God right now. It has not reached 2017 levels, but if we get 80 mm of rain, by Monday or Tuesday, we will reach that level."
El-Chantiry says he hasn't got a lot of sleep the last day or two and doesn't expect much more over the next few days.
"Not a lot," the tired-looking councillor said. "To be honest with you, the last time, we were not ready. We got caught. We were running around like chickens with our heads cut off. We didn't know which way to look. We're working with all the partner organizations to make sure we get the right information out in a timely fashion. Right now, we're focusing on volunteers."
Meanwhile, today's volunteers accomplished a lot.
"Wow, volunteers got a good start today at the community centre with more than 2,000 sandbags made and ready to go," said volunteer Janet Lavern who helped with volunteer coordination in 2017. "There were folks from Sandy Hill, Braeside, Kanata and Barrhaven – amazing. Don't be jealous. There are more sandbagging opportunities tomorrow."
Volunteer operations will run from 10 a.m. to 2 p.m. Saturday and Sunday.
West Carleton Online will continue to cover potential flooding in West Carleton with daily updates and photos.