Fitzroy Harbour's Dean remembered as 'skydiving icon'
By Jake Davies - West Carleton Online
FITZROY HARBOUR – Fitzroy Harbour firefighter Jeffrey Dean, who passed away last week (July 27) in a tragic skydiving incident, is being remembered as a Canadian skydiving icon.
Dean, a full-time firefighter with the Ottawa Fire Services (OFS) died at the Arnprior Airport attempting a skydiving maneuver that ended in a hard landing.
Dean, 47, was well known at the skydiving business Parachute Ottawa which operates at the airport.
"Jeff was one of the most accomplished and experienced skydivers in the country, he was a true mentor to a lot of people for a very long time," Jake Mason, owner of Parachute Ottawa, released in a statement last week (July 28).
Dean had participated in more than 4,000 jumps in his time.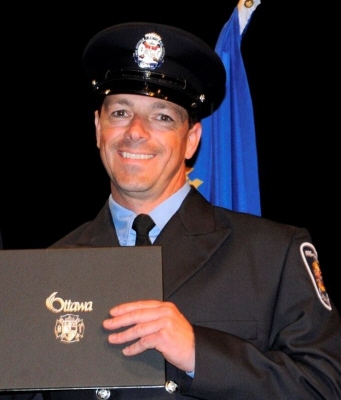 At the time of his death, Dean's parachute deployed and was working correctly but he was injured while landing following an "advanced parachute maneuver," according to the company.
Skydive Ratings Canada, which offers CSPA coach, instructor, tandem instructor and rigger rating courses to Canadian skydivers, referred to Dean as an "icon" of Canadian skydiving.
"Our teammate and one of my best friends Jeff Dean passed yesterday in an unfortunate skydiving accident," Skydive Ratings Canada's (SRC) Dan Whitman released in a statement. "Jeff was a Canadian skydiving icon, a master rigger, rigger instructor, coach, instructor, tandem instructor, learning facilitator, master course facilitator, role model, mentor, head down record holder, long standing volunteer on the Coaching Working committee for CSPA and the recipient of the Cathy Johnson Service Award, there was nothing in CSPA that Jeff has not done, suffice it to say Jeff is an icon in our sport."
Dean and Whitman are credited with starting the SRC with "a vision of helping young skydivers set goals and develop into coaches and instructors, by employing 'Excellence through Education.' Jeff has been the 100 per cent driving factor is the success of this project. Our commitment to our friend is to ensure this legacy continues and to serve him proud. As a mentor to hundreds of skydivers throughout the country, our community is in shock by this loss."
Dean was a pilot, avid rock climber, motorcycle enthusiast, mountain biker and "a staple of the Ottawa community." He also led a program called Fire Venturers, which helped youth experience the career, and was a "true hero in our community."
Dean was also a well-respected firefighter joining the OFS as a volunteer in 2010, becoming full time in 2012.
"It is with great sadness I announce we've lost one of our own today," OFS fire Chief Paul Hutt released in a statement July 27. "He was a dedicated volunteer with our Fire Venturers program. A program developed in 2018 for youths aged 14-17 with an interest in firefighting who participate in fire services programming. Firefighter Dean was a loving husband and a father of two children. I would like to send my deepest condolences to his family, friends and his fire family during this difficult time."
Dean leaves behind his wife Melissa who he met skydiving and two daughters Evelyn and Audrey.
"He was a great dad, loved his kids," Fitzroy Harbour resident and family friend Kelly Tucker said in a recent interview. "He was just a really kind soul that just liked helping people and had a real passion for skydiving."
Dean's funeral service will be held on Wednesday, Aug. 3, at 11 a.m. in Shawville United Church, 410 Main St., Shawville. A reception will be held in the church hall immediately following the service.
To read Jeffrey Dean's full obituary, click here.