Fitzroy concert series kick-off starts big
By Jake Davies - West Carleton Online
FITZROY HARBOUR – The Concerts in the Park music series kicked off in Fitzroy Provincial Park last Thursday (July 7) and judging by the large opening night crowd, it had been sorely missed over the last two years.
Canada's Number One '50s and '60s rock and roll show, Eddy and the Stingrays with their trademark pink suits, kicked off the concert series with all their classics and had the crowd, estimated at more than 300 people of all ages, getting out of their lawn chairs and shaking their booties on the grass in front of the portable Thomas Cavanagh Stage.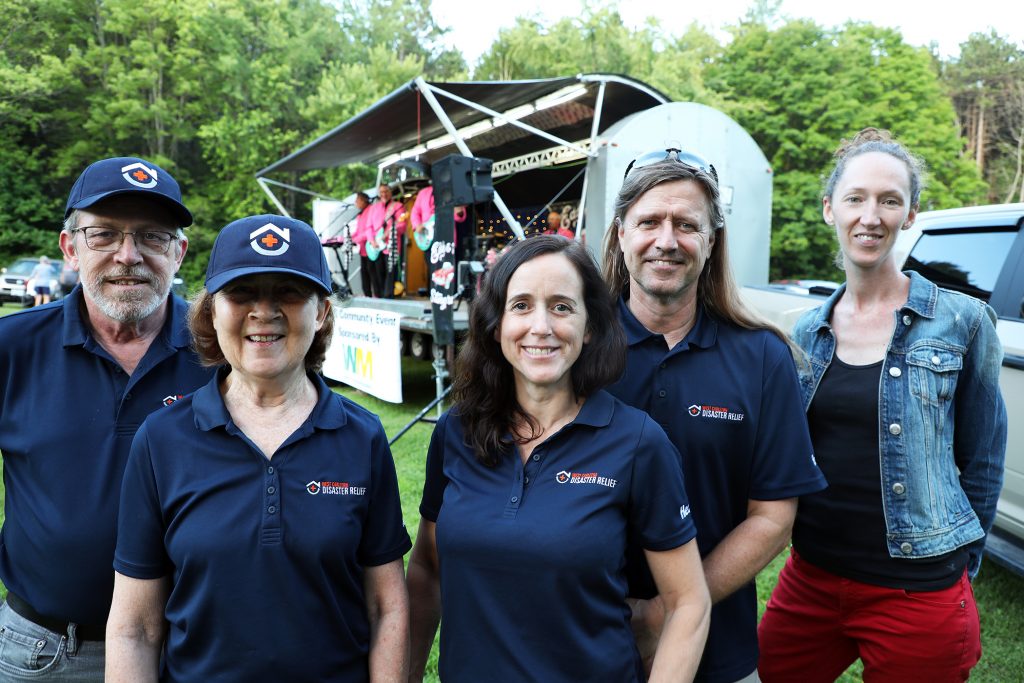 "It's going awesome, I did a quick headcount and there's over 300 people, and we raised just over $1,600 for the Children's Hospital of Eastern Ontario (CHEO), so I'm pretty happy with those numbers," one of the event's organizers, Katherine Woodward told West Carleton Online in a quiet spot away from the music.
Woodward was one of several volunteers from West Carleton Disaster Relief (WCDR) helping with the organization of this season's concert series. She said the large crowd is part campers staying at the park and part West Carleton community enjoying an evening of free music in a beautiful location.
"When I was talking to Josie Grenier, the superintendent of the park, she was saying people were actually calling, wanting to book their camping trips the Thursdays we were doing it," Woodward said. "So, there is a lot of fans from the past that were eager for us to do it again."
The concert series, put on by Coun. Eli El-Chantiry and Waste Management, is a fundraiser for several organizations.
The event, celebrating its 25th year in 2022, raises money for CHEO, and this year, the WCDR. The on-site barbecue is hosted by a rotating group of youth organizations that use the proceeds to fund their projects.
Woodward says the all-volunteer WCDR, key in supporting the community during challenging times, also relies on the support of the community to help in times of need.
"I'm losing track of the number of disasters we have suffered over the last, I don't even know how many years, with the derecho, tornadoes, two floods, if you count COVID in there, just non-stop disasters in West Carleton," Woodward said. "So, every time there is a disaster, WCDR has been there for its residents, and tries to help them get back on their feet. All these proceeds go for our very basic operating costs like insurance and fuel for generators and pumping out people's basements, and chainsaw fuel, and all of those things we need to help people."
This Thursday (July 14), the Fabulous Heartbeats take the stage from 7 to 8:30 p.m. at Fitzroy Provincial Park.
Gates open at 6 p.m. and there will be a fundraising barbecue on hand. Donations for CHEO are collected at the gate. For more information, contact info@westcarletonrelief.ca.