FCH mushroom walk, trail update and study progress
CARP – Get to know your local mushrooms.
"Cool, moist fall days mean it's mushroom time," the Friends of the Carp Hills (FCH) released in a statement today (Sept. 17). "We are holding a mushroom-themed guided nature hike on the Crazy Horse Trail on Saturday, Oct. 5 at 1 p.m."
Professional mycologist George White will share his considerable knowledge and enthusiasm on a fungi discovery journey.
"There is a $10 participation fee per person payable at the event; children 16 and under are free," the FCH said. "You must sign a waiver to participate. Visit our website for more information."
FCH trail update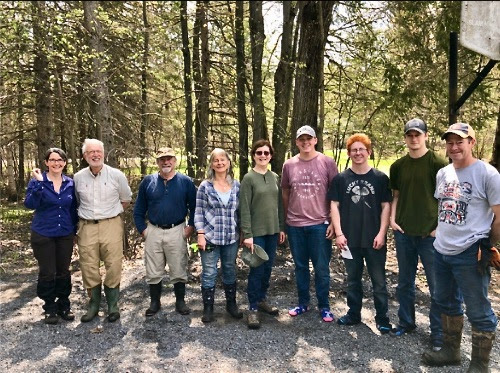 FCH trail coordinator Bernard Proulx says the FCH has formed new maintenance teams and are ready for his favourite time to hike- fall.
"One more summer has come and gone and what a hot one it was," Proulx said. "Despite a wet and cold spring, July sure made up for it. I cannot say that I have spent much time hiking the trail these past few weeks but with the cooler temperature upon us the best is yet to come. Fall colours will soon start and the pesky mosquitoes will be gone."
The FCH, under Proulx's leadership, have formed new trail maintenance teams.
"I would like to thank Brian Roadhouse and Marc Savard for volunteering as team leads," Proulx said. "We have three teams with myself leading one as well, with a total of 14 volunteers. Each team lead is responsible for a specific section of the Crazy Horse Trail, reporting problem areas and keeping the trail safe and clear."
Construction of new infrastructure is done by a separate team of volunteers.
"Earlier this spring the teams carried out a survey to determine the trail conditions and surprisingly not much needed to be done," Proulx said. "Yes, many areas were identified as being excessively wet due to the heavy snow we had this past winter and the cold and wet spring that followed. We have more projects planned for this fall, weather permitting. First, a boardwalk addition along the snowmobile trail and second, the marking of a new trail section adjacent to the beaver pond. I hope you all had a great summer and are now looking forward to the beautiful fall colours the Crazy Horse Trail has to offer. Be safe, wear proper footwear and go enjoy yourself."
Carp Barrens Trail Study Phase 2
Ecologist Holly Bickerton conducted the second phase of the Carp Barrens study in July and August.
"In Phase 1, she found a significant turtle population in the many beaver ponds and so she went looking for their nests," the FCH reported. "She found the turtles laid their eggs on the rock barrens, particularly in areas churned up by human traffic on and beside the trails."
All of the nests found were predated and/or crushed.
Bickerton's final Phase 3 report will provide recommendations to the City of Ottawa on what needs to be done to protect the Species at Risk – turtles and ground nesting birds – on the Carp Barrens.
"The Friends of the Carp Hills thank the Ottawa Field Naturalists' Club and the City of Ottawa's Rural Community Building Grants Program for their support," the FCH said.
New logo unveiled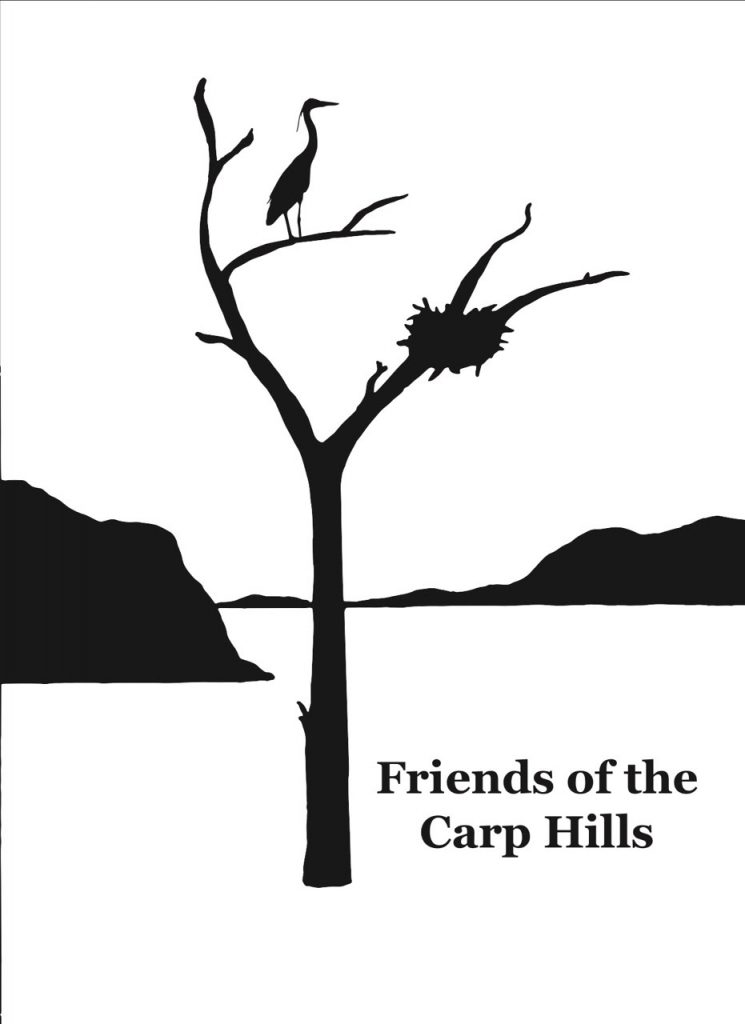 The FCH have their logo.
In November 2018 the FCH launched a logo competition in order to get community involvement in the organization's re-branding program.
"The FCH decided in 2018 that the organization, with its credibility well established, needed a logo for instant recognition," the FCH said. "We held a contest, and a submission from one of our directors was ultimately selected by the board. The elements depicted in the logo have a special resonance in the Carp Hills. Canadian Shield rock outcrops with herons nesting in dead trees in the middle of ponds are stark and spectacular symbols of a unique wilderness in the City of Ottawa that we are committed to protect and preserve."