El-Chantiry: Ward 5 weekly news, June 22
The Councillor's Column
COVID-19 – LATEST NEWS
Update on this week's Pfizer vaccine supply: The Province of Ontario announced that the next shipment of the Pfizer mRNA vaccine to the City of Ottawa will be delayed. The shipment was to arrive on Monday, June 21.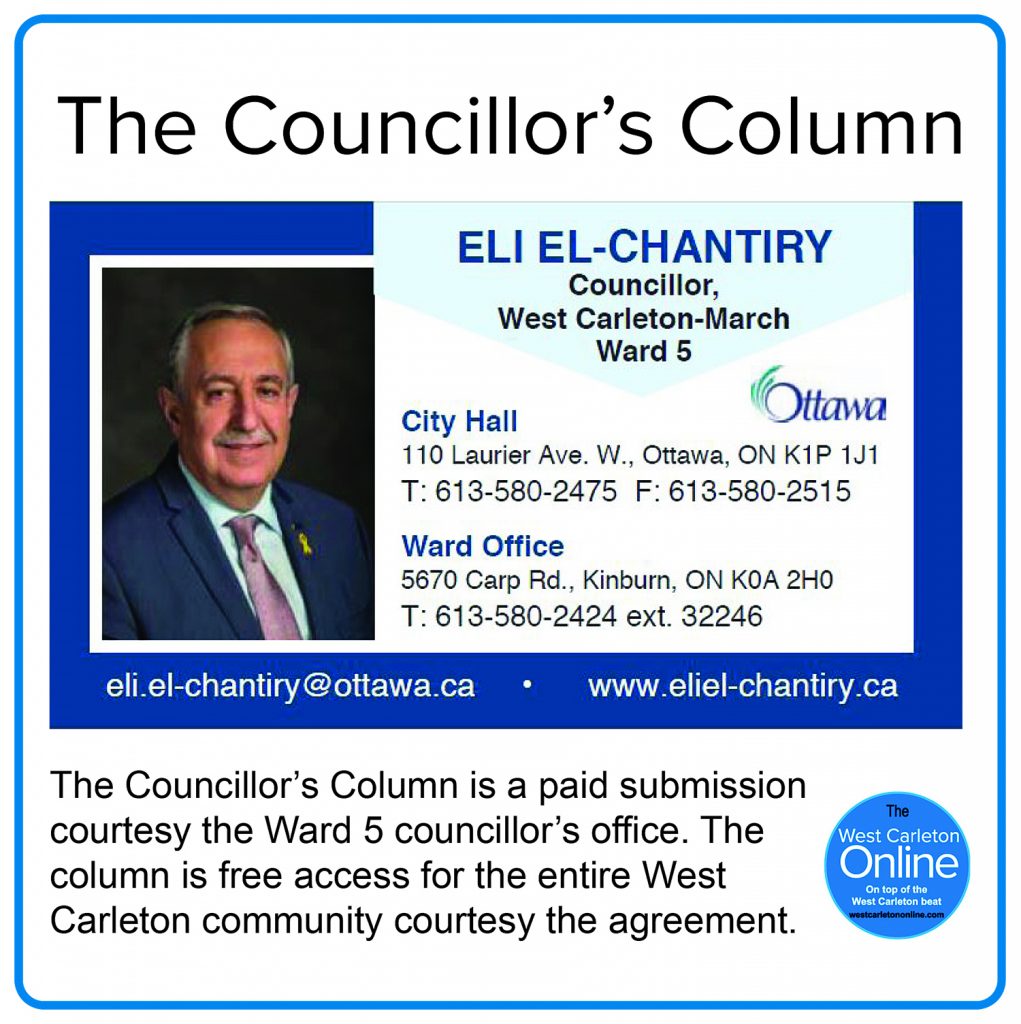 To ensure that vaccine appointments are honoured at immunization clinics over the coming week, the City and Ottawa Public Health will administer the Moderna mRNA vaccine as it is interchangeable with Pfizer. Beginning yesterday, individuals 18 years or older who have an appointment booked at one of the city-run immunization clinics will receive a Moderna vaccine. Interchanging vaccines is safe and effective. The priority is to receive two doses of a vaccine to complete the series and be fully protected. Clinic staff will ensure residents are aware of which vaccine they will receive. However, there will be no opportunity for residents to request or switch to another type of vaccine. The limited Pfizer vaccine will be reserved for youth 12 to 17 years old. Sign up for the COVID-19 vaccination update e-subscription for regular news on the vaccine roll-out.
Ottawa Public Health's vaccination dashboard: If you're curious about the administration of vaccines in Ottawa then you should check the COVID-19 vaccine dashboard set up by Ottawa Public Health.
Please be #SocialWise as Ottawa slowly reopens: As places and businesses begin reopening in Ottawa under Step 1 of the province's reopening plan, there are many steps residents can take to keep everyone safe. Please be #SocialWise and follow all of these recommendations.
HUNTLEY TOWNSHIP HISTORICAL SOCIETY – FAMILY HISTORY PROJECTS & HEIRLOOMS
On Tuesday, June 22 (that's this evening!) at 7:30pm the Huntley Township Historical Society invites you to a Zoom meeting: Family History Projects & Heirlooms. This will be an opportunity to tell them about your family history project in a small discussion group. They want to hear about what you are working on, what you are researching or about a family heirloom. The heirloom might be a photo, a letter, a diary, furniture or anything you want to share. To join:
Email janguillemot@gmail.com and include your email address
Register with huntleyhistory@gmx.net to receive the link to the meeting
The Zoom doors will open at 7pm. Everyone welcome to attend.
CARP RIVER VIRTUAL CHALLENGE
The Friends of the Carp River invite you to Move for the Ribbon of Life by joining the Carp River Virtual Challenge. In this challenge, you do any activity you wish, with friends or solo, set a time goal and then journey along the Carp River for 49km while you learn and earn Postcards. Finishers are eligible to win a draw prize from sponsors. Everyone who has done it so far say it is fun, a good fitness motivator and they felt good about playing a part in local climate action. All proceeds go to support stewardship of the Carp River, with projects such as shoreline restorations, education, the Carp Riverwalk and the Carp River Conservation Area Living Classroom. These contribute to improving climate resiliency, water quality, wildlife habitat and recreational enjoyment. Costs range from $30 with no medal to $55 for a group with 4 medals. Every finisher receives a certificate and there is an optional wood medal that can be used as a coaster. To participate, register here.
FITZROY PROVINCIAL PARK – FREE DAY USE
Fitzroy Provincial Park, located at 5201 Canon Smith Drive, is allowing FREE day use this summer Mondays through Thursdays. For more information on all the Fitzroy Provincial Park has to offer visit ontarioparks.com/park/fitzroy.
OTTAWA TOURISM – HIGHLIGHTING OTTAWA'S RURAL WARDS
The City of Ottawa's Economic Development Services Department has been collaborating with Ottawa Tourism to ensure our rural areas of the City are highlighted in their new local marketing campaign which launched last Friday. I am pleased to share that all four rural wards are featured on the campaign's landing page with links to itineraries featuring rural businesses and experiences. Please visit the link to check it out all that Ottawa's rural wards has to offer: https://ottawatourism.ca/en/invite2.
FIVE-DAY HAZARDOUS WASTE DEPOT
A five-day hazardous waste depot is being held from Tuesday, June 22 to Saturday, June 26 at the Conroy Road Snow Disposal Facility at 3100 Conroy Road. The depot will be open daily from 8am to 4pm. For more information on the depot please review this link: ottawa.ca/en/garbage-and-recycling/hazardous-waste-and-special-items.
Please note: the City of Ottawa usually holds a west-end depot once a year, but we do not have any additional information yet. When a date, time and location have been confirmed I will publish in my newsletter and on social media.
CITY COUNCIL – JUNE 23
City Council's next regularly scheduled meeting is Wednesday, June 23 at 10am. Review the agenda here and watch live via the City's YouTube channel.
ARAC – MONDAY, JUNE 28
The next Agriculture & Rural Affairs Committee meeting is set for Monday, June 28 at 10am. This meeting was moved up a week earlier than the usual ARAC schedule in order to accommodate for the Canada Day holiday. Residents can review the agenda here and watch the meeting live via the City's YouTube channel.