El-Chantiry: Ward 5 weekly news, June 1
The Councillor's Column
COVID-19 – LATEST NEWS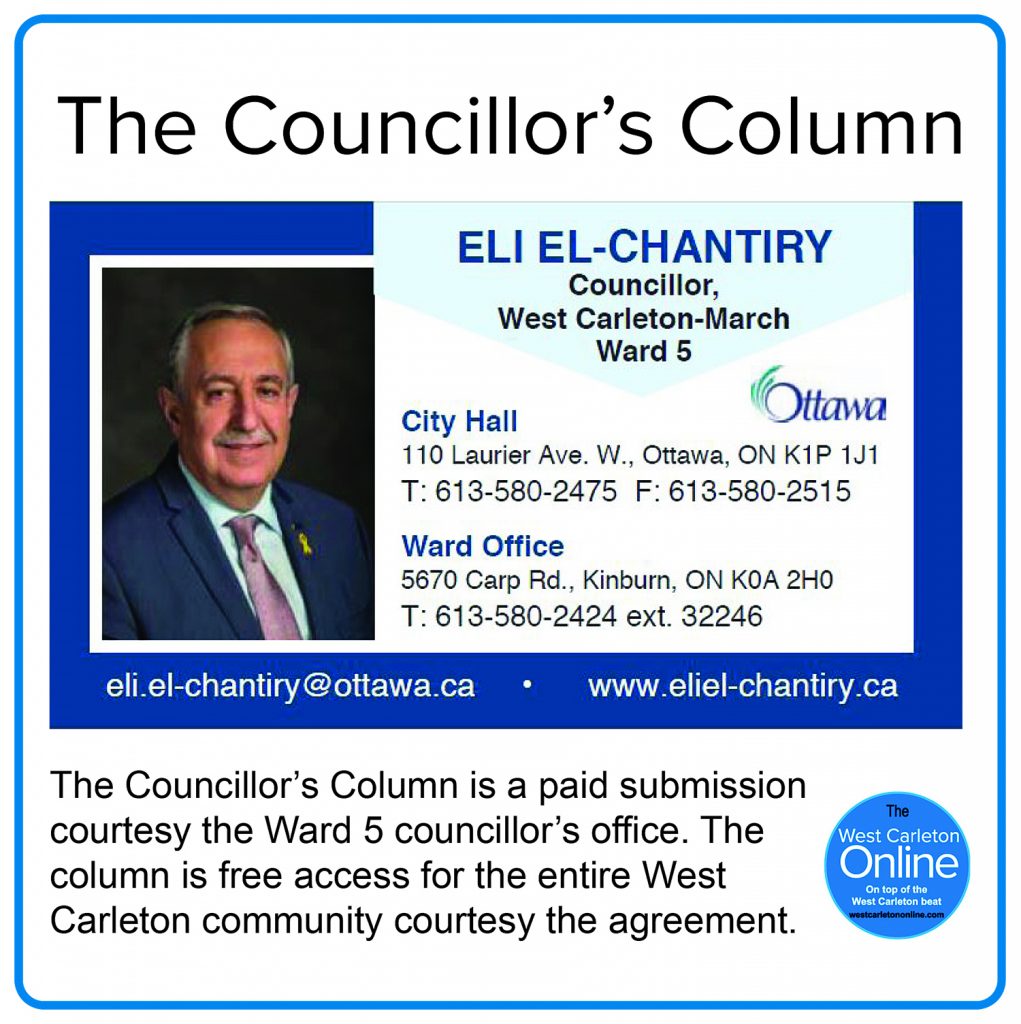 Stay-at-home order ends June 2: The provincial stay-at-home order is set to end on Wednesday, June 2.
The emergency brake however will remain in effect until the province starts the first stage of its reopening plan, which is set to go into effect on June 14. June 14 is the date earmarked for STEP 1 of the province's reopening roadmap.
However, this date may change based on vaccination rates and public health indicators. I have outlined below some information on what residents can expect over the coming days until STEP 1 of reopening begins:
Residents can get together with their family and friends outdoors to a limit of five people. Gatherings with more than five people can happen only if all are from the same household
Anyone living alone can get together with one other household
Indoor gatherings cannot take place
Restaurants will remain closed until STEP 1 of the reopening plan. Delivery and take out are still available options
Non-essential retail will remain closed. Grocery/convenience stores, pharmacies, etc., will remain at 25 per cent capacity limits
Personal care services such as barbers, salons, etc., remain closed until STEP 2 of the reopening plan
Outdoor and indoor sports and recreation facilities remain closed until STEP 1 commences
A maximum of 10 people indoors or outdoors can continue to attend funerals/weddings with the requirement of physical distancing wearing of face masks
At this time schools remain closed, but a decision from the province on the remainder of the school year is expected sometime this week.
As a reminder, below is a graphic of the province's three-step reopening plan.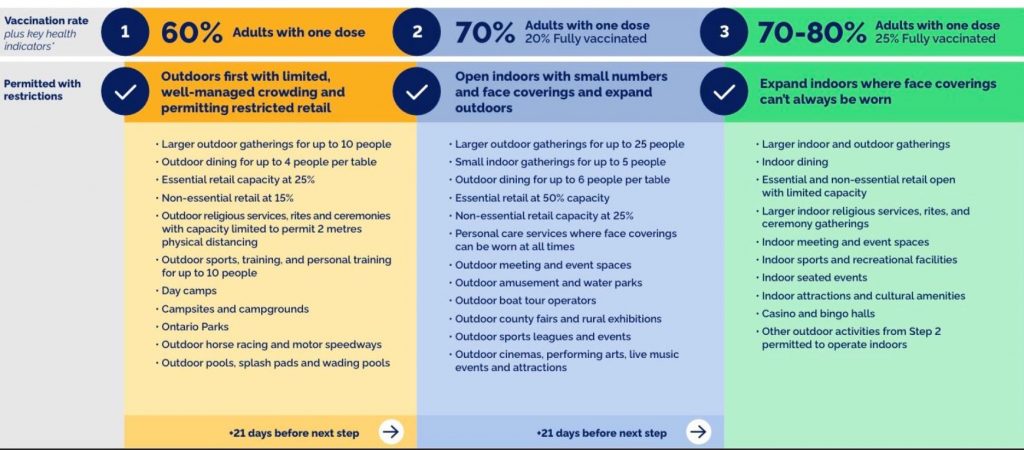 Update regarding this spring's COVID-19 vaccination pop-up clinic in West Carleton: This morning I followed up directly with Tony Di Monte, General Manager of the Emergency & Protective Services Dept., regarding the options available to get second doses for the West Carleton residents who received their first COVID-19 vaccination via the pop-up clinic that took place April 1 to 3 at the West Carleton Community Complex. He indicated that the City is currently working on game plan and will have more information regarding how residents will get their second doses by week's end. When messaging is available I will report it widely via a follow up e-newsletter, my social media accounts and my website.
Adults 80 and older can book second doses: As of May 31 all adults age 80 and older (born in 1941 or earlier) may now book their second dose vaccine appointments through the provincial booking system. This applies to both those who booked their first doses through the provincial system and those who booked their first doses through Ottawa Public Health. Visit Ontario.ca/bookvaccine to access the provincial booking system or call the provincial vaccine booking line at 1-833-943-3900 between 8am and 8pm, seven days a week. Only book or call if you are eligible. (Please note: as of May 31 the provincial booking system experienced technical issues and bookings are temporarily unavailable. The province is working on correcting the system and hopefully it will be fixed shortly. Stay tuned to local media and it will likely be widely reported when the system is back up and running.) Booking availability may be limited due to vaccine supply. If you received your first dose on March 5, 6 or 7 Ottawa Public Health will contact you for guaranteed access to an appointment for June 26, 27 and 28. These residents also have the option of booking their second dose sooner, should they be able to secure an earlier appointment at a community clinic, or through the Pharmacy channel.
Reduced waiting period between first and second vaccination doses: Last week, the Province of Ontario announced reduced waiting periods between first and second doses. Beginning the week of June 14, adults 70 and older will be able to access the provincial booking system to book their second doses for an earlier date. The Province of Ontario's vaccination rollout goal is for all Ontario residents who want a vaccine to have received both doses by the end of August. Individuals who already have second dose appointments will keep their original appointments if they don't re-book for an earlier shot. Moving up the date of your second dose is optional. For those who received in-home vaccinations and are not able to access the provincial booking system, more information will be provided regarding second doses.
COVID-19 e-subscription: Sign up for Ottawa Pubic Health's COVID-19 vaccination update e-subscription. It provides regular news on the vaccine roll-out in Ottawa.
Letter to Premier Ford regarding school reopening: Last week, Premier Ford issued an open letter to doctors, scientists, educators and unions requesting assistance in determining whether the Province of Ontario can/should reopen schools for in-person learning. In response to the Premier's letter, a joint letter was sent on May 28 to the province on behalf of Ontario Medical Officers of Health, Children's hospitals in Ontario, as well as the Ontario COVID-19 Science Advisory Table with respect to the province's request. CLICK HERE to read the letter. In a nut shell, this response letter requests the reopening of schools on a regional basis to mitigate the significant short and long-term harms that are arising from school closures.
REGISTRATION STARTS JUNE 2 FOR FOR OUTDOOR POOL SUMMER SWIMMING LESSONS
To meet Ontario's Roadmap to Reopen guidelines, the City's summer swimming lessons registration, scheduled for Wednesday, June 2 at 9pm, will only feature programs offered at outdoor City pools. A new registration date for swimming lessons at indoor pools will be announced in the coming weeks, as indoor pools are part of Step Three of the Province's reopening plan and projected to open at the end of July. Visit ottawa.ca/recreation to view the Summer Swimming Lesson eGuide for all levels and ages of the learn to swim program. These low-ratio outdoor aquatic programs incorporate COVID-safety protocols. For swimming lessons, it is important to note that a parent or guardian is required to accompany younger children in the pool during instruction to support physical distancing. Registration for indoor aquatic certification programs will start on Wednesday, June 9 at 9pm. The Specialty Swimming and Certification eGuide provides information on advanced aquatic certification programs.
VIRTUAL PUBLIC MEETING – MVCA DRAFT WATERSHED PLAN
Mississippi Valley Conservation Authority (MVCA) has released a draft Mississippi River Watershed Plan for public review. The development of this draft watershed plan has been a collaborative effort between MVCA and its many partners including the MVCA Public Advisory Committee. This new plan will help to guide future decision-making in the watershed. The public review period closes June 25, 2021 and the plan is set to be finalized in July 2021. Review the draft here.
MVCA is holding a virtual public information session on the Watershed Plan on the dates noted below. Please note, the presentation for both dates is the same. Click on the desired date to register:
Comments on the draft plan can also be provided by filling out an online comments form on on their website at mvc.on.ca/watershedplan.
MVCA completed its first Watershed Plan in 1982 and has since implemented many of its recommendations. A new Integrated Watershed Plan is needed to provide long-term guidance for MVCA's activities within the Mississippi River watershed. The new plan will reflect current watershed conditions and anticipated changes related to a changing climate, changes in land use and a changing environment. It will identify issues and challenges and will recommend actions aimed at maintaining a healthy river and watershed while balancing the needs of it many users.
PLANNING COMMITTEE APPROVES ZONING FOR MIXED USE DEVELOPMENT/NEW SUBDIVISION IN KANATA NORTH
Residents in Kanata North could look forward to new shops and services in the coming years after the City's May 27 Planning Committee approved zoning for lands to the north of the South March community. The change would permit a mixed-use development that could offer conveniently located retail and services on March Road. The applicant also intends to build a new 915-unit residential subdivision behind the mixed-use area, offering townhouses, detached and semi-detached homes. The proposed development is in line with the Council-approved Kanata North Community Design Plan, which envisions a community of about 3,000 units with a range of housing options and a vibrant core of amenities along March Road. This item will rise to City Council for final approval at its meeting on June 9.
JUNE IS SENIORS' MONTH
June is Seniors' Month in Ontario and the theme this year is "Stay Safe, Active and Connected." What better way to celebrate than to enjoy the many courses and programs being offered through the City of Ottawa right now. Please check out this extensive list of recreational, cultural, and interest-based virtual programs below, including registration information.
CARP BARRENS TRAIL – TEMPORARY CLOSURE MAY 25 TO AUGUST 15
The Friends of the Carp Hills have noted the temporary closure of the Carp Barrens Trail until August 15. The City of Ottawa seasonally closes the trail after Victoria Day to allow species at risk turtles and ground nesting birds to nest without human disturbance. Under the province's definition, this is critical habitat and these animals require special protection. Visit carphills.com for more information.
SUMMER BASEBALL PROGRAM FOR GIRLS
The Canadian Girls Baseball organization has girls baseball coming to Ottawa this summer – and Ward 5 girls are eligible to sign up. The program is for girls ages 4 to 16 and runs from July 10 to August 28. All playing levels are welcome, including girls who are new to the game of baseball. They offer pricing accommodation for those who might need financial assistance. COVID-19 safety protocols will be in place for their programs. All in-person programs will be run in compliance with government guidelines. For more information on the program CLICK HERE or contact bridie@canadiangirlsbaseball.com or call 403-999-5173.
CITY COUNCIL – MAY 26
City Council met on May 26 and the following items were tabled:
City Council received a report today that outlines how recent policy changes to the green bin program have helped shift behaviours. More Ottawa residents have been using green bins to divert organic waste from the landfill and reduce greenhouse gas emissions. The City started allowing plastic bag liners and dog waste in green bins in July 2019 to help make them cleaner and more convenient, addressing the main barriers to use that residents had identified. Staff launched a communications and outreach plan at the same time to promote the program. In 2020, the number of households setting out a green bin increased by eight per cent over 2018, and the City collected 15 per cent more organic, leaf and yard waste than in 2019. To make it easier for residents in apartment buildings to use a green bin, the City introduced a new collection contract for multi-residential properties, eliminating the need to bring bins to the curb. The change resulted in an additional 37 per cent of these buildings using green bins. This information was collected during the pandemic, which has caused a significant shift in behaviours and waste trends. Staff will follow up with another update at least one year after the pandemic ends.
Council received an update on the City's COVID-19 vaccination efforts and, as of May 26, the City anticipates reaching 60 per cent of adults in Ottawa with at least one dose. Ottawa has administered more than 553,000 total doses to date. The Province is anticipated to add the ability to book appointments for second doses shortly. To help meet the demand, the City is adding the St-Laurent Complex to its list of community clinics and will add more clinics if supply increases such that it exceeds the capacity to administer doses at existing sites. In June, the City anticipates it will receive more than 250,000 total doses.
Council approved a Montreal Road Community Improvement Plan application to support a $17-million investment in an auto dealership that would help rejuvenate the corridor and create economic activity and jobs in Vanier. Increased property taxes for the redeveloped site are anticipated to deliver more than $970,000 in additional net tax revenue to the City in the first 10 years, and more than $5 million in the subsequent decade, for a total of approximately $6 million. Council committed those revenues to fund affordable or social housing initiatives across the city.
The Ottawa Paramedic Service responded to 132,530 calls in 2020 and met all Council-approved and legislated response time targets for emergency calls. Council received the service's annual report, which explains that offload delays at hospital emergency rooms continued to be a challenge in 2020. Paramedics spent 46,095 hours waiting to transfer patients to local hospitals. This lost time is valued at $6.6 million for the year, or 55 full-time staff. To address the resulting demand, the service is hiring more staff, expanding community paramedic care, using strategically placed response units, diverting patients from emergency rooms and conducting proactive home visits. This is the first year the service has reported a decrease in response volume since 2013. The 7.2 per cent decrease from 2019 is attributed to the ongoing COVID-19 pandemic, but while the service responded to fewer calls, it faced new challenges due to the pandemic. These included supply chain interruptions, a shortage of personal protective equipment, new measures for infection prevention and control, symptom screening and the need to continuously adapt to a rapidly changing situation.
The next regularly scheduled City Council meeting takes place on Wednesday, June 9.
AGRICULTURE & RURAL AFFAIRS COMMITTEE – JUNE 3
The next regularly scheduled ARAC meeting is set for Thursday, June 3 at 10am. The meeting is being held through electronic participation. The general public can review the agenda here and can watch the meeting live via the City of Ottawa's YouTube channel. Anyone interested in providing written or oral comments on any of the items on the agenda can do so by contacting ARAC's Committee Coordinator for more information and assistance: marc.desjardins@ottawa.ca, 613-580-2424 x28821.