El-Chantiry: Ward 5 weekly news, July 6
The Councillor's Column
COVID-19 – LATEST NEWS
Residents 12 and older eligible for second dose after 28 days: Residents who are 12 years old and older are now eligible to receive an accelerated second dose of COVID-19 vaccine 28 days after receiving their first.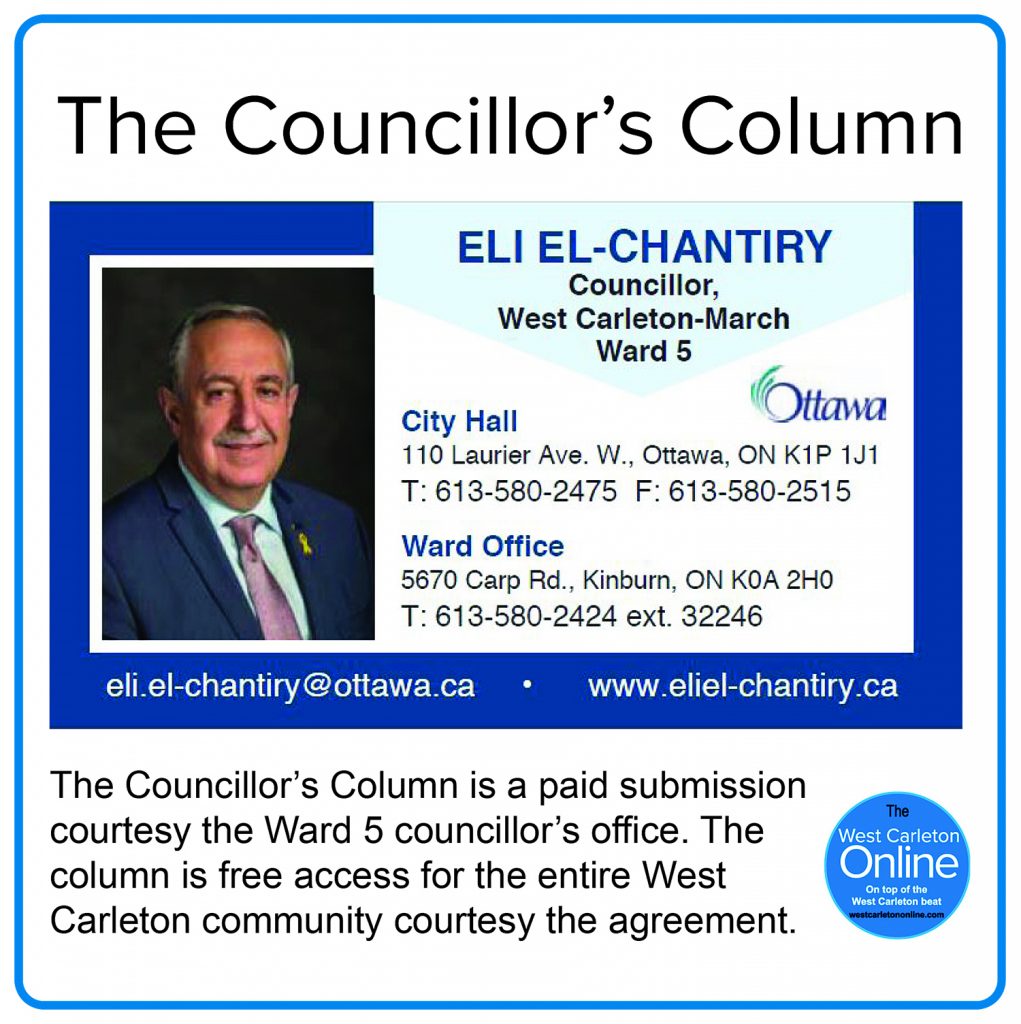 If you already have an appointment booked for an interval of longer than 28 days, you are encouraged to rebook for an earlier date.
To book a first or second dose appointment, visit Ontario.ca/bookvaccine to access the provincial booking system or call the provincial vaccine booking line at 1-833-943-3900 between 8 a.m. and 8 p.m., seven days a week.
COVID vaccine wait-list tool: Residents can register daily on the new COVID vaccine wait-list tool to book last-minute, same-day COVID-19 vaccinations at community clinics for unclaimed doses.
These appointments can open up at any time during the day and registered residents will be contacted by Ottawa Public Health by text, email or phone as they become available.
One million reasons to celebrate: Last week the City of Ottawa's vaccine roll-out reached a significant milestone. Ottawa topped the one million mark for the total number of COVID-19 vaccine doses administered.
We've achieved this thanks to the residents of this great City, and due to the exceptional efforts of Ottawa Public Health and City of Ottawa staff, pharmacies, paramedics, family medicine practitioners, etc. Milestones are now being met at a rapid pace:
Last week, Ottawa administered 127,623 doses to Ottawa residents.
Last week we passed the 30 per cent mark for residents 18 years of age and older now fully vaccinated. This came only three days after achieving the 20 per cent mark.
In the coming days, we expect to top 80 per cent of residents 18 years of age and older with their first COVID-19 vaccine.
Also last Monday, more than 120,000 appointments were booked in one day.
These are milestones we can be proud of. But we can't fully celebrate yet. If you have not received your first vaccine, or accelerated your second dose, now is the time. There is now a steady supply of vaccines and many appointments available.
CARP DRIVE-IN BINGO
The Carp Agricultural Society is hosting Drive-In Bingo every Wednesday in July at the Carp Fairgrounds. Gates open at 5:30 p.m. and bingo begins at 7 p.m. Please go to carpfair.ca to review all of the information you'll need to know, including COVID-19 protocols, canteen details, changes with parking and the rules regarding participating in Bingo.
UPDATE ON CITY OUTDOOR RENTALS FOR EVENTS, MEETINGS & ORGANIZED SPORTS
With the Ontario government's second step of its reopening plan relaxing more outdoor restrictions, the City is providing an update on rentals for events, meetings and organized sports – with the requirement for participants to follow all public health measures and protocols.
Outdoor team or group sports now permitted – Grass and synthetic turf sports fields and ball diamonds are now available for rental permits for organized and league team play. Step Two allows outdoor team sports to restart. Play must be non-contact or modified to avoid contact. Groups and teams are asked to respect health protocols and measures – which require players and spectators on the sidelines to maintain a two-metre distance from others and wear a mask when maintaining that distance is difficult. Spectators will be limited to 25 per cent of the bleacher or sideline capacity.
Outdoor event and meeting rentals – Step Two limits capacity of organized outdoor events or meetings at 25 per cent capacity of the rented space – based upon the type of event. Table sittings can now accommodate up to six people per table, with each table separated by at least two metres. Visit ottawa.ca for a list of the City outdoor rental spaces that will be available.
Outdoor tennis and cycling summer programs for adults and youth – These programs will also resume in early July as scheduled. Spaces remain available. Visit the Summer 2021 eGuide to view and register for these programs.
Low-ratio summer day camps – Spaces are still available in July and August for the City's low-ratio summer day camps, which provides physically distanced activities, game and crafts for children between the ages of 4 and 12. You can register and view our 2021 Summer Camp eGuide on ottawa.ca/recreation.
PROPER DISPOSAL OF USED & UNUSED FIREWORKS
With the Canada Day festivities now behind us, you may have some leftover unused fireworks. Please note that you should never throw out unused fireworks in your regular garbage. To dispose of these materials safely, contact @OttawaPolice at 613-236-1222. When dealing with used fireworks, soak in water for 24 hours and dispose in your regular garbage. For more information regarding disposal of these and other types of hazardous items visit this link.
CONSTRUCTION SEASON IN OTTAWA
The arrival of warm weather in Ottawa means construction season has officially begun! In a time of pandemic restrictions, construction has remained a bright spot – reminding us that life will return to normal and, when it does, our roads, bridges, and buildings will be ready. Read on here for more detailed information on the major construction activities taking place in 2021 throughout Ottawa. Some activities are part of multi-year construction projects while others are just starting this year.
The City of Ottawa publishes multiple webpages and newsletters for many of the construction projects taking place in Ottawa. To learn more about any of these projects and more, visit the City's webpage and sign up for City newsletters. The City is committed to informing the public on current and forecasted construction projects. The Capital Construction Forecast Online Map helps residents search planned infrastructure projects.
CITY COUNCIL – JULY 7
Ottawa City Council is scheduled to meet on Wednesday, July 7 at 10am. Review the agenda here and watch live via the City's YouTube channel.