El-Chantiry: Ward 5 weekly news, July 20
The Councillor's Column
COVID-19 – LATEST NEWS
Drop-in appointments now available for residents needing first dose: The City of Ottawa and Ottawa Public Health are making it easier for residents who have yet to receive their first dose of the COVID-19 vaccine.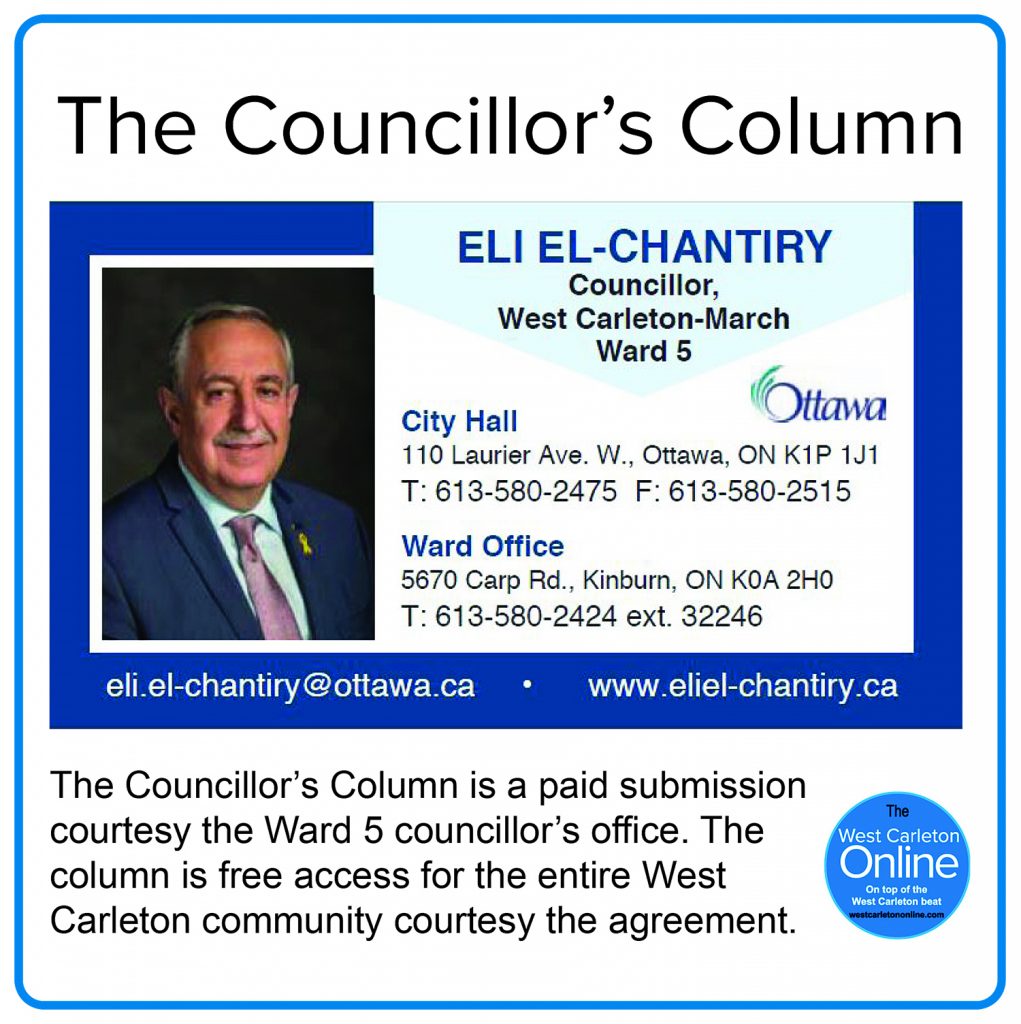 Anyone who has not yet had a first dose can now drop in to any City-run community clinic between 10am and 7pm or pop-up clinic while supplies last. No appointment needed. Residents can also drop in at the Queensway Carleton Hospital between 9am and 3pm daily. You can find a clinic near you by using the vaccine clinic location tool on OttawaPublicHealth.ca/COVID19vaccine.
City of Ottawa gradually expands in-person services under Step Three: With the Province of Ontario now in the third step of its reopening plan, the City of Ottawa is gradually expanding many of its in-person services as follows:
Indoor recreation facilities and programs: Under Step Three, indoor recreation facilities and programs will restart at select locations, with a new level of restrictions and measures in place. Access to most activities will require a reservation in advance. The following activities will reopen with capacity limits:

Indoor public and lane swims at select pools on July 16
Indoor Aquafitness programs at select pools on July 16
Summer Learn-to-Swim programs, starting the week of July 26
Weight and cardio rooms at select facilities on July 16
Indoor sport activities at select facilities on July 16
Drop-in programs such as fitness classes, older adult fitness classes, and skating began at select facilities on July 16. Reservations for drop-in activities can be made on ottawa.ca.

The resumption of other recreation and cultural programming and activities, including its 2021 fall programming, will be announced soon
Select City indoor and outdoor rental spaces will be available with capacity limits. Contact the facility directly for rental information. Arena and slab bookings are available for rentals. Email sports@ottawa.ca for more details
Cultural facilities will gradually start to reopen over the next few weeks. While museums are open for outdoor activities, indoor self-guided tours with capacity limits will begin for the season over the next week. City-run galleries will begin to reopen on July 22
More information will be announced in the coming weeks and months for all instructional programming and performing arts, including virtual courses from the Nepean Creative Centre, Nepean Visual Arts Centre and Shenkman Arts Centre, as well as live performances at Meridian Theatres at Centrepointe and Shenkman Arts Centre
Service Ottawa will continue to deliver in-person offerings by appointment only at the Client Services Centres at Ottawa City Hall, 110 Laurier Avenue West and Ben Franklin Place, 101 Centrepointe Drive. Stay tuned for reopening announcements for the other Client Service Centre locations
Visit ottawa.ca for the list of in-person service offerings. Residents can still take advantage of the convenience of accessing services online. Residents must make an appointment for in-person counter services at any Client Service Centre by using the online booking tool on ottawa.ca. Residents without internet access can reserve a time by calling 3-1-1 and choose option six for the Client Service Centre. Requests for same-day appointments will be subject to availability. A return to walk-in services will be announced in the coming weeks.
Building Code Services counters will be open at the above locations by appointment only. Building Code Services will continue to support application submissions by mail and electronically at buildingpermits@ottawa.ca
Employment and Social Services and Rent Supplement Program offices will have limited counter and document drop-off services will be available at all four centres
The Business Licensing Centre at 735 Industrial Avenue will continue in-person services by appointment only, for business licenses (all categories) and pet registration. To make an appointment, email businesslicensing@ottawa.ca and permisdentreprise@ottawa.ca or call 613-580-2424, extension 12735
The Provincial Offence Act Court's services counters located at 100 Constellation Drive and 110 Laurier Avenue West also continue to deliver services by appointment only. No walk-ins will be accepted. Many of the Court's services can be accessed online at ottawa.ca/poa
Ottawa Public Library will expand in-person services, increase capacity, and reopen creative spaces starting Monday, July 26, 2021. 31 of OPL's 33 branches are open. (FYI, the Fitzroy Harbour branch will reopen this fall). Please consult OPL's hours and locations page and current branch services page for more details.
The OC Transpo Service Centre at the Rideau Centre will be open Monday to Friday from 10am to 4pm, starting July 20. Customers can book appointments at 613-560-5000. Visit octranspo.com for more information.
CITY LOOKING FOR FEEDBACK ON ELECTION SIGNS BY-LAWS
The City of Ottawa is conducting a review of its Signs by-laws as they relate to election signs. To assist with this review, the City is seeking feedback from members of the public on the current election signs regulations. An online survey is available on the Engage Ottawa platform to those who wish to provide feedback. The survey closes on Friday July 30. Members of the public may also call the Elections Office at 613-580-2660 or email elections@ottawa.ca to provide their comments should they not be able to access the Engage Ottawa platform, or should they require assistance.
ANTI-RACISM PUBLIC ENGAGEMENT SESSIONS
This month, the City of Ottawa's Anti-Racism Secretariat has launched the second phase of its engagement plan with new virtual public engagement sessions to give residents further opportunities to help shape its work. The sessions will be hosted with all residents, including diverse communities of racialized residents, to plan targeted actions and inform the six priority areas identified in past consultations – employment equity, housing, governance, economic development, health outcomes and youth development – all of which are within the City's jurisdiction. The second phase of engagement is for communities with intersectional identities, which include racialized women and gender diverse persons, racialized youth, racialized persons with disabilities, racialized francophones, and the racialized 2SLGBTQQIA+ community.
In addition, the secretariat is working with Indigenous partners to engage Indigenous (First Nations, Inuit, Métis) residents. More details will be shared on these engagement activities soon. Residents who do not identify as a racialized person but are interested in participating are encouraged to attend the all resident action planning session. To register for one of the following engagement sessions, please visit the secretariat's Engage Ottawa page. In addition, the Anti-Racism Secretariat has re-launched a survey to help determine the immediate needs within the six priority areas. The survey asks residents how the secretariat can address systemic racism, and how they would like to engage and collaborate with the secretariat toward the goal of ensuring a safe and equitable city for everyone. The survey is currently open to all residents. Residents are encouraged to complete the survey by July 31. All feedback from the sessions and survey will be incorporated into the secretariat's What We Heard report that will be presented to the Finance and Economic Development Committee and Council this fall.
CITY APPOINTS NEW INTEGRITY COMMISSIONER
The City of Ottawa has appointed Karen Shepherd as its next Integrity Commissioner. Ms. Shepherd has worked for over 30 years in the federal public service, more than half of which was spent in the field of ethics. Ms. Shepherd will assume the role of Integrity Commissioner on September 1, 2021. She succeeds Robert Marleau, who became the City's first Integrity Commissioner in 2012, and whose term ends on August 31, 2021. The initial term of Ms. Shepherd's appointment is one year with an option to renew for a five-year term.
The Integrity Commissioner is an independent and impartial statutory officer who reports directly to City Council and is tasked with making municipal government more transparent and accountable. For more information about the role of the Integrity Commissioner, please visit ottawa.ca.
CITY COUNCIL MEETING – JULY 21, 2021
Ottawa City Council is scheduled to meet on Wednesday, July 21 at 10am. The agenda can be reviewed here. Residents interested in tuning in live to the meeting can do so via the City's YouTube channel.