El-Chantiry: Ward 5 weekly news, April 27
The Councillor's Column
COVID-19 – LATEST NEWS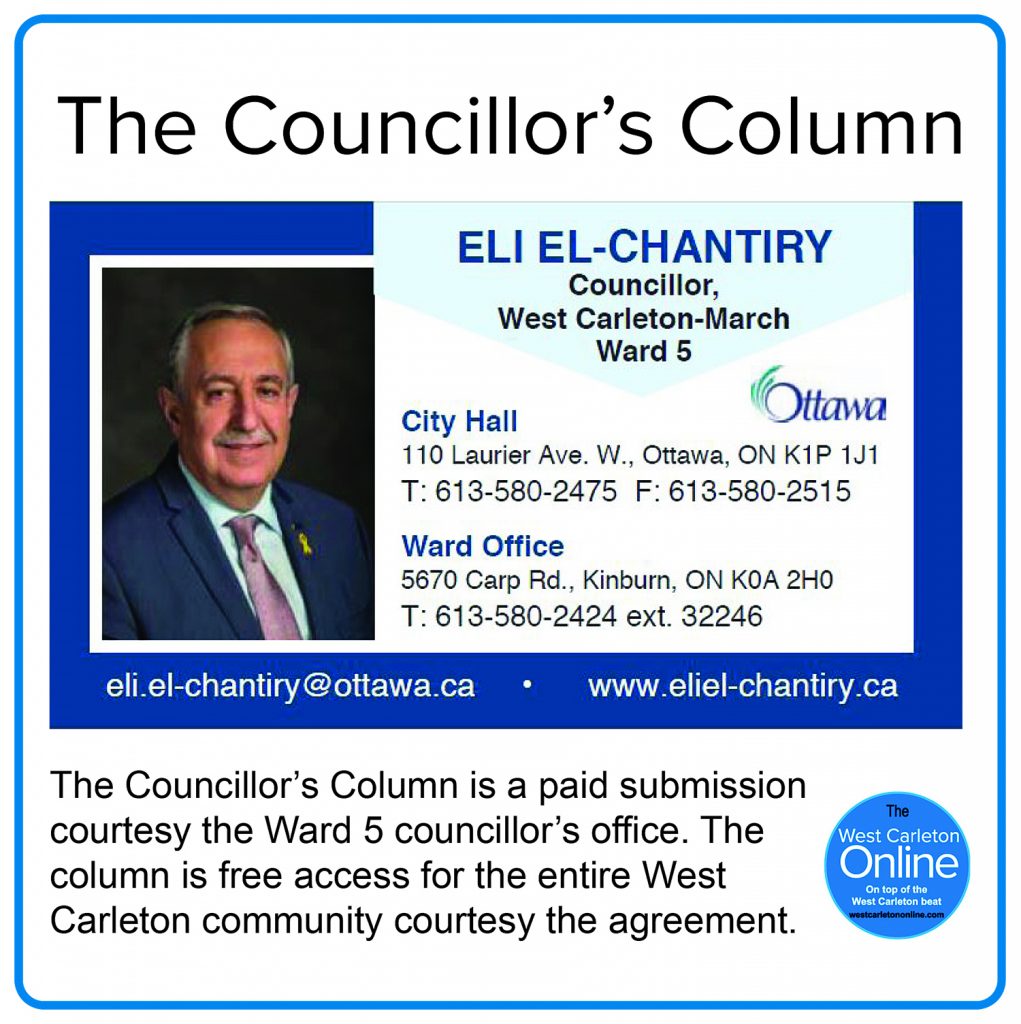 Pre-registration now available for pregnant individuals: As of Monday, April 26, pregnant individuals will be able to pre-register for a vaccine appointment.
These individuals, as well as others previously identified as people with the highest risk health conditions, and one of their caregivers, can visit Ottawa Public Health to pre-register.
The Province of Ontario lists pregnant individuals as part of the highest risk health priority group. Individuals who are pregnant are advised to have a discussion with their health care provider prior to getting vaccinated. A letter from a physician is not required for vaccination.
The second dose interval for this group will remain at 16 weeks. A pregnant individual may have someone who supports them be vaccinated.
This would apply when the pregnant individual needs regular and sustained help with personal care or to help them with their normal daily activities.
Pre-registration still available for highest risk health priority individuals: Pre-registration at Ottawa Public Health is still open to individuals with highest risk health conditions and their caregivers, including:
Organ transplant recipients
Hematopoietic stem cell transplant recipients
People with neurological diseases in which respiratory function may be compromised (e.g., motor neuron disease, myasthenia gravis, multiple sclerosis)
Haematological malignancy diagnosed less than one year ago
People with kidney disease eGFR< 30
Vaccinations at local pharmacies: Ottawa Public Health (OPH) has received many questions relating to the Astrazeneca vaccination program happening at local pharmacies. Please note, OPH does not have an active role in the rollout of vaccinations taking place within pharmacies. This program is being administered by the Province of Ontario. Information on the province's pharmacy rollout can be found here: covid-19.ontario.ca/vaccine-locations. OPH acknowledges the frustration many of you feel regarding lack of information relating to pharmacy vaccination program, but OPH wants to remind you that once an eligibility window open within OPH's booking system, it does not close. You will not be missed. Every single person eligible in the Ottawa community who wants a vaccine will get one in due time.
Park ambassadors back this spring to help inform & educate: New rules around what's open and what's closed under the provincial stay-at-home order can be confusing – especially around parks and play equipment. Well, the City of Ottawa's Park Ambassador Program is now back to give helpful guidance for your child's play on the slides, swings and play structures. Park Ambassadors are not enforcement officers and they do not hand out tickets. They are live, on-the-spot resources who offer valuable information, answers to your questions and help explain any confusion you might have about what's permitted and what's closed in our City parks. The Park Ambassadors will walk in pairs around the park area in either their green shirts or red jackets that identify them as City of Ottawa staff.
TREE PLANTING IN WARD 5
The City of Ottawa's Forestry Services Department is beginning their spring caliper tree planting program week of May 3 and some trees are being planted in West Carleton-March. The tree planting will run, weather permitting, until end of June, and may include tree planting in parks, at City facilities and along streets. Where a tree planting is scheduled on City property adjacent to a residence, individual notifications will be provided to the resident in advance of planting. Residents should also expect to see utility locate flags and paint on the ground prior to planting.
ACTIVE TRANSPORTATION PLAN – CYCLING Q&A
Ward 5, we want to hear from you! City of Ottawa staff are in the process of updating the Active Transportation Plan which will combine the current Ottawa Pedestrian Plan and the Ottawa Cycling Plan into one. Staff are in the process of identifying missing links in our Active Transportation Network and are planning the work to be done over the next 10 years.
I have been asked to prioritize some of the missing links in our cycling and pedestrian network and I'd like to hear from you! I am looking for your help in identifying missing links (gaps or barriers) in our Ward's walking and cycling network. Your feedback will help staff identify possible cycling and pedestrian projects in Ward 5. If there is an area within the ward that you feel could be addressed or use improvement, please let me know. Comments and suggestions can be sent to Ward5@ottawa.ca and we will collect all comments until April 30, 2021.
On Tuesday, May 11 from 6:30 – 8:00 p.m., my west-end colleagues and I will be hosting a cycling focused Q&A Session via Zoom. (CLICK HERE for the Zoom link for this meeting). This session, along with my colleagues Councillors Sudds, Gower and Hubley, will include City Planners who will answer some of the comments/questions that you've sent in, and will discuss some of the missing links that are on the list for completion in the coming years.
I have included a map of the Cycling Network in West Carleton, with the purple lines showing existing cycling facilities and the red lines showing in-progress cycling facilities that are projects currently underway or starting soon. I have also included a map where by consultation through Engage Ottawa, some residents have already 'dropped pins' and identified missing links within our community. This opportunity to provide feedback and ask questions should be used to address or suggest areas for improvement and/or new projects. Please note this initiative is not to point out maintenance issues such as potholes and/or road work that needs to be done.
UPTICK RESEARCH PROJECT
The UPTick project will soon be launching its second year of field activities in four Ottawa neighbourhoods. University of Ottawa researchers, led by Dr. Manisha Kulkarni, will continue their project on ticks and Lyme disease in areas of Carp, Kanata North/South and Stittsville this season. The project aims to assess the impacts of urban change on tick populations and tick-borne disease transmission. The researchers will hold a virtual town hall meeting on May 6 from 6 to 7 p.m. to share information about this project and the first-year's results with the community members of four study neighborhoods. You are welcome to join via the registration link here. This event is in English and will take place online as a video conference through Zoom. If you're new to Zoom, be sure to give yourself five minutes before the meeting start time to get set up. For more information and FAQ about the UPTick project visit uptickproject.ca.
TRESPASSING ON CN RAIL RIGHT OF WAY FROM KANATA TO OTTAWA RIVER IN VYDON ACRES
The West Carleton Snowmobile Trails Association provided this important public messaging: "The West Carleton Snowmobile Trails Association Inc. has a lease with CN rail for the CN Right of Way from Wesley Clover Park to the Ottawa River for use as a dedicated snowmobile trail only. This right of way is private property and anyone on the property that is not a licenced snowmobiler on a snowmobile is trespassing. We ask that the public do not access or use this property for any reason other than snowmobiling. Ottawa Police and Bylaw Enforcement have been informed that this is private property and fines can be issued to all trespassers."
CITY COUNCIL MEETING – APRIL 28
The next regularly scheduled City Council meeting is Wednesday, April 28 at 10am. You can review the agenda here and watch the meeting live via the City of Ottawa's YouTube channel.