El-Chantiry: Ward 5 May 28 storm update
The Councillor's Column
Storm Recovery Update – West Carleton-March, Ward 5
Each day I am informed of more and more streets in West Carleton-March where power is being restored by Hydro Ottawa and Hydro One crews. Thank you everyone for your patience.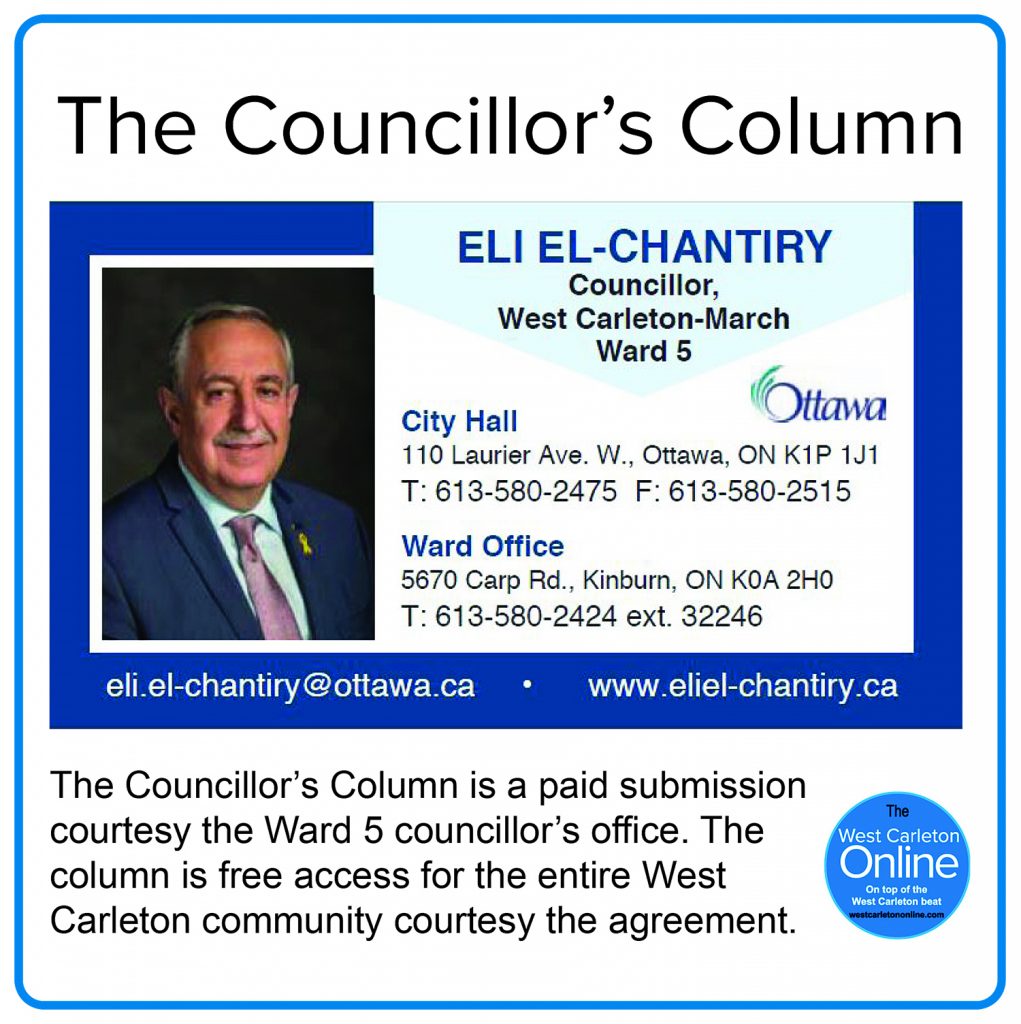 I know you have been through so much this week and I know some of you continue to be without power as we head into the weekend, May 28 and 29. This has been the Number One focus for my team and me. Hydro Ottawa crews have been working hard to restore power to West Carleton-March and they will continue throughout the weekend and until everyone's power are restored. Please contact me if you are still without power as of the morning of Saturday, May 28. Email me at eli.el-chantiry@ottawa.ca or call me at 613-580-2475.
Wellness Checks
Staff from Ottawa Fire Services, including our District 6 and 8 rural firefighters from West Carleton-March, continue their wellness visits to residents in affected areas. More than 1,200 visits across Ottawa have been made to check the well-being of residents and help with brush and waste removal. Thank you to our residents who have reached out to offer their assistance to those in need. If you know someone in West Carleton-March who requires a wellness check, email me at eli.el-chantiry@ottawa.ca or call me at 613-580-2475. We are doing everything possible to support residents and we are here to help.
Emergency Reception Centres
The City's emergency reception centres, including the W. Erskine Johnston Arena in Carp, remain open daily 10 am to 10 pm through the weekend, May 27 and 28 to provide services for those in need, such as bottled water, washrooms, showers, access to fill containers with potable water and to charge their devices. For the full list of reception centres where impacted residents can access a range of services and supports, please visit www.ottawa.ca/stormrecovery.
Food Resources Available
The City of Ottawa is partnering with community agencies to connect residents in need to food resources during the storm recovery. Food resources, including home delivery and pick-up options, are available throughout the city. To find a food resource near you, visit ottawa.ca/resident-support. Residents in need can also call 2-1-1 for information on government and community-based health and social services, including food resources.
Financial Support for Food Loss
Residents affected by the power outage who are in need of financial help can also complete an application and be assessed for emergency assistance for loss of food, and in exceptional circumstances, help with medication, medical supplies or personal care. To apply, visit the online application for emergency assistance or call 3-1-1 and select option 4. If you are already in receipt of Ontario Works, please call your case worker directly.
**Please note that 3-1-1 is experiencing a higher number of calls than usual. Ottawa residents are asked to remain patient as workers respond to calls as quickly as possible.
Food Waste Bins
If you have any food waste that needs to be disposed of, the organics-only waste bins at several sites around the City of Ottawa will be gone by end of day on Saturday, May 28. A bin is stationed at the Constance Bay Community Centre at 262 Len Purcell Drive until end of day Saturday, May 28. After May 28, please place your organic waste in your green bin for your regular weekly collection. More info here: https://bit.ly/3M0Q4Bz
Tree Debris & Removal
For now, you do not need a permit to remove dead or hazardous trees on your private property where the tree is an immediate threat to public health and safety or will not survive the damage sustained. Photos should be taken before removal to provide evidence of the condition of the tree should there be future inquiries.
What to do with your tree cuttings, branches and brush
Examples: logs, large tree limbs, pressure treated wood
How to dispose: If the debris is small enough, you should bring it to curb for collection, provided it does not impede the roadway or pedestrian access. Please separate brush-like tree cuttings or branches from non-organic storm-related waste. If you can, use twine or another organic material to tie branches in bundles of less than 1.2 metres (four feet) in length and 60 centimetres (two feet) in width.
Public Works crews are working to remove large trees and pieces of wood on roads and in parks that are hazardous, or are damaging homes and vehicles, blocking roads, or leaning on residential properties. Large trees, trunks, stumps and root systems that residents have cut down may be placed curbside if possible. While these will not be collected as part of the regular waste collection, the City will pick them up. This collection will take several weeks.
City crews are working hard to remove items put to the curb, but it will take several weeks before the cleanup is finished. All available resources have been redeployed and as a result, other less-urgent operations may be delayed, such as park waste collection and grass-mowing, or sidewalk repair.
Please see below for a handy tip sheet or visit: https://bit.ly/3M0Q4Bz for more information and other storm updates.

Storm-related waste:
Examples: Shingles, fencing, lawn furniture. Visit the Waste Explorer for more.
How to dispose: Please separate storm-related waste from any trees or branches when you put them to the curb.
Volunteers Need to Help Clean Up After the Storm:
On Saturday, May 28 and Sunday, May 29 volunteers of all abilities are needed to help with cleanup projects across the city as a result of the May 21 storm. There are two ways you can support this weekend with the City of Ottawa and our community partners. To learn more, please click here.
Safety During a Power Outage:
For your safety, please rely on flashlights rather than candles, if possible. Generators must be operated outdoors and not in your home or garage due to the risk of carbon monoxide poisoning.
Stay Connected:
If you or your neighbours and loved ones do not have power and are without internet, please tune in to local radio stations for updates if you have a battery-operated radio. CBC Ottawa: 91.5FM, CFRA 580AM, CityNews: 1310AM or 101.1FM. If you are unable to rely on Internet-based news or other forms of communication to receive updates on the City's storm recovery response, please call me at 613-580-2475.
City Services – 3-1-1
Reminder: As call volumes remain high, the call-back feature continues to be available to residents contacting 3-1-1.
You do not lose your place in the queue when you request a callback and you will be contacted by the next available agent. Thank you for your patience. Please reach out to my office if your request is more immediate or urgent, if you are unsure how to direct your request or if you have storm-related questions.
Power Outages:
My team and I remain in daily contact with Hydro Ottawa and Hydro One, ensuring they are aware of impacted streets in our communities. If you are still without power as of Saturday, May 28, please let me know your address by emailing me at eli.el-chantiry@ottawa.ca or leave me a voicemail at 613-580-2475.
A Message from Hydro Ottawa:
Hydro Ottawa informed City Council, including myself, that as of May 27 at 7 pm, power had been restored to 154,000 customers across the full breadth of their service territory. Crews continue to work non-stop across the city making areas safe and restoring as many customers as possible. As of the evening of May 27, approximately 26,000 customers were without power and Hydro Ottawa was hoping to restore power to another 5,000 to 6,000 customers overnight.
The amount of damage to Hydro Ottawa's infrastructure as well as the inclement weather the morning of May 27 did impact Hydro Ottawa's restoration efforts. The work is difficult, laborious and time consuming. Even when they energize circuits, crews are finding pockets of houses that are not online because of tree contacts or additional damages that need to be repaired. All crews – both Hydro Ottawa and external resources from contractors and neighbouring utilities – will remain engaged and on the job until every house and residence is reconnected to the grid.
Below you will see Hydro Ottawa's outage map after the storm hit versus what it looked like the afternoon of May 27 at 4 pm. In the Ice Storm of 1998, Hydro Ottawa lost approximately 50 poles and in the tornados in 2018, Hydro Ottawa lost 80 poles. Hydro Ottawa's original assessment on Sunday, the day after the storm, was that they would have to replace upwards of 225 poles following this storm. Upon further inspection and following six days of major works and construction, this number will be nearly twice that, around 400 poles. To put that into perspective, Hydro Ottawa would normally replace 325-350 poles per year as part of its planned work activities. From a construction perspective, Hydro Ottawa crews have done nearly a year's worth of construction in the past six days.

In a normal large-scale outage (30,000-45,000 customers out of power), Hydro Ottawa would have anywhere from 25-30 events in the system that would need to be managed. These "events" would be outages at a community level where Hydro Ottawa would prioritize and assign crews. Work would then begin and restoration would be completed as the work concludes. After 6 days of around-the-clock restoration efforts, there are still more than 150 "events" to be managed and completed. Moreover, they have a listing of more than 1,500 known or reported tree contacts/tree interference which need to be addressed and resolved. And as they do additional restoration work, these numbers have the potential to increase. The good news is that Hydro Ottawa has all of the resources – both forestry and utility crews – needed to restore power as quickly as we can.
Hydro One
A team of more than 3,200 power workers, including resources from out-of-province utilities and contractors, have restored power to more than 652,000 customers affected by Saturday's devastating storm. Crews continue to work tirelessly through the widespread and significant damage to make repairs, rebuild local electricity infrastructure and restore power to the more than 61,000 Hydro One customers who are still without power. Heading into the weekend of May 28 and 29, there continued to be small pockets of Hydro One customers who are without power in West Carleton-March.
The company anticipated that power would be restored to 99 per cent of customers affected by the storm by the evening of Friday, May 27. Due to the severity of damage, some customers in rural, remote and island locations in the Perth and Bancroft areas that will be without power for several more days. In the Tweed area, a small number of customers may be without power for several more weeks due to the extraordinary level of damage.
Hydro One has seen a record 1,900 broken poles and the company is working closely with its suppliers to ensure crews have the necessary materials to make repairs.
When rebuilding after a storm, Hydro One prioritizes restoration to bring power back to the greatest number of customers in the shortest period of time. Crews need to repair and rebuild main power lines along with other key pieces of infrastructure before repairs can be made to power lines that serve smaller numbers of customers.
It is critical to stay at least 10 metres back from a fallen power line, even if it does not appear to be live. Report it to the police and call Hydro One at 1-800-434-1235.
Customers can report and track the status of their outage using the company's outage tools, including its map and app, by texting WATTS (92887) or calling 1-800-434-1235.
Internet Restoration:
Rogers
Almost 95 per cent of Rogers services are now back online. Rogers crews – some here from as far away as Atlantic Canada – are working closely with Hydro Ottawa and will continue to do so until full restoration. Once services are restored, customers may still need to restart their modem and other services.
Bell Canada
Bell reports that as of May 27, most of their customers affected by the outage have had their wireless and internet services back up and running. They are prioritizing repairs to damaged equipment for the remaining, hardest hit areas in Ontario and Quebec and have additional technicians in the field to get their services back up as soon as possible. Bell says they are doing everything they can to restore services for impacted customers.
If you have power, but not Internet or TV service:
you may need to reboot your modem and set-top box.
visit Bell's Virtual Repair tool on the MyBell app or http://support.bell.ca to check outage status and if needed book a technician
**If you are seeking updates on your Internet service, please contact your provider directly.
Ward 5 & City Resources:
City of Ottawa Storm Recovery updates and resources:
https://ottawa.ca/en/health-and-public-safety/emergency-preparedness/storm-recovery#support-residents-need
Emergency financial assistance:
Click the following link to access the online application or call 3-1-1, selected 1 for English, 4 for Social Services, then 3. https://ottawa.ca/en/family-and-social-services/employment-and-financial-assistance#financial-support-individuals-who-need-urgent-help
West Carleton Food Access Centre
The West Carleton Food Access Centre provides emergency food assistance to West Carleton residents. Please email wcfoodaid@gmail.com or leave a voicemail by calling 613-832-5685.
Distress Centre of Ottawa and Region – Crisis Line
The Distress Centre answers calls 24 hours a day, seven days a week, with crisis line specialists providing confidential support. Callers can reach the Centre at 613-238-3311.
Western Ottawa Community Resource Centre
The Western Ottawa Community Resource Centre provides services to West Carleton-March residents. Mental-health crisis support is available. If you are feeling overwhelmed, down or anxious and need someone to talk to, please access the centre's crisis walk-in hours.