El-Chantiry: Ward 5 bi-weekly news, Nov. 2
The Councillor's Column
COVID-19 – LATEST NEWS
OCTOBER 28, 2021 – SPECIAL STATEMENT FROM DR. MOLOUGHNEY

Hello. Bonjour. Kwey.
While the number of people testing positive for COVID-19 in Ottawa remains relatively steady, we continue to see COVID transmission in situations where people are starting to let their guard down by not wearing masks, not maintaining physical distancing or not staying home when sick.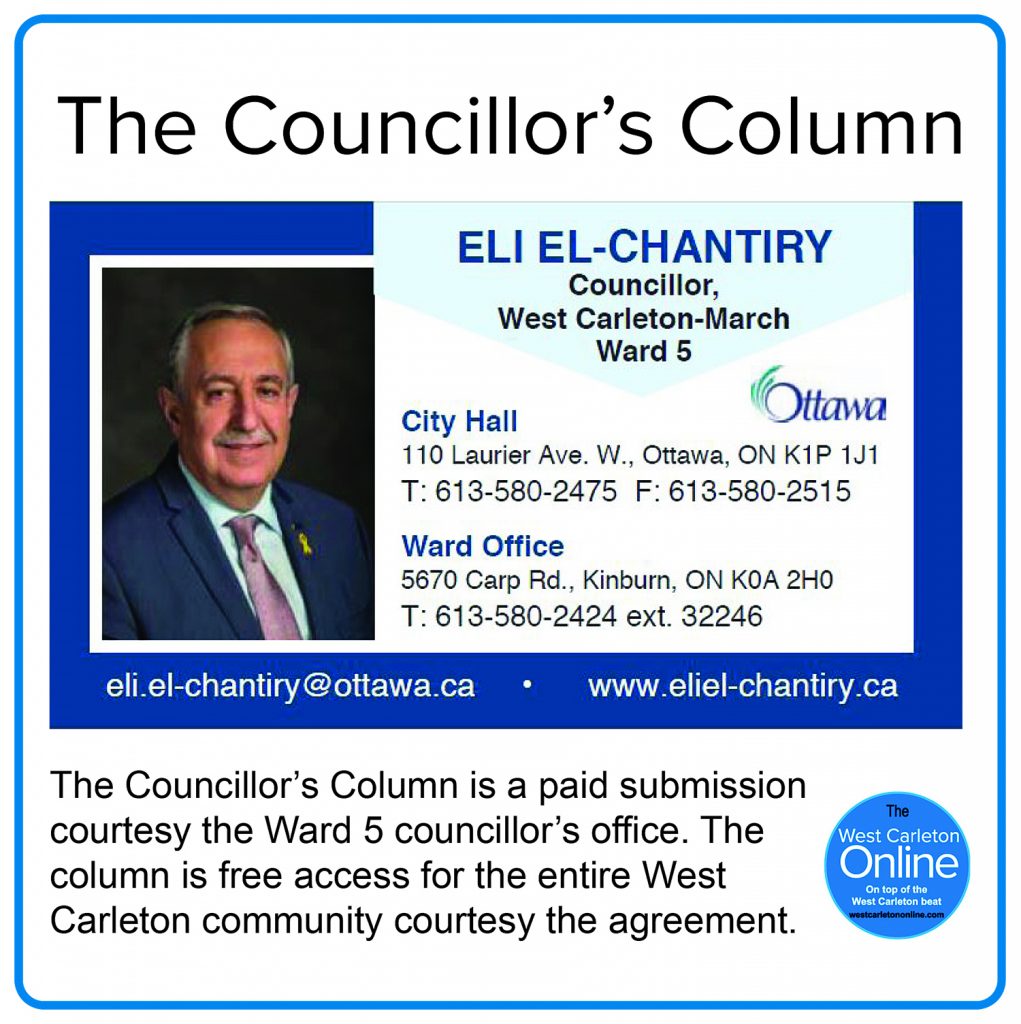 We are seeing evidence of this particularly in workplaces, sport settings and social gatherings.
Ottawa Public Health released the latest example of a cluster that occurred as a result of an individual who participated in an outdoor sports game without masking or distancing, and along with another individual, attended an indoor social gathering after they had developed symptoms.
One also attended school after developing symptoms. Both later tested positive for COVID-19. This led to at least 26 people testing positive for COVID-19 and 247 high-risk contacts.
In this case, all individuals confirmed to have COVID-19 had not been fully vaccinated against COVID-19, though all met age-based eligibility criteria for vaccination.
The drivers of this cluster of transmission are not unique and result in significant disruption to schools, businesses, and families and can be avoided by adhering to public health measures such as masking when in close contact with others, staying home and seeking testing when you have symptoms, and of course getting your COVID-19 vaccine once you are eligible.
Read the full special statement here.
OTTAWA PUBLIC HEALTH – Staying safe, support and resources
WARD NEWS
ANNUAL PUMPKIN CARVING CONTEST
Thank you to those who participated in my annual Ward 5 Pumpkin Carving Contest. We had a lot of great/spooky submissions. Here are the winners for this years' contest. Please watch for an upcoming holiday-themed contest coming this December!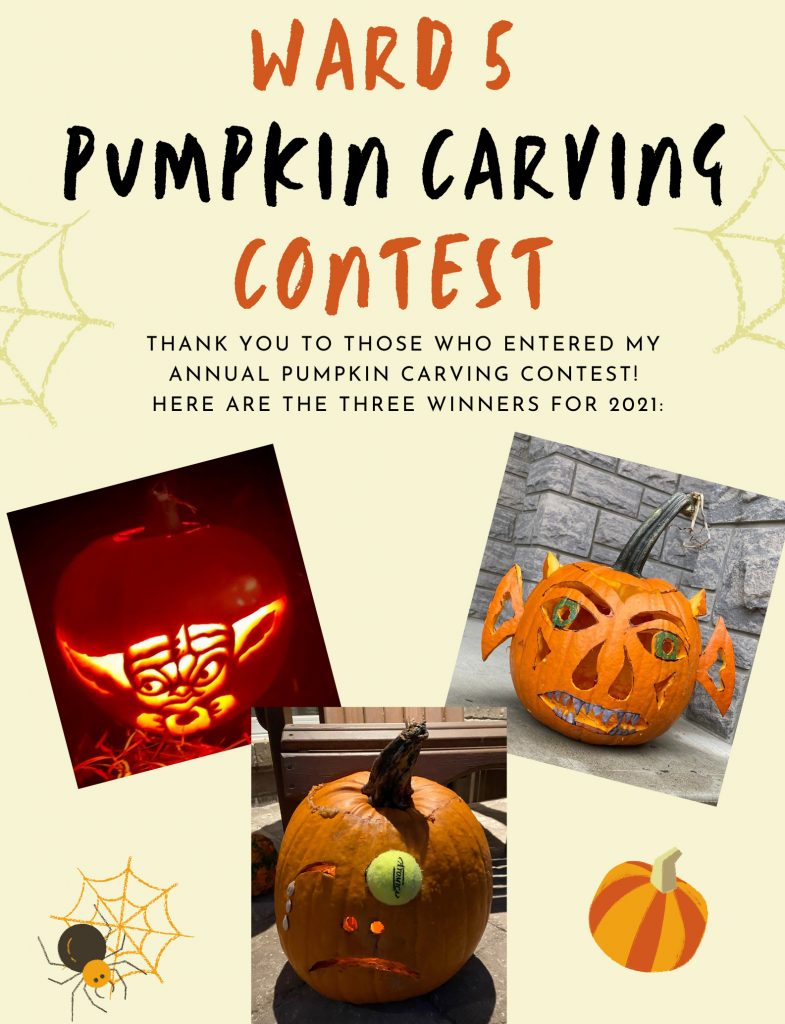 VOLUNTEER AT WESTERN OTTAWA COMMUNITY RESOURCE CENTRE
Would you like to be part of something amazing? Consider volunteering at the Western Ottawa Community Resource Centre! WOCRC has multiple opportunities available for you to share your skills and make a difference in your community. Visit wocrc.ca to see how you can help or call 613-591-3686 ext 280.
Here is what existing volunteers have to say:
"It gives me a great pleasure to be one of the many dedicated volunteers at WOCRC, such a worthy organization dedicated to helping people in their time of need especially during the pandemic."
"I have really enjoyed delivering for Meals on Wheels. Our drivers are probably the only person some of our clients see on a regular basis. I'd like to think that I made their day a little brighter."
GALETTA COMMUNITY – WE WANT TO HEAR FROM YOU!

Live and/or work in the Galetta community? The Galetta Community Association's board of directors wants to hear your ideas on what you think the board should focus on in the future. Consider yourself invited to the association's next meeting on November 22 at 7:00pm at the Galetta Community Hall, 119 Darwin Street.
Note: proof of vaccination will be required.
UPCOMING MEETING – WEST CARLETON COMMUNITY CONVERSATION
This is a great opportunity to connect with fellow West Carleton residents to discuss issues/topics that impact you and your community. Please RSVP to lorusso@wocrc.ca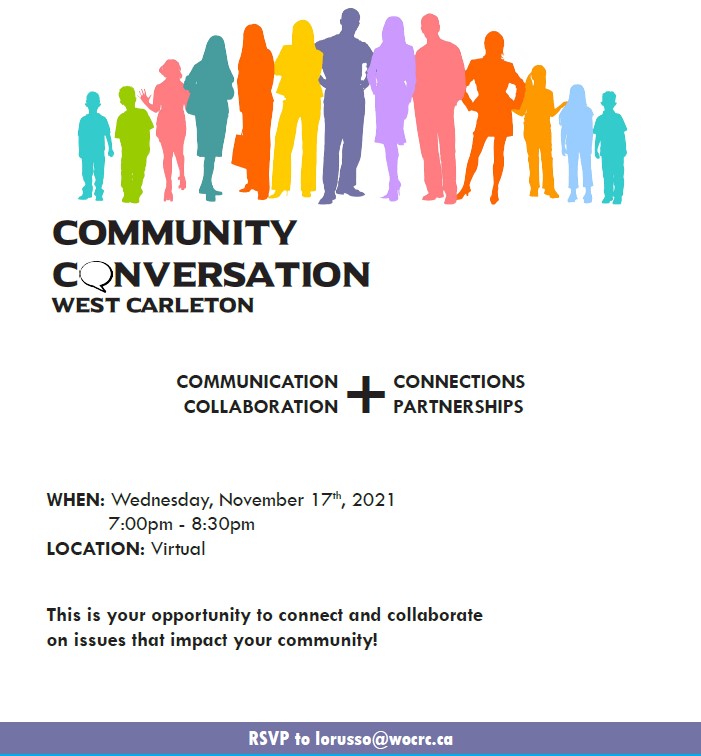 RURAL TRANSPORTATION SURVEY
Have something to say about rural transportation? Why not take part in an upcoming focus group! Dates to participate and how to reserve your spot below: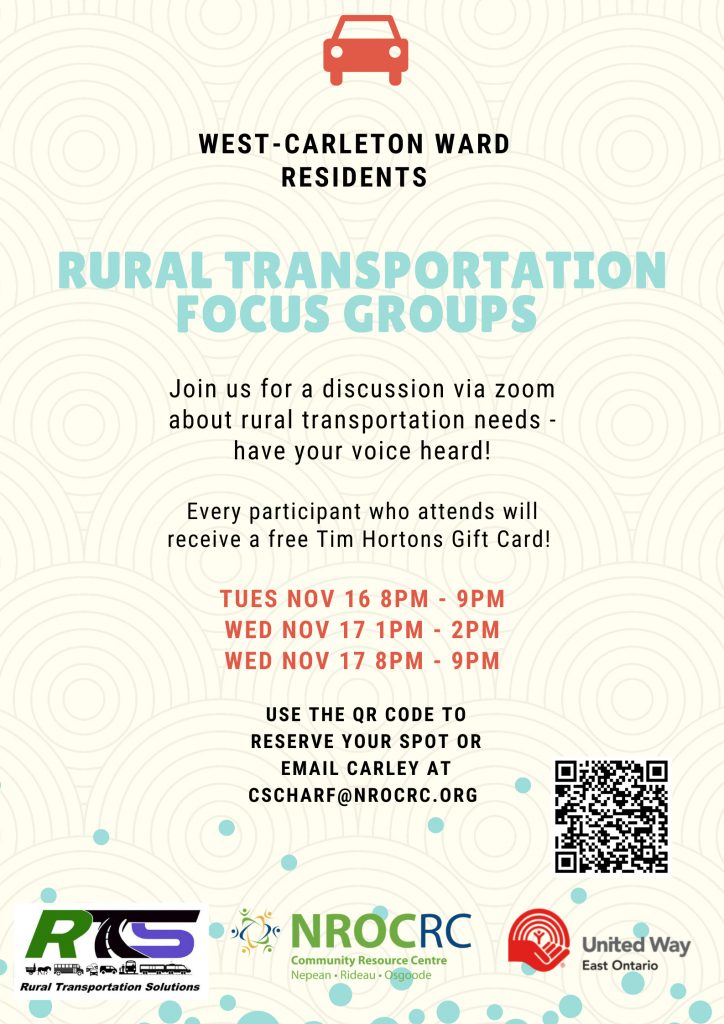 CITY NEWS
CITY APPROVES NEW OFFICIAL PLAN

At the City Council meeting on October 27, Council approved a New Official Plan for Ottawa – the City's most comprehensive planning document. It marks the first time that Ottawa has adopted a new Official Plan since 2003.
The New Official Plan will guide growth and redevelopment in Ottawa for the next 25 years and is framed around five big policy changes:
Growth: encouraging more growth through intensification and providing more affordable housing
Mobility: promoting sustainable transportation and encouraging complete streets
Urban Design: ensuring intensification happens in ways that benefit the streets and communities involved
Resiliency: bringing environment, climate and health considerations to the forefront of planning
Economy: establishing a strong relationship between land use and economic development
The New Official Plan is designed to help Ottawa become a city of connected, green, inclusive and walkable communities, with greater density of housing, employment and services around rapid-transit hubs and along transit corridors.
I would like to take this opportunity to thank all Ward 5 residents who took the time to read, consider, and provide feedback and/or ask questions regarding the New Official Plan.
My gratitude goes to you and all City Staff who worked on this comprehensive document. Creating a plan that will guide growth and redevelopment in our city over the next 25 years and lead us to one day to transform into North America's most livable city is no easy task. Your hard work is recognized, greatly appreciated and will help shape Ottawa's communities for decades to come.
COMMITTEE MOVES TO REDUCE CONSTRUCTION IMPACTS & PROTECT ROADS
On November 1, the City's Transportation Committee approved amendments to the Road Activity Bylaw that would both mitigate the impact of road work on mobility and protect Ottawa's roads.
The changes to the by-law, which governs work done on City roads, include updates to fees and staff resources, a new business process to manage construction impacts, enhanced road resurfacing policies and changes to temporary construction encroachment permits.
Utility companies and City works would be subject to broader requirements when resurfacing cuts into pavements that are less than three years old, and all road cuts within one metre of the curb would have to be resurfaced all the way to the curb. Pavement degradation fees would be updated to reflect the greater cost to the City from cuts into asphalt roads.
The City would update processes to ensure it considers construction impacts in the right of way as part of the application process for site plans and subdivisions. This would help developers identify potential issues and reduce construction delays.
A new structure for permit fees would fully fund 10 new full-time equivalent positions to implement the proposed changes and ensure the City can consistently meet service delivery times year-round. Changes would come into effect on January 1, 2022.
Recommendations from the meeting will rise to Council on November 10.
OVER TWO MILLION TREES PLANTED IN CITY'S GREEN ACRES PROGRAM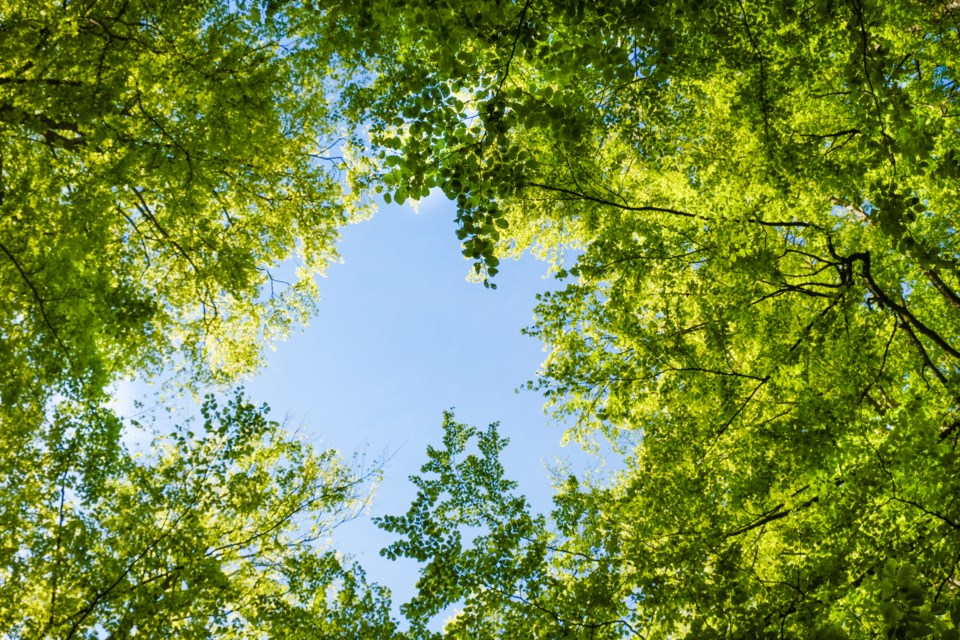 The City's Green Acres Reforestation Program reached a major milestone this year, with the planting of the two millionth tree.
The program is a partnership between the City and three local conservation authorities: Mississippi Valley Conservation Authority in the west, Rideau Valley Conservation Authority in central and South Nation Conservation Authority in the east. Through this program, residents with unused land can apply to reforest it and receive support to maintain newly planted trees.
Green Acres generates significant benefits for the entire region. Along with producing oxygen, trees also capture carbon, clean the air, create habitat and help reduce the impacts of floods, droughts and erosion.
Quick facts:
The Green Acres Rural Reforestation Program was established in 2000 to help grow and maintain forest cover by replacing trees lost during the 1998 ice storm and as well as to development and construction
Green Acres has planted an average of 92,500 trees each year
Landowners commit to reforesting at least 1.25 acres with a minimum of 1,000 trees
Conservation authority staff help maintain the new trees for five years to maximize survival rates
The City provides annual base funding so the conservation authorities can work with willing landowners to create custom planting plans, order the seedlings and complete the planting each spring
The top Ottawa wards for tree planting include:
West Carleton-March (922,062 trees to date)
Rideau-Goulbourn (569,536 trees to date)
Cumberland (249,014 trees to date)
Osgoode (220,110 trees to date)
Plus 73,950 across the remaining Ottawa wards
While the 2022 program is already full, residents interested in reforesting their land are encouraged to visit ottawa.ca for more information.
CAPACITY LIMITS LIFTED FOR RECREATION AND CULTURAL PROGRAMS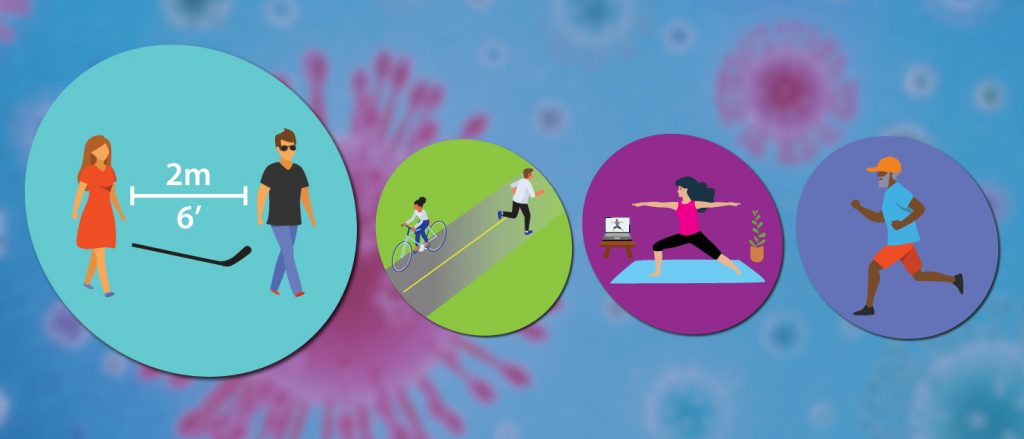 The City is increasing capacity limits for its recreation and cultural drop-in activities to reflect the recently announced easing of Provincial regulations. This will give residents more opportunities to get out for a swim, skate, participate in a sporting activity, exercise in a cardio and weight room, and visit a museum or cultural centre.
Residents should note that capacity for most activities will return to pre-pandemic levels, subject to staff availability. The current reservation system will remain in place to provide clients with the opportunity to secure a spot at a preferred time and to make the check-in process faster and easier. Those without a reservation will be admitted when capacity limits allow and will be required to provide their contact tracing information during the onsite registration and screening.
While the capacity limits have been eased, other COVID-safety protocols remain in place for a safe and enjoyable environment:
Proof of full vaccination and identification (paper or digital certificate for adults 18+)
Proof of full vaccination and identification for youth aged 12 to 17, who are using fitness rooms or participating in drop-in activities
Masks are still required at recreational facilities when not taking part in a physical activity
Full fire-code capacity levels will also be permitted for hall, pool and arena rentals, with the exception of events with dancing, which remain at 25 per cent capacity.
The City is pleased to welcome all residents back as we approach late fall and winter activities. Now, you and your family can stay active for your physical and mental health.
TIPS FOR YARD CLEAN UP
It is peak leaf and yard waste season, especially in our rural communities. As you rake up those colourful fall leaves, remember the handy tips listed below. For even more ideas on how to use and package your fall foliage, visit the City of Ottawa garbage and recycling page.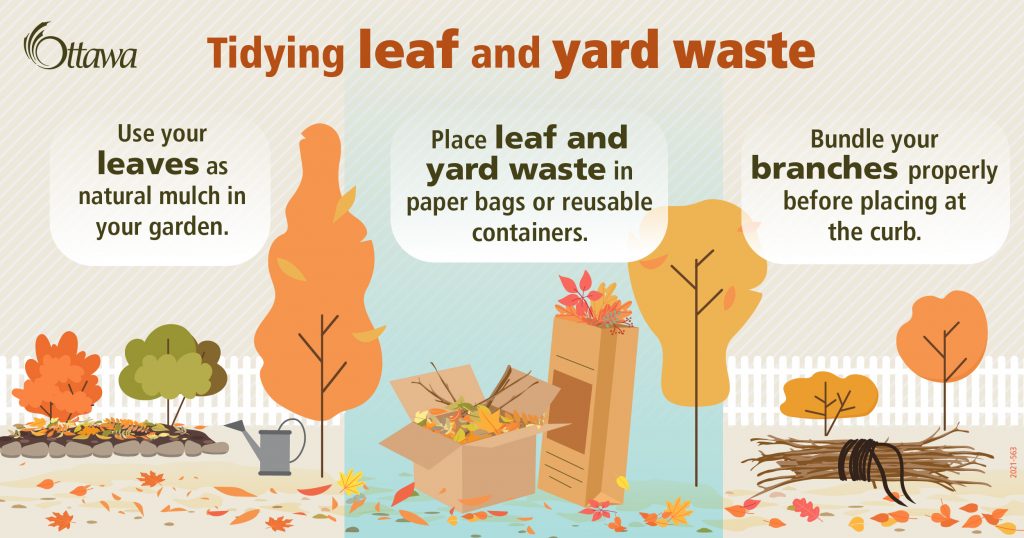 CITY COUNCIL AND COMMITTEE
This week, I chair the Agriculture and Rural Affairs Committee on November 4 at 10 a.m.
To view the agenda in advance of the meeting, please click here.
To watch the meeting live, please click here.
For a full list of committee meetings happening November 1 – 5, click here.
Here is what happened at the October 27 City Council Meeting.
VIRTUAL PUBLIC CONSULTATION RECORDING – BUDGET 2022
Thank you to all who attended my Ward 5 Virtual Public Consultation for Budget 2022. It was a collaborative and productive conversation with residents and City of Ottawa staff. For those who could not attend, here is the video recording. Thank you for engaging in the Budget 2022 process.
Link to budget meeting recording: https://youtu.be/iu4BRgbOTMI