El-Chantiry: Ward 5 bi-weekly news, July 6
The Councillor's Column

Firefighter Food Drive for West Carleton Food Access Centre
Kinburn Fire Station 61 and Fitzroy Harbour Fire Station 62 are hosting a community food drive to collect non-perishables for the West Carleton Food Access Centre. Donations can be dropped off at either station on Monday nights between 7 and 9 pm or anytime at Darvesh or the Harbour Store until July 22.
Concerts in the Park Series
WM (Waste Management) and I present the 2022 Concerts in the Park Series at Fitzroy Provincial Park, hosted by West Carleton Disaster Relief. The concerts take place every Thursday evening in July.

Chris Burke Receives 25-Year Service Pin

During a special ceremony on June 22 at Dunrobin Fire Station 66, Ottawa Fire Services Chief Paul Hutt and District 6 Sector Chief Bill Bell presented Chris Burke with his 25-year service pin in recognition of his long, distinguished career as an Ottawa firefighter. Chris, thank you for your dedication to serving the residents of West Carleton-March and for your expertise in training new rural firefighters.
Reopening of the West Carleton Client Service Centre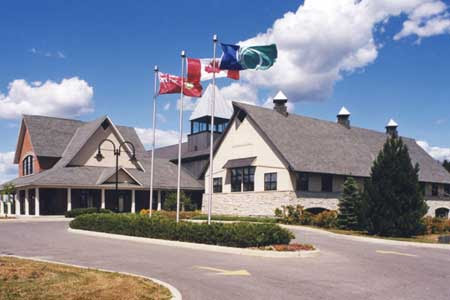 In-person services at the West Carleton Client Service Centre, at 5670 Carp Road, have resumed. The centre is open Wednesdays, 8:30 am to 4 pm. Please make an appointment at ottawa.ca/csc. Walk-ins will be accepted, but priority will be given to scheduled appointments. In addition to the in-person option, residents can continue to access services online or by calling 3-1-1 or 613-580-2400 and selecting option 5, after choosing their preferred language.
Wild Parsnip Control Program
The City's Wild Parsnip Program was slightly delayed this season due to Public Works' clean-up efforts from the May 21 storm. Despite this, staff are nearing completion of the roadside herbicide application and expect to complete that operation very shortly. Parkland herbicide application is scheduled to begin this week, weather dependent. In Ward 5, those parks include the vicinity of the Diefenbunker Museum baseball diamond in the Carp area, River Park in Fitzroy Harbour and the rural portion of the South March Highlands Conservation Forest.
Ottawa Fire Services Station 45 – Design and Construction Plans
Kanata is getting a new fire station to serve fast-growing Kanata North suburbs. Learn more about the design and construction plans online until July 22.
Information about the station
The proposed Kanata North Fire Station 45 will be relocated from 640 Cameron Harvey Drive to the new site at 1075 March Road. The new fire station will serve Ward 4 Kanata North and Ward 5 West Carleton-March.
A 2015 Station Location Study confirmed that there would be no operational impacts or adverse impacts to public safety in relocating Station 45. The study assessed projected growth, anticipated risks and benefits of the new station being recommended.
The relocation of Station 45 (Cameron Harvey) within the Kanata North Community Design Plan. Currently, Station 45 (Cameron Harvey) is a composite station containing 10 career firefighters and volunteer firefighters. In order to meet the new standards based on projected growth, the new station would require an additional 10 career firefighters. The station will remain a composite station and include volunteer firefighters.
The current staffing of Station 45, as well as the equipment and apparatus, will relocate to the station's new location.
Timeline
The projected timeline for construction of the Kanata North station is 2023.
More details are available here: engage.ottawa.ca/ottawa-fire-services-station-45-open-house
Report Speeding to Ottawa Police
Speeding continues to be of high concern in our ward. Speeding concerns should be reported directly to the Ottawa Police Service. Reports submitted online go directly to the Traffic Unit, helping identify chronic hotspots so that officers can strategically deploy to areas of concern. Call the Police Reporting Unit at 613-236-1222 ext. 7300. Traffic complaints can also be reported online 24/7.
Information needed when filing a report is available here: bit.ly/TrafficReportingInfo.
Submit a report here: bit.ly/OPSOnlineReporting
Pinhey's Point Historic Site – Tours & Heritage Demonstrations
City of Ottawa Heritage Staff are excited to welcome visitors back to the museum at Pinhey's Point Historic Site, located at 270 Pinhey's Point Road in Dunrobin. The museum is open for self-guided exploration Wednesday through Sunday from 10 am to 4:30 pm. Guided tours of the grounds are offered on Sundays; advance reservations are recommended. Book your visit online. Each Saturday afternoon in July, complement your visit with a heritage demonstration or hands-on activity.
Upcoming heritage demonstrations:
Pen and ink: Saturday, July 9 between 2 and 4 pm.
Pen and ink was a part of the daily lives of Hamnett K. Pinhey and his family as they kept meticulous records of their time at Horaceville. Learn to use a dip pen and ink to write your own name in stylistic cursive.
The language of flowers and flower pressing: Saturday, July 16 between 2 and 4 pm.
Language of flower books were a popular gift for young, upper class, ladies of the Victorian era. Join our interpreters outdoors to learn about the language of flowers and to pick a selection of blooms to press and take home.
Your Councillor in the Community
Canada Day in Dunrobin

Photo Courtesy of West Carleton Online
I was very pleased to take part in the opening ceremonies of the Dunrobin Community Association's Canada Day festivities at the community centre on Canada Day. The event featured live entertainment, a barbecue and fireworks at dusk. Food donations were collected in support of the West Carleton Food Access Centre.
Canada Day at West Carleton Branch 616 of the Royal Canadian Legion
Thank you to members of West Carleton Branch 616 of the Royal Canadian Legion in Constance Bay for inviting me to help prepare dinner for their special Canada Day festivities. It's wonderful that so many Canada Day events returned to Ward 5 this year.
Hugh O'Gorman Soccer Field – Plaque Dedication Ceremony
Thank you to Mayor Jim Watson, Cindy, Brianna and Aidan O'Gorman, their family and friends, the Dunrobin Community Association and the West Carleton Soccer Club for joining me the afternoon of July 1 to unveil a plaque that commemorates the naming of the Hugh O'Gorman Soccer Field at the Dunrobin Community Centre. Hugh was a Dunrobin resident and a longtime volunteer director with the West Carleton Soccer Club, who significantly contributed to west Ottawa athletics.
Corkery Community Centre Expansion Project – Groundbreaking Ceremony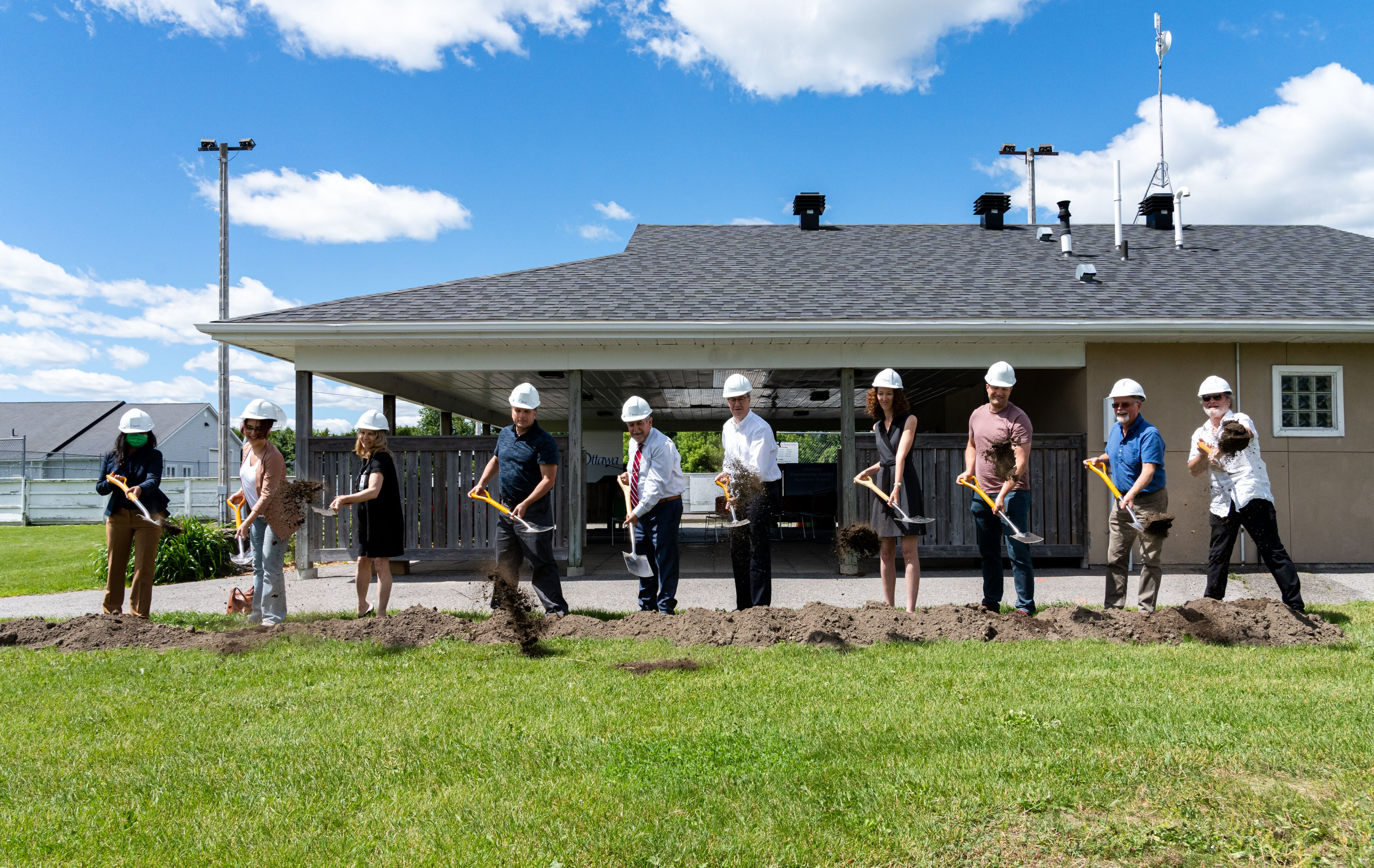 Photo by Phil Renaud/City of Ottawa
My thanks to Mayor Jim Watson, City staff and the Corkery Community Association for participating in a special groundbreaking ceremony on June 27 signalling the upcoming start of construction of the Corkery Community Centre expansion. In addition to renovating the existing centre, a 4,176-square-foot addition will be constructed on the northeast side of the centre overlooking the popular children's playground and sports fields at Carroll Homestead Community Park. New features will include:
· Large multipurpose room
· Office & meeting space
· Renovated skate-change room
· New expanded lobby
· Updated accessible washrooms
· New entrance vestibule
· New kitchenette
· Additional covered porch
· Additional storage
The expansion was designed by CSV Architects. The resulting design is the product of input from the Corkery Community Association and the Corkery community.
Antique Showcase

Thank you to Barry and Lana Dean for their fantastic display of farm antiques and cars and trucks from the 1920s and 1930s on June 25.
Wabano's Igniting the Spirit Gala
My wife Maha and I, in my role as Chair of the Ottawa Police Services Board, attended Wabano's Igniting the Spirit Gala on June 23. This Gala is an important charity event that celebrates Indigenous culture and heritage.
Ward 5 Development & Road Works News
Development Applications
Recently updated development applications can be reviewed at this link: Ward 5 – West Carleton-March. The City of Ottawa's Development Application Search Tool is also available by clicking here.
Culvert Work
Culvert renewal work will be conducted at the following locations:
Barlow Crescent 0.30 km N of Heather St (July 4–8);
Upper Dwyer Hill Road 1.38 km S of Mantil Side Road (July 4–15); and
Old Second Line Road at Maley Lane (July 11–22)
Road Works – Huntmar Drive Widening
The City of Ottawa has initiated the Huntmar Drive Widening (Campeau Drive to Maple Grove Road) and Stittsville Main Street Extension (Maple Grove Road to Robert Grant Avenue) Environmental Assessment (EA) Study. The project limits for the widening of Huntmar Drive starts from Campeau Drive in the north and extend to Maple Grove Road in the south. It is approximately 1.7 km long. The limits of the Stittsville Main Street Extension are from Maple Grove Road to Robert Grant Avenue. To get involved, visit the City's website to fill out the survey.
2022 West Rural 1 Resurfacing
As part of the City of Ottawa's annual infrastructure maintenance cycle, road resurfacing under contract number CP000702 was scheduled to begin in May 2022 and continue until the late fall.
What: Work will involve select concrete repairs, pulverizing/milling of the existing surface, iron adjustments, granular a base placement, installation of select paved shoulders, granular shoulder reinstatement, pavement marking reinstatement and resurfacing of the roadway as required. Increased noise levels and vibrations to be expected in order to facilitate the work.
Why: The City of Ottawa will be resurfacing roads as preventative maintenance aimed at extending the City's roadway network lifecycle.
Where: Work will occur at various locations across the city between the hours of 7 am and 10 pm as required. All roads will remain open to traffic with lanes closures expected.
The work for the following location was expected to start in May 2022:
Allbirch Road from Bishop Davis Drive to Shady Lane. – Completed.
Donald B. Munro Drive from Thomas Argue Road to March Road.
Huntmar Drive from 350m north of Campeau Drive to 2.7 km north of Richardson Side Road.
Madawaska Boulevard from 240 m north of Ottawa Road 29 to Connifer Lane. – Completed.
Old Carp Road from Old Second Line Road to 120 m east of Old Second Line Road. – Completed.
The work for the following locations was expected to start in mid-June 2022:
Marchurst Road from March Road (OR 49) to Murphy Side Road.
Torwood Drive from Thomas A. Dolan Parkway to Farm Lane.
The work for the following location is expected to start in early July 2022:
Greenland Road from Vances Side Road (OR 129) to Armitage Way
The work for the following location is expected to start in early August 2022:
Upper Dwyer Hill Road (OR 3) 240m north of March Road to Grainger Park Road.

For more information about road renewal, please visit ottawa.ca/constructionmap.
Ward 5 & City-wide Events
The City of Ottawa hosted a very successful household hazardous waste drop-off depot at the Canadian Tire Centre on June 26. For a list of other upcoming City depots and disposal options, please click here.
St. Paul's United Church in Carp serves its Soup'nDipity Luncheons the first and third Tuesday of every month, from 11:30 am to 1 pm at the church, located at 3760 Carp Road. Please call ahead to make reservations: 613-809-2488.

Carp Bingo Nights return July 6, 13, 20, 27 and August 3 at 5 pm at the Carp Fairgrounds, 3790 Carp Road. Gates open at 5:30 pm; Bingo starts at 7 pm. Cards are for sale at $15 each.

WM (Waste Management) and I present the Concerts in the Park Series at Fitzroy Provincial Park, hosted by West Carleton Disaster Relief, July 7, 14, 21 and 29. The gates open at 6 pm and the music begins at 7 pm. Click here for details.
The Harbour Days summer festival in Fitzroy Harbour returns this summer July 7 to 9. A full schedule activities is posted here.
Upcoming heritage demonstrations at Pinhey's Point Historic Site in Dunrobin include a session on pen and ink on July 9, between 2 and 4 pm, and the language of flowers and flower pressing on July 16, between 2 and 4 pm. Learn more here.

The Western Ottawa Community Resource Centre hosts Movies at the Rink for youth ages 12 to 17 at the Huntley Community Centre outdoor rink, 108 Juanita Avenue in Carp on July 12 at 8:30 pm. For questions and to RSVP, email youth@wocrc.ca.

Saint Gabriel's next bottle drive fundraisers are July 16 and 30, 10 am to 12 pm. Drop off your empties at 205 Bayview Drive in Constance Bay. Click here for details.
Softball Canada's 2022 U23 Canadian Men's Fast Pitch Championship will feature Canada's top junior athletes at the Carp Fairgrounds baseball diamonds August 2 to 7, 2022. For details and tickets, please visit softball.ca/u23mens.

The Carp Agricultural Society hosts its Duck Race fundraiser on August 13 at 4 pm in the Carp River. Drop by the Carp Fair Office or talk to a director to buy your tickets for a chance to win $4,000. Tickets are $10 each.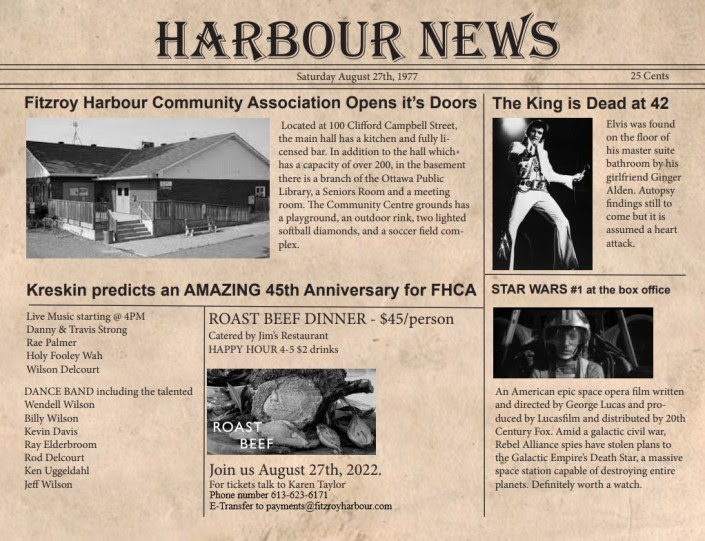 The Fitzroy Harbour Community Association hosts a dinner and dance on August 27 to celebrate the 46th anniversary of the Fitzroy Harbour Community Centre. For details and tickets, please click here.
The 12th annual West Carleton Terry Fox Run is scheduled for Sept. 18. More details will be announced as they become available.
The Carp Fair returns Sept. 22 to 25, 2022. Be sure to mark the date in your calendars!
The Great Galetta Garage Sale is scheduled for Oct. 22 from 8 am to 1 pm. Everything will be half price on Oct. 23 from noon to 2 pm. Fill a bag or box for $2 on Oct. 24 from 6 to 7 pm. Volunteers and items are needed. Visit galetta.info for details.

The CHEO Foundation hosts a 24hr Tremblant 2022 winter sport event and fundraiser Dec. 9 to 11. Click here for details.
For event details, please visit my website. To submit an event, please email Ward5@Ottawa.ca.
Ottawa Public Health News
COVID-19 Snapshot
Wastewater virus detection levels and test positivity rates are high and increasing. As we enter a new wave of COVID-19, please be extra mindful of your risk and the risk of those around you. OPH strongly recommends bringing a mask with you to gatherings and wearing your mask in crowded spaces (especially indoors). Masks and staying home when sick are layers of protection that will reduce your risk. Find more info here: OttawaPublicHealth.ca/RiskReduction Regarding 4th dose eligibility, OPH is closely following the province's guidelines. Given the rise in COVID-19 indicators, it remains important to be up to date with all the vaccine doses you are eligible for. If you have come into contact with someone who has symptoms or who has tested positive for COVID-19 visit http://OttawaPublicHealth.ca/Self-isolate for guidance.
Increase in suspected overdose-related deaths in Ottawa
The Ottawa Overdose Prevention and Response Task Force is warning residents about an increase in suspected overdose-related deaths in Ottawa. This past week, Ottawa Police patrol officers and Ottawa Paramedics responded to at least 22 calls for service about suspected overdoses, including five suspected overdose-related deaths.
Learn more by clicking here.

The Task Force would also like to remind residents about the following signs of an opioid overdose which include:
Breathing will be slow or absent
Lips and nails are blue
Person is not moving
Person may be choking
Person may make gurgling or snoring sounds
Person can't be woken up
Skin feels cold and clammy
Pupils are tiny (also known as pinpoint)
For more information and to learn more about harm reduction services and treatment services, please visit StopOverdoseOttawa.ca.
City of Ottawa News, Programming & Engagements
Safety on Rural Roads – A Message from the Ottawa Safety Council
Rural roads may seem wide open and safer due to their lower traffic levels. However, more than 20 per cent of Ottawa's major injury collisions between 2016 and 2020 were on rural roads. Rural accidents account for a full one-third of roadway fatalities. It's important to know the hazards of country driving. Use a few basic defensive strategies and treat rural motorways with respect to keep you and your passengers safe:
City seeks applicants for its 2022-2026 Election Compliance Audit Committee
The City of Ottawa is asking qualified residents to apply to become members of its 2022-2026 Election Compliance Audit Committee. This independent, statutory body is responsible for considering applications for compliance audits respecting the election campaign finances of candidates and registered third party advertisers. The Committee will also review reports regarding apparent contraventions of contribution limits by contributors. Applications must be received by August 8, at 4 pm. Click here to learn more.
Municipal Investigators Needed
The City's Rural Affairs Office is looking for experienced individuals to investigate injury or death to livestock and/or poultry caused by wildlife as set out in section 7(6) of the Ministry of Agriculture, Food and Rural Affairs (OMAFRA) Act. More information on the Wildlife Compensation Program, required qualifications, and Municipal Investigator responsibilities can be found at Livestock and animals | City of Ottawa. Information on the Wildlife Compensation Program and Municipal Investigators can be found here. Applications including a summary of your experience, an introduction of yourself and contact information, or any questions you may have can be sent to RuralAffairs@ottawa.ca.
Warehouse Space Needed for Film Productions
To help attract larger productions, the Ottawa Film Office (OFO) is actively seeking warehouse and industrial space that can be repurposed and leased as a soundstage and production support facility used by the film and television industry. Spaces of interest include warehouses, industrial spaces (e.g. aircraft hangars), and decommissioned schools. Ideally, spaces measure at least 10,000 sq. ft. with high ceilings (20 ft. and above) and minimal columns; additional specs can be shared with interested parties.Property owners and managers can contact OFO staff by email at info@ottawa.film for further information or to propose a space that meets the criteria.
Summer Safety in Rural Ottawa
Summer in rural Ottawa is a time for lots of outdoor fun in the sun! Please remember to protect yourself with these summer safety tips: