El-Chantiry: Ward 5 bi-weekly news, April 13
The Councillor's Column
Ottawa Public Health News
Special Statements
An April 7 Special Statement from Champlain Region's Hospital Chiefs of Staff and Medical Officers of Health is available here.
A March 30 Special Statement from Ottawa Medical Officer of Health Dr. Vera Etches on the local COVID-19 situation is available here.
Holiday Precautions
For those who plan to celebrate Easter this weekend, please be mindful of your COVID risks and continue to use your layers of protection to slow the spread of COVID.

COVID-19 Antiviral Access Expanded
The Ontario government is expanding eligibility for COVID-19 antiviral treatments and PCR testing to more high-risk individuals. Click here to learn more.
COVID-19 Vaccination – 4th Dose Eligibility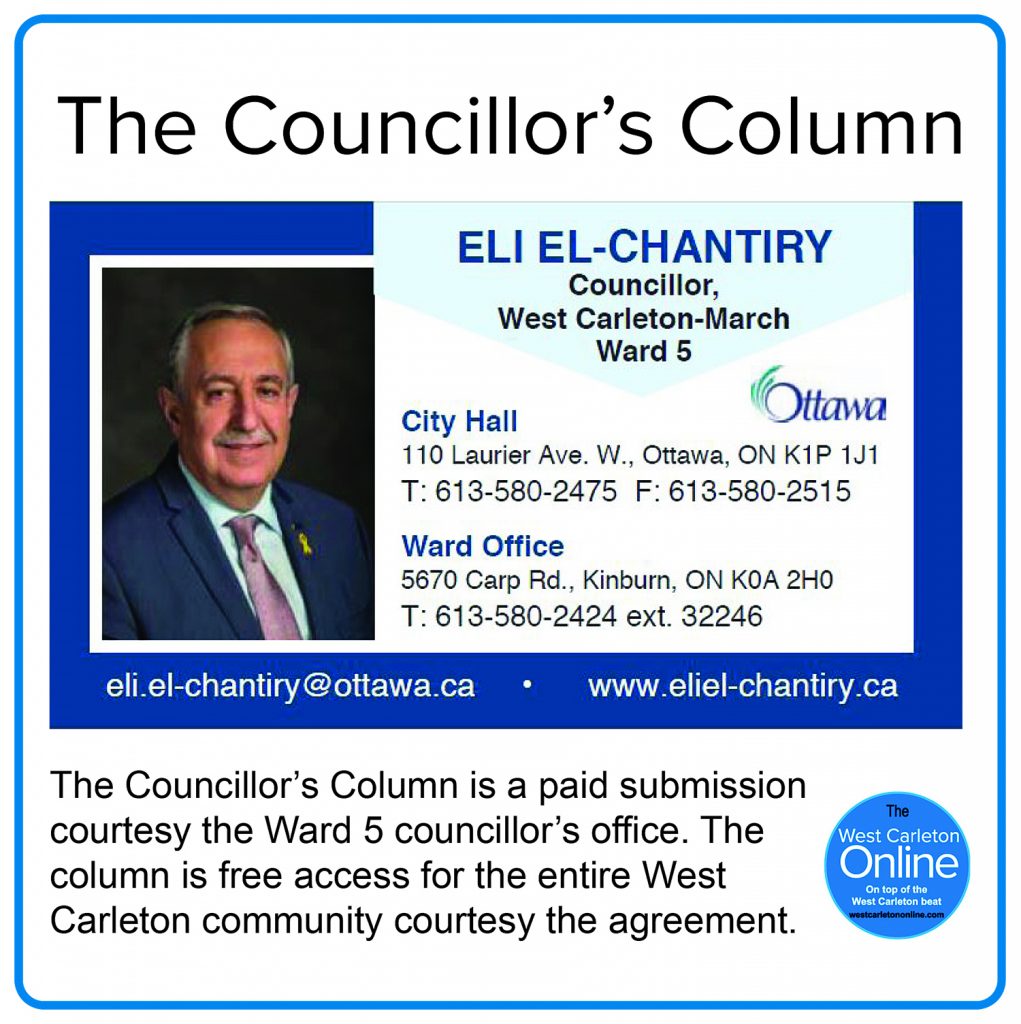 The Ontario government has expanded eligibility for fourth doses of the COVID-19 vaccine to individuals aged 60 and over as well as First Nation, Inuit and Métis individuals and their non-Indigenous household members aged 18 and over.
Eligible individuals are able to book their fourth dose appointment through the COVID-19 vaccination portal or by calling the Provincial Vaccine Contact Centre at 1-833-943-3900, directly through Ottawa Public Health's booking line at 613-691-5505, or through Indigenous-led vaccination clinics, participating pharmacies, and participating primary care settings.
Intimate Partner Violence
Violence is never okay. We all have the right to feel safe. Are you feeling alone or unsafe at home? Unsafe at Home Ottawa personnel provide support, practical advice and referrals. Text or WhatsApp at 613-704-5535 or chat online at unsafeathomeottawa.ca.
New Youth Mental Health E-Learning Hub
In partnership with OPH, CHEO's YouthNet has officially launched the new Youth Mental Health E-Learning Hub. This creative bilingual website was designed by Ottawa youth for youth ages 13 to 24 to participate in a self-guided learning journey about mental health, explore community resources available to them and connect with each other. Teachers and educators can also benefit from this e-learning hub for their lesson plans and to facilitate important conversations with their students about mental health.
Your Councillor in the Community
Mississippi Valley Conservation Authority committee meeting

I participated in an informative discussion during the monthly meeting of the Mississippi Valley Conservation Authority's Finance and Administration Advisory Committee, of which I am a board member, on April 11.
Rural Root Theatre Company Production

My wife, Maha, and I thoroughly enjoyed Rural Root Theatre Company's April 8 production of "Drinking Habits." It was one of the most hilarious productions we have seen.
Kiwanis Club of Ottawa Speaking Engagement

I was invited by the Kiwanis Club of Ottawa to be the guest speaker for their inaugural in-person luncheon on April 8. The club has a very engaged membership and I was pleased to attend and speak on municipal matters.
Rural Ontario Municipal Association Board Meeting

I was pleased to join my ROMA Board colleagues on April 8 for our monthly meeting. We discussed the association's action plan on rural growth and resiliency, the More Homes for Everyone Act report, waste diversion and broadband policy updates, as well as agriculture-related drainage, among other topics. ROMA remains focused on Ontario's More Homes for Everyone Plan, released March 30, 2022. The association is also creating its Rural Attainable Housing Task Force to develop policy solutions and strategies on attainable housing that consider the realities of rural Ontario. Housing is one of five key themes to the ROMA Board's action plan on Opportunities for Rural Ontario in a Post-Covid World.
Iftar Dinner

I was invited by the Association of Progressive Muslims of Canada to the 9th annual Ottawa City Hall Iftar Dinner on April 7. This event is held annually during the holy month of Ramadan.
Emergency Services Appreciation Breakfast

I was invited by Mayor Jim Watson to attend a special breakfast at City Hall on April 6 to recognize the efforts by City staff and the City's Emergency Services to resolve the Freedom Convoy occupation in downtown Ottawa.
Ditch Alteration Policy Public Information Session

I attended the City's Ditch Alteration Policy public information session on April 5. Public feedback received on the proposed recommendations during this engagement session will help inform the updated policy.
March Road Public Information Meeting

Thank you to the Ward 5 residents and stakeholders who attended a public meeting on April 4 to discuss a proposed zoning by-law amendment and plan of subdivision application for 1015 March Road. Property owner 13533441 Canada Inc. is proposing to develop one future mixed-use block, one future institutional block and a new street which will connect to March Road. Much of the community's hard work over the years is evident today in how the Kanata North Community Design Plan is shaping incoming development.
Bangla Heritage Month

On behalf of Mayor Jim Watson, I attended a special ceremony at City Hall on March 31 to proclaim Bangla Heritage Month in the City of Ottawa for April 2022.
Ward 5 News
City of Ottawa Freshet Taskforce – an update

The City of Ottawa's Freshet Taskforce is continuing to monitor conditions along the Ottawa River. The Ottawa River Regulation Planning Board's forecasting for the Ottawa River anticipates impacts from precipitation across the basin will result in water levels remaining below the 1:2yr flood return levels in the West Carleton and the Britannia areas. Most areas of the City along the Ottawa River do not experience an onset of flooding in low-lying areas until the 1:5yr return level is reached. Given the Planning Board's current forecasts, the City's Taskforce will remain in a monitoring stance for these areas.
Helpful links
Solid Waste Master Plan – West-End Public Engagement Meeting

I am co-hosting a public engagement meeting with west-end Councillors the evening of April 21, from 7 to 9 pm. The City is developing a new Solid Waste Master Plan, to be completed in 2023. The plan will guide how we manage solid waste over the next 30 years. As Ottawa grows and changes, we want to ensure our waste services evolve to meet new needs and challenges. Stay tuned to my website and social media channels for details on the virtual public engagement session.
Ward 5 Clean-up Challenge
West Carleton-March residents, community associations and businesses are invited to take part in Ottawa's Spring Cleaning the Capital Campaign. The team that collects the most trash during their registered clean-up this spring will be eligible to win Tim Hortons gift cards (one per person, up to a maximum of 20). Please invite me to your clean-up event so I can see how much trash has been collected. Email me at eli.el-chantiry@ottawa.ca or call 613-580-2424,ext. 32246. Fill out the registration form at ottawa.ca/clean or call 3-1-1 to register your project and request your project starter kit. Registration closes April 30.
Rural Ottawa Youth Collective
The goal of the Rural Ottawa Youth Mental Health Collective is to help rural Ottawa youth feel supported if they need mental-health help and making sure they know where to go for support if they need it. We know there are challenges with accessing mental-health supports that are unique to rural Ottawa youth. Whether it's distance, transportation, not knowing what resources exist, or a lack of privacy / ability to access existing resources, we are listening to your concerns and working hard to ensure that you feel supported. Visit ruralottawayouth.ca for details.
Test Flights at the Carp Airport – A Message from Carp Airport Management

Photo of NRC Twin Otter provided by the National Research Council of Canada
Flight trials will begin in mid-April at the Carp Airport to perform airborne tests with the objective of improving aircraft safety. This test program will include a Transport Canada helicopter, Department of National Defence helicopters and fixed-wing aircraft, and a National Research Council of Canada Twin Otter. Helicopter testing may begin as early as April 12. The Twin Otter from the NRC will be conducting most of the testing requiring multiple flights over a period of 2-3 weeks, beginning after April 18. The other aircraft will only be at the airfield for short durations (a few hours each at most). The tests require that the test aircraft fly normal approaches to landing as well as level approaches at varying altitudes (as low as 15 metres on the approach path and within 1.5 kms of the airfield) up to 300 metres above ground within approximately 3 kms of the centre of the airfield. No weekend flying is planned for this program, but some flying may commence as early as sunrise to minimize the impact upon normal airfield business operations. The test pilots involved will take great care to not directly fly over houses or commercial buildings at low altitudes and will use power settings that produce the minimum noise possible. The test agencies are working closely with Carp Airport management to ensure the program will be completed safely and with minimal impact to normal flight operations at the Carp Airport. The Carp Airport provides an ideal location for this testing being performed, and the government agencies involved are grateful for the support of the airport and the Village of Carp.
Street Sweeping and Pothole Patching

Street sweeping typically begins as early as the weather will allow, and will occur during both daytime and nighttime shifts. These operations are an essential part of cleaning up the transportation network.
City crews are also working to fill the many potholes that have developed after the long winter.
Pothole-by-the-Numbers
The total number of potholes repaired between January 1 and April 8, 2022, is 85,151.
85,151 is 11% above the 3-year average of 76,894 for the same period.
The total number of potholes filled for the same period in 2021 is 49,550, an increase of 35,601.

Python Pothole Patcher
The City has secured four Python 5000 machines. The first two of these machines arrived in Ottawa on April 11 and their work has already begun. The Python Pothole Patcher has the ability to fill a pothole in less than two minutes. With the operator working safely from inside the cab, workers are protected from oncoming traffic as the work can all be completed without the need of stepping foot outside of the vehicle.
Resident support is required
Residents are reminded to not rake or blow leaves, lawn clippings or other debris onto the roadway. It can make our operations more challenging, especially if the area has already been swept.
Wherever possible, please remove vehicles from the roadway to allow the street sweeping teams to complete their clean-up efficiently.
Household Hazardous Waste – Take It Back Locations

Did you know there are several businesses in Ward 5 that take back your used products and waste? The "Take it Back" program is a viable approach for the safe collection of some household hazardous products.
Dave's Truck and Auto Parts Ltd, 112 Falldown Lane, Carp
Electric motors, radiators, dryers, stoves, pool pumps, automotive scrap metal, car parts, car batteries and tires
Deka Home Building Centre, 545 Donald B. Munro, Carp
Liquid latex paint and liquid latex paint and coatings
Duntech Automotive Ltd., 15 Campbell Reid Court, South March
Gasoline, transmission filters & fluid, radiators, dryers, stoves, pool pumps, automotive scrap metal, oil filters, car parts, antifreeze, motor oil, car batteries and tires
E.N. Blue Ltd., 148 Reis Road, Carp
Mercury switches and mercury thermostats
Ed's Salvage and Auto Parts, 4419 Upper Dwyer Hill Road
Electric motors, radiators, dryers, stoves, pool pumps, automotive scrap metal, car parts, car batteries, tires, bathroom aids for the disabled, canes, electric hospital beds, electric lift systems for the disabled, mobility aids, musical instruments (except pianos), snowblowers, answering machines, barbecues, electric wheelchairs, lawn mowers, power tools, walkers, wheelchairs and parts, aid conditioners, telephone equipment, breakers, electronic ballast, switches, vacuum cleaners, VCRs, wiring, appliances, electric fans, personal car electronic tools and appliances, small appliances, telephones, freezers, refrigerators, water coolers, electric motors, automobiles, radiators, automotive scrap metal, dryers, pool pumps, stoves, car parts, car batteries and tires
Gallagher's Garage Ltd., 15 Campbell Reid Court, South March
Appliances, electric fans, personal car electronic tools and appliances, small appliances, freezers, refrigerators, water coolers, automotive scrap metal, dryers, pool pumps, stoves, antifreeze, car parts, motor oil, car batteries and tires
R&R Auto (Ottawa), 164 Cardevco Road, Carp
Automotive scrap metal, car parts, car batteries and tires
Riviera Automobiles, 102 Westhunt Drive, Carp
Kerosine, transmission fluid, automotive scrap metal, empty motor oil bottles and jugs, antifreeze, motor oil, car batteries and tires
Star Fashion Cleaners, 449 Donald B. Munro Drive, Carp
Tomlinson Waste Recovery Centre, 106 Westhunt Drive, Carp
Stereos, televisions, printers, computers and tablets
Vance's Servie Centre, 1861 March Road, Carp
Car parts, empty motor oil bottles and jugs, antifreeze, motor oil, car batteries and tires
Walgreen Automotive Services Ltd., 105 Walgreen Road, Carp
The City's Waste Explorer provides a list of retailers throughout the city that accept household hazardous waste materials at any time: ottawa.ca/en/garbage-and-recycling/waste-explorer
Ward 5 Development News

Recently updated development applications can be reviewed at this link: Ward 5 – West Carleton-March. The City of Ottawa's Development Application Search Tool is also available by clicking here.
4785 Highway 17 Zoning By-law Amendment Application
The City of Ottawa has received a Zoning By-law Amendment application for part of 4785 Highway 17 to fulfill a condition of approval for a surplus farmhouse dwelling severance. The site is situated west of Highway 417, east of Highway 17, and south of Galetta Side Road. The site is currently zoned AG – Agricultural Resource Zone with the surrounding land use consisting of farm fields and solar farms. The purpose of this Zoning By-law Amendment is to prohibit residential development on the remaining farm fields to protect agricultural land for long term use in accordance with the Provincial Policy Statement. For details, please click here.
232 Donald B. Munro Drive Development Application – Public Meeting
A public meeting will be held regarding a development application for 232 Donald B. Munro Drive. The meeting date has not yet been set. The zoning by-law amendment and plan of subdivision application is available for review on the City's DevApps website:
West Carleton Quarry expansion application – 4200 March Road – Comment Period
The City of Ottawa has received an Official Plan and zoning by-law amendment application to permit the expansion of the existing West Carleton Quarry (4048 March Road) by 18.2 hectares. The site is located at 4200 March Road, immediately west of 4048 March Road. The application's supporting documents can be viewed on the City of Ottawa's DevApps website:
To comment on this application, please contact City of Ottawa File Lead, Planner Cheryl McWilliams, by calling 613-580-2424, ext. 30234 or emailing cheryl.mcwilliams@ottawa.ca. Please submit comments by mid-April.
Loggers Way Sewer Replacement Project
What: Sewer Replacement – Project scope covers 293 metres
Why: To address structural deficiencies
When: April 18, 2022 – June 10, 2022
Where: Loggers Way from Kinburn Side Road to Early Avenue
Who: Main Contractor – Core Civil Construction; Sub-Contractor – Englobe (for pre-construction inspections)
Traffic Impacts: A road closure will be in place for the duration of the project. Residents, businesses and emergency services will have full access.
Fitzroy Harbour Sidewalk Renewal
Sidewalks in Fitzroy Harbour will be renewed this summer. Construction is estimated to begin sometime in June or July 2022.
The project work areas are as follows:
1. Harbour Street (east sidewalk) from Crossland Drive to Nicholson Street
2. Fitzroy Street (north sidewalk and part of the south sidewalk) from Harbour Street to Old Ship Road

Ward 5 & City-wide Events
The Carp Agricultural Society hosts Carp Men's Night on April 14 at the W. Erskine Johnston Arena. Doors open at 6 pm. Dinner is at 7 pm. For details, please click here.
Carp Farmers' Easter Market takes place at the Carp Fairgrounds on April 16, from 8 am to 2 pm. For details, please click here.
I will be co-hosting a west-end Solid Waste Master Plan Public Engagement meeting on April 21 from 7 to 9 pm. Stay tuned to my website and social media channels for details.
Stonecrest Elementary School's Council is offering its Plantables fundraiser. Place your order by April 22. For details, please click here.
The Carp Agricultural Society hosts Carp Ladies Night on April 22 at the W. Erskine Johnston Arena. Doors open at 5:30 pm and dinner is at 7 pm. For details, please click here.

Saint Gabriel's hosts a bottle drive fundraiser on April 23 from 10 am to 12 pm. Please click here to learn more.
The Galetta Community Association hosts its next board meeting on April 25 at 7 pm at the Galetta Community Hall, 119 Darwin St.
Softball Canada Men's U23 Canadian Fast Pitch Championship hosts an Alumni Night at the Carp Agricultural Hall on April 29 at 7:30 pm. Admission is free. All current and former fastball players and officials are invited. For details, please click here.

The West Ottawa Ladies Chorus hosts its 10th Anniversary free virtual Spring Concert on April 29 at 7:30 pm. For details, please visit westottawaladieschorus.ca.
Ward 5 Spring Cleaning Contest – Registrations for the City's Cleaning the Capital campaign must be submitted by April 30. For details, please click here.

The Eastern Regional Percheron Association hosts a Spring Dance at the Carp Agricultural Hall April 30. For details, please click here.

CN Cycle for CHEO takes place May 1. Become a rider or a volunteer. For details, please visit cncycle.ca.

The Carp Farmers' Market season officially launches May 7. The market will open Saturdays 8 am to 1 pm until October. For details, visit carpfarmersmarket.ca.
uOttawa researchers conducting the UPTick project on ticks and Lyme disease in parts of Kanata North & South, Stittsville and Carp host a virtual town hall meeting for the public on May 26, from 6 to 7 pm. For details, please click here.
For event details, please visit my website. To submit an event, please email Ward5@Ottawa.ca.