El-Chantiry pleased with draft budget's focus on rural areas
By Jake Davies - West Carleton Online
WEST CARLETON – Coun. Eli El-Chantiry and his council colleagues have spent the early part of 2019 finalizing this year's City of Ottawa budget, and their work is almost done.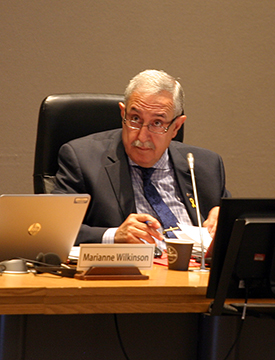 Coun. El-Chantiry hosted a budget consultation on Jan. 24 – one of many ways residents could (and can) provide feedback on the budget.
The finalized draft budget was then presented to council on Feb. 6.
Coun. El-Chantiry provided his thoughts on the draft to West Carleton Online today (Feb. 12).
"I'm pleased the proposed budget includes almost $43 million for rural communities," Coun. El-Chantiry said through an email interview. "This includes $21.6 million for resurfacing/upgrading roads and $12 million for culverts and managing stormwater.
"Of note, rural single-family, non-connected households will only fund $1 million of the stormwater management fee, which means an increase to tax bills of approximately $4.40 per year."
There are several Ward 5 specific highlights in the draft budget including:
$4 million to design and build 47 culverts;
$2 million to retrofit, rehabilitate and replace components of communal well drinking systems, including the Carp Well System;
$1.8 million for road surface treatments;
$1.6 million to renew the Fitzroy Harbour Bridge;
$820,000 to resurface roads;
$620,000 to renew the Ritchie Side Road Bridge;
$605,000 to preserve roads;
$180,000 to renew the Kilmaurs Road Bridge;
$125,000 to upgrade gravel roads;
$560,000 to replace and repair:
Septic system at Fire Station 45 and Paramedic Post – March
Windows at Fire Station 61 and Paramedic Post – Kinburn
Windows at Fire Station 66
Flooring at the Fitzroy Harbour Community Centre and Ottawa Public Library – Fitzroy Harbour
Roof of the main building at Pinhey Estate
Ridge roof of the West Carleton Fire Training Building
$38,000 for fitness equipment for Langstaff Park
$10,000 for safety netting for the baseball diamond at Fitzroy Harbour
While El-Chantiry is obviously pleased with any new spending in West Carleton, there are a few investments that stand out to the rural councillor. During the 2018 municipal election, the number one priority identified by those in attendance at the two all candidates debates and who took part in West Carleton Online's social media poll, is roads. El-Chantiry says it always is.
"The conditions of our roads is always at the top of my list of priorities," he said. "Given West Carleton-March contains more than 830 kilometres of roads, the funding set aside in the draft budget is a step in the right direction, and I'll be making sure Ward 5 gets our fair share for 2019."
He's also happy to see more investment in the paramedic service, and new money to help restore the landscape ravaged by the Sept. 21 tornado.
"I'm also happy to see an investment in the paramedic service with the hiring 14 new paramedics, as well as earmarking funds to help with regenerating Ottawa's forest cover that was decimated by the tornadoes last year," El-Chantiry said.
This proposed spending plan will be considered by all standing committees, boards and commissions, and then by council on March 6.
Residents can engage in this process by: Registering as a public delegation at a budget review meeting of any committee, board or commission, and make a five-minute presentation, at meetings being held between Feb. 14 and March 5. A list of upcoming meetings is available at ottawa.ca/budget; Contacting your city councillor to express your views; Emailing budget@ottawa.ca; Tweeting @ottawacity using the hashtag #ottbudget; and calling 3-1-1 / 613-580-2400 (TTY: 613-580-2401).