Dunrobin program returns with new 'do
By Jake Davies - West Carleton Online
DUNROBIN – It's been a long time since any members of any of the Dunrobin Community Association's (DCA) adaptive seasonal programming have been able to meet inside the community centre.
COVID-19 cancelled that, but after nearly two years, programming for the neurodivergent has returned, and it's come back with a kicky new hairdo.
Throughout the month of November, hair stylist Julie Joinette, owner of Top Rock Hair in Stittsville, has and is running a four-session pilot workshop called Introduction to Hair Styling.
The workshops take each student on a journey from the basic ponytail to buns and braids galore. Each student will be working on their own mannequin at their own hair station to achieve varying different styles each week.
West Carleton Online, in bad need of a haircut itself, dropped by the Monday, Nov. 15 workshop to take in the action.
Joinette volunteered her time and skills to provide hairstyling for a special fashion show held last August.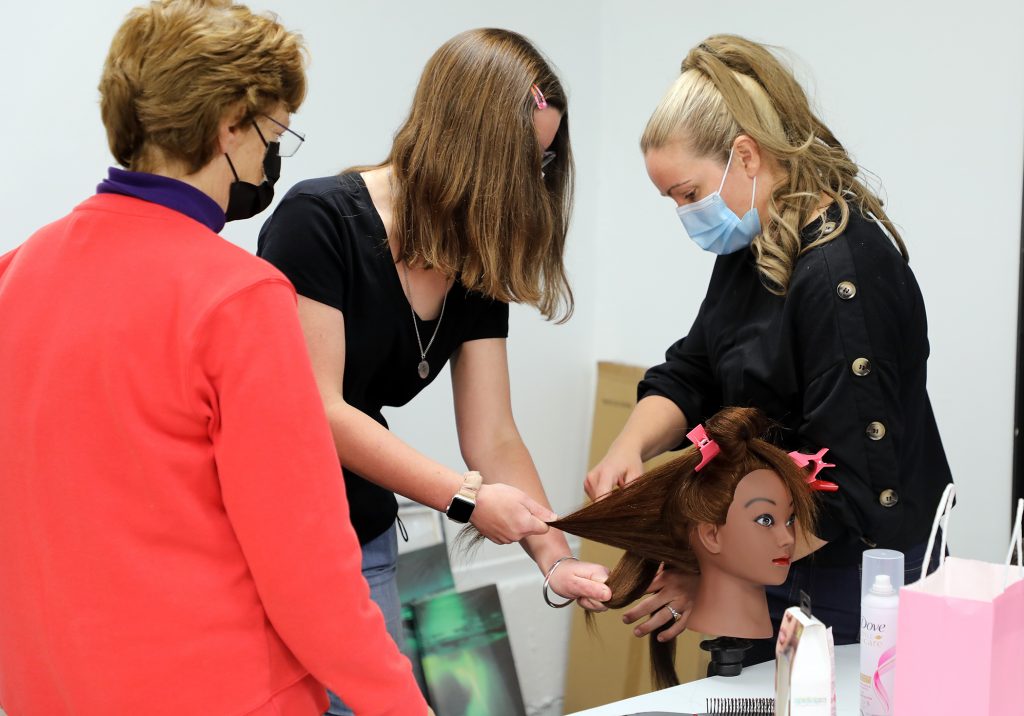 "It was so nice to see the girls so excited to get out there," Joinette told West Carleton Online. "I was so happy to be a part of it."
"She decided she wanted to do more," longtime program volunteer Tracy Taffinder, who is enrolled in the workshops with her daughter Laura, told West Carleton Online.
So Joinette designed the program and provides the equipment, and each week teaches participants the secrets of the trade.
"It's part of being job ready as well as giving them employable skills," Taffinder said.
Joinette says it was a discussion while working on her clients' hair during a home visit.
"Laura and Tracy were explaining some of the programs they do, and I wanted to be a part of it," Joinette said.
Joinette started with a one-off fitness class. She proposed the hair workshop next, and the pilot program is also the first the DCA has been able to offer at the community centre since the start of the pandemic.
Last week's class was the third of four, and from all reports has been very popular.
"It's been great," Joinette said. "I think they've learned a lot."
The program started with fancy ponytails in week one; up 'dos in week two; and braiding the week we were there.
"Some of the girls are getting a lot more confident than they were in the first week, which is really good to see," Joinette said.
Some of the dads too. While the six students are female, both moms and dads have brought their daughters to the workshop.
"It helps them feel more confident when they can learn skills like this and it's great to see," Joinette said.