Deep Roots AGM talks WC food system
By Jake Davies - West Carleton Online
FITZROY HARBOUR – A little more than a year after opening its off-grid community root cellar, the Deep Roots Food Hub (DRFH) board shared more details on its goal of creating a local sustainable food system for West Carleton during last Wednesday's (Nov. 17) annual general meeting.
The DRFH is a grassroots, West Carleton-based non-profit organization aiming to create a secure, sustainable food system in West Carleton. DRFH partners and supporters include the Ottawa Good Food Box, Centretown Community Health Centre, EnviroCentre, the Western Ottawa Community Resource Centre, the West Carleton Family Health Team, Carp Ridge EcoWellness Centre and the Community Foundation of Ottawa.
In the age of COVID-19, the AGM was held in-person and online. West Carleton Online decided to attend the Nov. 17, 7 p.m. meeting in person at The Olde Meeting House in Fitzroy Harbour.
Seven people, mostly board members, attended the in-person meeting but it was impossible to tell how many attended online although it was obvious there were several involved in the meeting.
The original goal of the DRFH was to get the cellar built.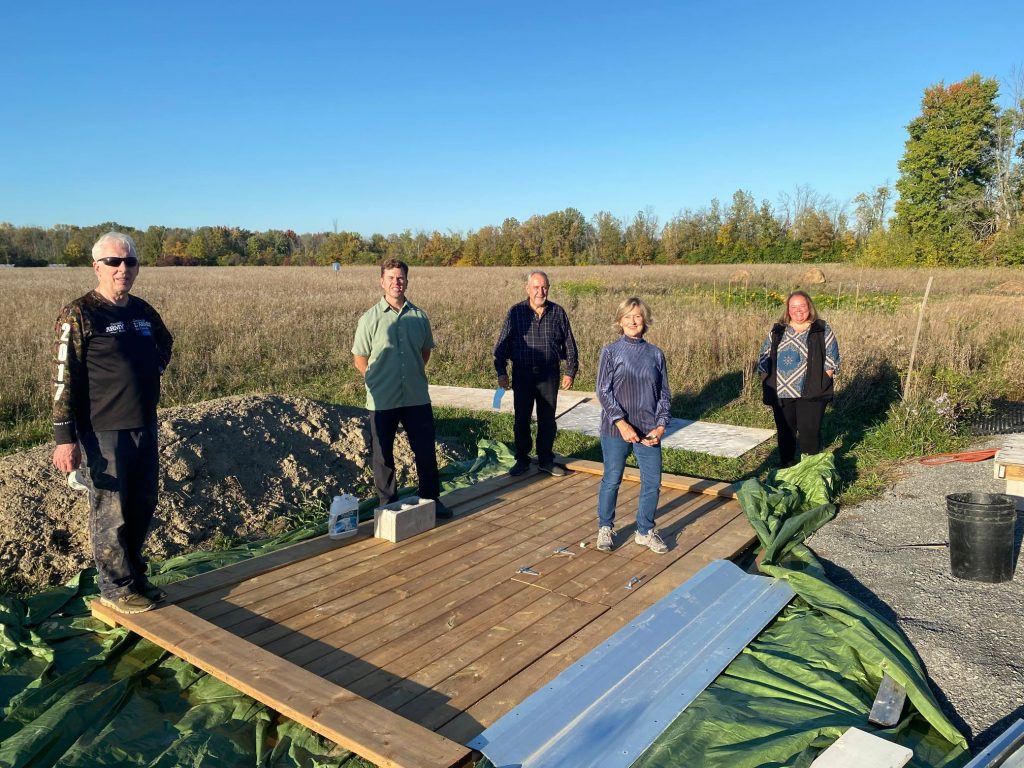 The cellar, located just outside of West Carleton on Davidson's Side Road, has the capacity to store up to 60,000 pounds (27,000 kg) of food in the 25-foot by 25-foot (600 square feet or 56 square metres) storage space. The cellar is state of the art and off the grid.
The facility provides small-scale vegetable growers with a post-season sustainable and energy-efficient storage facility providing longer root crop storage and extended sales and/or distribution possibilities.
During the AGM, Dr. Barry Bruce said the DRFH's goal has continues forward to focus on creating a sustainable food system for West Carleton.
It was Bruce's first meeting as the DRFH chair.
Our mandate has evolved," Bruce said. "We want to continue to transform the local food system and address issues around food insecurity. We can't just do little things. We have to do enough things to make a difference."
The DRFH continues to focus on maximizing the use of the root centre. Bruce said the cellar is scheduled to sit at 20 per cent capacity heading in to its second winter.
"That's the most ever, but there's plenty of room," Bruce said.
He also discussed the DRFH's labour force and how it fits in to the fiscally prudent operation.
"Earl of March High School is providing student volunteers," Bruce said. "They arrived in droves in time for the harvest. The partnership with the school is not just short-term. The school thinks there is all kind of potential – a good program."
The DRFH also built a water cistern on their property this summer with a deck to cover it. The cistern will allow the DRFH to collect rainwater to water its plants. The cost of the project was $3,500.
"We saved a lot of money by doing a lot of digging by hand and we're much better off for it," Bruce said. "Thank you to the many volunteers who helped out."
Financially the DRFH is in good shape. In 2020, the organization had an income of $20,410.06 with the majority of that coming from a $15,000 city grant as well as $2,211.99 in donations.
Bruce said donations were down in 2020 and chalked that up to COVID-19.
Expenses in 2020 totaled $6,721.15 with most of that related to the root cellar construction and consulting. The net income for the DRFH in 2020 was $13,688.91.
"We're continually trying to reduce expenditures," Bruce said. "I think we did that by about half this year."
The DRFH does look to create revenue in the root cellar, generally asking for 10 per cent of the crop, with a couple of users asking if they could pay in advance.
While usage is growing, Bruce says he thinks it will take a mindset change in local farmers to maximize its use.
"Farmers are reluctant to grow something they're afraid they can't sell," Bruce said. "We have to change that way of thinking and we have to do that in two months. We want to get farmers to grow specifically for the root cellar."
Bruce says the advantage to the farmer is they will be able to sell fresh, local produce for a longer period.
"We want to provide farmers with the opportunity to sell food over the year, but they're competing with highly subsidized producers from the south," Bruce said.
Bruce says the current food system is wracked with problems including it being an ecologically unstable system that offers little variety and most of the food produced goes to feed animals or be turned in to processed food. He says the current system is having a huge negative impact on climate change and is reliant on imported food.
But to create a local food system in West Carleton requires the ability to produce two million meals a year to feed a community of roughly 30,000.
"We need a rational plan to replace the current dysfunctional system," Bruce said. "We need a plant dominant system requiring little processing. We need to create a more ideal distribution system that rewards farmers financially. They're not making enough money."
Parkdale Food Centre, and former Carp Valley Press reporter, Karen Secord attended the meeting and hoped it would be the start of a partnership.
"We're working with farmers with 100 acres for the food bank," Secord said. "We have use for storage. We're really interested in what you are doing. We want to get rid of food banking and all the processed food."
The DRFH was able to add two new board members at the meeting including Judith Lockwood and Hassan Ead-Ahmad.
To see all West Carleton Online's coverage of the Deep Roots Food Hub, click here.