Davies: NIMBYs versus the BESS
By Jake Davies - West Carleton Online
The reporter's bread and butter is what we refer to as NIMBYs.
NIMBY stands for Not in my Backyard, and it refers to people (mostly property owners with something to lose) who have the unfortunate circumstance of a large project or development becoming their neighbour.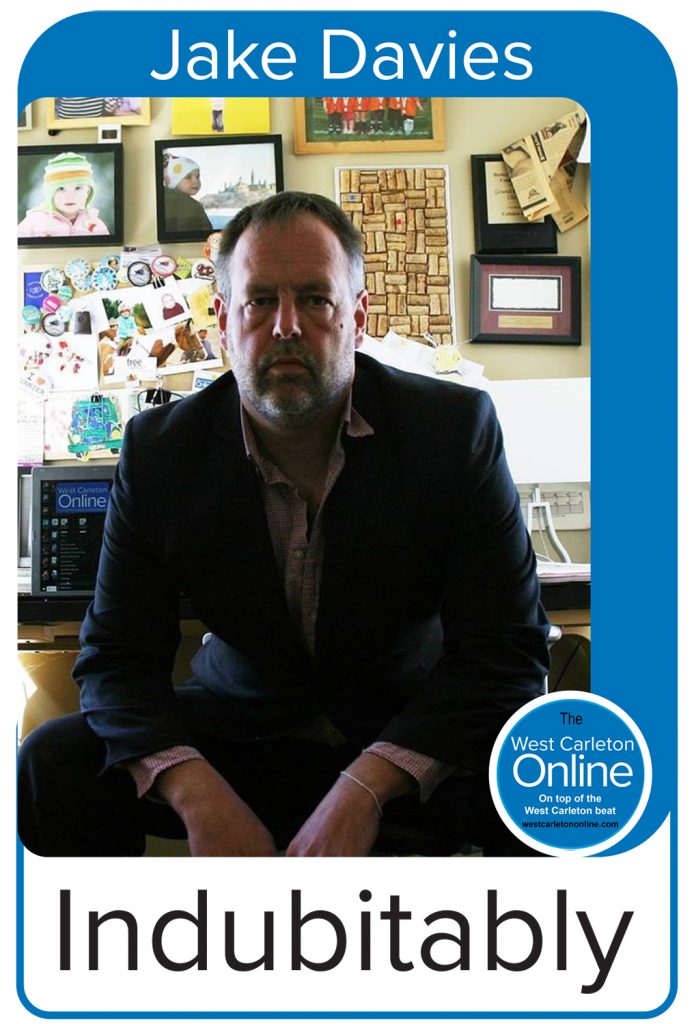 As a reporter with more than 22 years' experience, I have covered countless NIMBY issues. While the phrase certainly can have some negative connotations, I don't use it as an insult. Many, many of the NIMBY stories I have covered, I too wouldn't want whatever project is being proposed in my backyard either.
But development is a fact of life, and in fact, our entire economy is based on endless development and infinite growth – regardless that is impossible to achieve.
As a news outlet, NIMBYs are good for business. They're emotional and eager to talk and make for good community journalism. Us journos often say, 'show me a good whistleblower, and I'll show you someone with an axe to grind.' While I haven't asked any of the new subscribers we've gained over the last couple of weeks, dollars to donuts, many of them are here to find out about the Battery Energy Storage System (BESS) proposals we have seen popping up all over rural Ottawa lately, including three targeting West Carleton locations.
One is aimed at Homesteaders and Galetta Side roads (between Fitzroy Harbour and Galetta), the second is aimed on a parcel of land just off Old Highway 17 and the third one is targeting 650 Upper Dwyer Hill Rd.
On Nov. 1, Evolugen held a provincially mandated public meeting in Fitzroy Harbour to share information on their proposal, one that if approved would be one of the largest BESS projects in the world. Based on the spread and quality of food and beverages the proponent provided, this was not Evolugen's first rodeo.
Exactly a week later (Nov. 8), Potentia Renewables hosted a public meeting in the exact same building (the Fitzroy Harbour Community Centre) on the exact same subject – a BESS project (although much smaller) on Old Highway 17.
The third BESS project on Upper Dwyer Hill is proposed by Solar Flow-Through Funds and, if successful, will be a 20-megawatt/480-megawatt hour battery energy storage system using lithium-ion battery technology. That BESS is expected to occupy approximately 10 acres of land. They haven't held a public meeting yet (see our news feed for more on that).
Across rural Ottawa and outlying regions, there are several more BESS projects going through the early stages of their bid.
The reality of it is development is coming to West Carleton. We're not sure exactly what it will look like yet, but the city and the province have made no secret (and if you are a subscriber, you already know this) they plan on building, building, building. Millions of homes, and then the infrastructure to support the people who live in those homes. In fact, the government act is literally called 'More Homes Built Faster.'
We in West Carleton love our rural lifestyle. That's why we moved here. We moved here to get away from people. And when we moved here, we were hopeful we would be the last people to move here. Dollars to donuts, back in the '70s when my parents first moved to the Kinburn area, there were NIMBYs back then saying, 'hey, we don't want you here messing up our rural lifestyle.' And before that, it was the First Nations telling the Europeans, 'hey, go back where you came from.'
As I mentioned, I have been covering NIMBY stories for more than 20 years, from the City of Ottawa to the City of Pembroke and all points between. A proposed rubber tire chipping plant in Burnstown; cell phone towers in Dunrobin (and elsewhere); a new Salvation Army shelter in downtown Ottawa; a mobile concrete batching plant in Braeside; large housing developments all over, and those are just a small few I can currently recall.
Since the start of West Carleton Online in 2018, some of the bigger NIMBY fights we have covered, or continue to cover, include the Huntley Hollow development in Carp (construction starting soon); a proposed Cavanagh Construction concrete batching plant in the Carp Road Corridor (approved); wind turbines (pending); another Cavanagh Construction project, the expansion of their West Carleton quarry in Corkery (which seems to have stalled a bit recently); and of course these BESS projects.
They often role out the same way.
What usually separates a NIMBY from an activist is their proximity to the project. Activists will fight projects they oppose wherever they appear. Because of that, they have that precious experience of being involved in many similar projects and fights.
NIMBYs are generally raw rookies in the activism game. They are learning on the fly, and that learning starts the day they receive that letter in the mail a public meeting for a large project is coming to their 'hood. Then the scramble is on, because there is a whole lot of catching up to do. The proponents have been preparing for months, if not years.
By the time the mandated public meeting arrives, NIMBYs have been scrambling, building their forces with like-minded residents, and reading every horror story they can find on the issue.
When the meeting arrives, the NIMBYs focus their energy on presenting a case that includes the whole community, because those who are not yet NIMBYs have to be convinced why this issue affects them. In reality, the flip side is, if you are not a NIMBY you may be in favour of a project that is going to help stabilize our energy grid.
NIMBYs initially gather that support by going to the extreme. Usually, what is being proposed is definitely going to end up in catastrophe. Whatever is being proposed is definitely going to catch on fire, and that fire is definitely going to take half the community with it. In reality, while no one can eliminate all risk, these types of catastrophes are rare. Rarer than house fires and statistics back that up.
But when you are undermanned, underfinanced and underorganized, you grab on to whatever you think will work best, fastest and you hammer that home endlessly. In descending order, traffic, pollution and noise will all be used in the reasoning against these projects. And the truth is, NIMBYs are right on all these things – development brings these things, every time.
Unfortunately, being a NIMBY is costly and time consuming. As we saw at the Nov. 1 meeting, the NIMBYs were made up of a bunch of individuals fighting the same fight on the same night. The next step is to organize. Form a united front. It's your only chance (but your chances are still mighty slim).
What most opposition groups do is form a non-profit organization. In recent years we have seen Save Huntley Creek and the Friends of the Burnt Lands – two groups created with the specific goal of fighting a nearby project. Perhaps my all time favourite organization name was the group who banded together to fight a portable concrete batching plant in Braeside in the early 2000s. They registered the name Friends Addressing Concerns Together – McNab-Braeside. FACT-MB gave the group an acronym that certainly provided a sub-conscious boost. At the time I was the editor of the Arnprior Chronicle-Guide. FACT-MB organized a meeting at the Nick Smith Centre roughly around 2005 (who knows for sure, my memory is not dependable when it comes to dates). Roughly 150 people showed up.
Back then, I knew the exact number. We sent a reporter to write the story, an intern to take photos and I went to tune in as well – a pretty impressive contingent of journalism power for one story, even back then. Because I wasn't writing the story, I had time to count every head in attendance. We published that number and what time we came up with that number (because people come and go) along with the story. The day after the story was published, representatives from FACT-MB wanted to meet with me. They were angry we didn't write what CBC or CTV did. CBC didn't print a number but said the hall was "filled to capacity." CTV, no number, said it "was standing room only." Both of those statements were somewhat accurate but provide no statistical information.
Three FACT-MB members, including a former high school teacher of mine, sat in my office and wanted to know why the Chronicle-Guide did not write what CBC or CTV did? They did not dispute the number we published. How could they? They had roughly the same numbers calculated by their sign-in sheet project opponents use to create mailing lists. But they insisted, we should have written what the other outlets wrote to convey how big the meeting was, because, I guess, actual numbers don't do that. Well they do if you attend a lot of these meetings.
I pointed out more than 150 people is an incredible turnout for a meeting like this. Hundreds of similar meetings later, that number is still very impressive. The number we gave at the time was an accurate representation and our job is to provide factual information. Three hours later, we agreed to disagree.
The NIMBY road is a long, bumpy, and all-uphill one. It's an expensive one and it's a time consuming one. Not only are they battling the project moving in to their neighbourhood; they're often battling municipal and provincial legislation; they're battling the government; and they're battling the "greater good." They are badly, badly outnumbered, out-financed and out-experienced.
It's expensive too. Not only do you need a website, you probably need a lawyer too. Or two.
During the decision process, usually at some point NIMBYs will have to appeal and bring the project to the Ontario Land Tribunal (formerly the Ontario Municipal Board) to review the decision (assuming the project is initially approved, which it almost always is). To do it right, to be taken seriously, you need a lawyer. Those who cover Ontario Land Tribunal appeals know these organizations are definitely pro-economic development.
Meanwhile, the proponents usually have lots of money, lots of lawyers, lots of support staff and lots of experience. They already know what it's going to cost them to get the approval even through the appeal process, because that's their business.
After, all that work and money, more often than not, the NIMBYs lose.
Burnstown got its rubber tire chipping plant (although it didn't last very long). The Carp Road Corridor got its concrete batching plant. Braeside got its portable concrete batching plant. Carp is getting Huntley Hollow. We still don't have a definitive answer on the West Carleton quarry expansion.
This will also be Coun. Clarke Kelly's first big test as West Carleton's municipal representative.
Currently, Kelly has said he will oppose the Fitzroy BESS project (that's not enough to kill it by the way) but has said he is not opposed to BESS technology.
Kelly campaigned on a promise to closely monitor development with a goal of maintaining West Carleton's 'rural character.'
But the 24 other politicians at the municipal council table have no idea what he campaigned on, and when it comes to the massive development already planned for Ottawa over the next 10 years, you can bet his council colleagues will be stressing all wards have to share the load. Kelly will have to pull an amazing highwire act on a very windy day to appease everyone involved in the process. If that's even possible.
Make no mistake, development is coming to West Carleton. The question is, will we be able to choose what that development looks like?
Top 5 stories for October
Despite the Online News Act and Facebook preventing us from posting to our once uber-popular West Carleton Online Facebook page, we enjoyed 15,923 pageviews in the month of October.
Certainly not the lofty heights of our pre-Facebook days, but a big increase over recent months. No surprise there are a couple of BESS stories in our Top 5, and a few other 'hard news' stories in a month that featured a number of hard news stories.
Thank you for your continued support of West Carleton Online and we will continue to ask for more, but without further ado, here are our top stories for the month of November.
Kelly receives apology from OSTA (published Oct. 10, 195 pageviews): September started without bus service for hundreds of West Carleton students, adding pressure to the lives of parents and caregivers across the ward who now had to add school transportation to their agenda. Amazingly, the story stretches in to October, and the apology was not the end of this ongoing saga.
Kelly comments on proposed Harbour battery storage facility (published Oct. 25, 193 pageviews): Well, the entire previous column is about this issue, kind of, so we couldn't possibly have anything more to add here. But like the Number 1 story, this story is only the beginning of the BESS saga. I'm sure we'll see BESSy in November as well.
Energy company targeting Harbour for battery storage facility (published Oct. 23, 174 pageviews): Despite far fewer resources, reporters and organizational skills, West Carleton Online is first (again) when it comes to breaking rural issue stories.
Good News Story: El-Chantiry on life after politics (published Oct. 27, 168 pageviews): A new byline invades our Top 5. West Carleton Online volunteer columnist Richard Longworth sat down with long-serving politician Eli El-Chantiry to take a look at retirement. Be sure to check out Eli's hat in the photo – we think it's smashing!
WC moms exhausted by no-bus school routine (published Oct. 27, 165 pageviews): Two stories published the same day, let alone late in the month, make our Top 5. Cool. Not cool, the fact that nearly two months after the start of school so many parents and caregivers still don't have school bus service despite already paying for it.
Rounding out the Top 10