Crown Point woodturner art tour debut
CROWN POINT – Come see the natural and human-made colours of fall as the 45th Red Trillium Studio Tour takes over the Oct. 23 and 24 weekend.
The long-running studio tour which features spring and fall shows is enjoying its 23rd year highlighting the incredible artists of West Carleton, often right in their very own studio.
The fall edition is always a special time for attendees as the studio tour will take you down some of the beautiful roads of West Carleton featuring some pretty spectacular colours presented by the trees of the rural area as well.
As has become tradition at West Carleton Online, we spent yesterday (Oct. 19) with one of the 20 artists that make up this edition of the Red Trillium Studio Tour scattered over eight studios in West Carleton.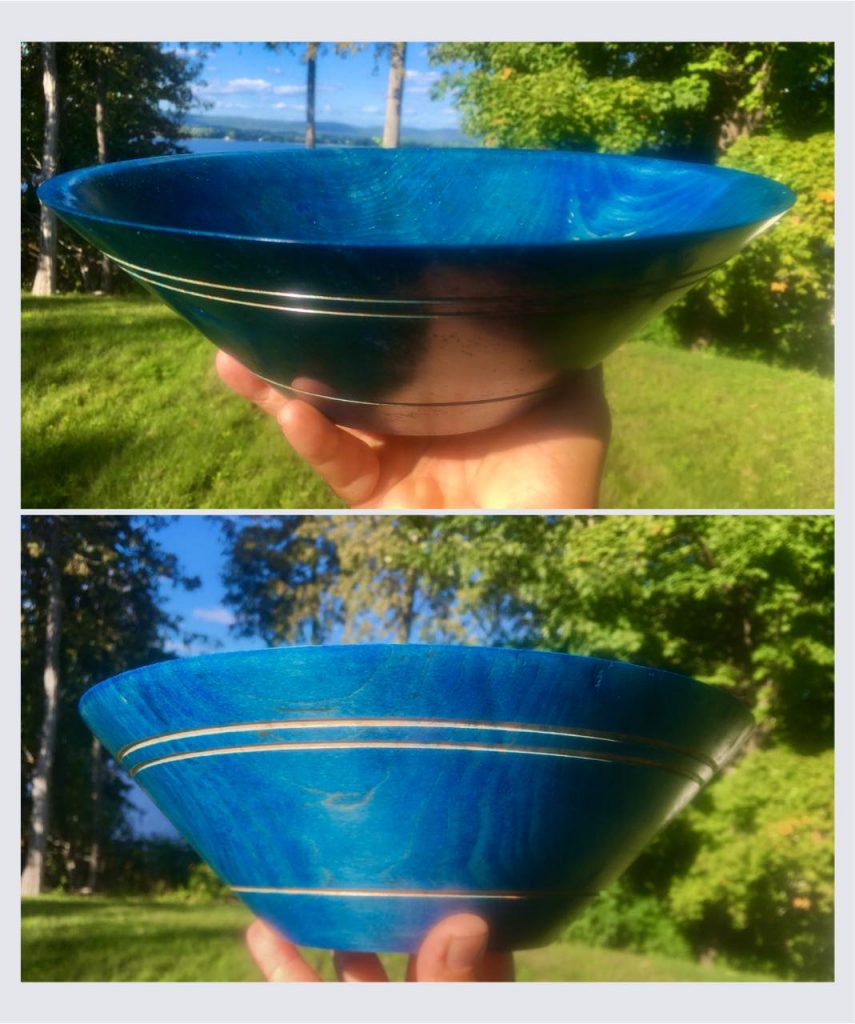 Crown Point woodturner Robert Peladeau, also known as The Fallen Tree Whisperer, will be featuring many of his bowls, vases and other wood works created over the last three years. Currently he's getting a lot of requests for Christmas trees and other wooden holiday decorations.
Peladeau has spent his retirement after a 35-year career with the CBC, learning the art of woodturning.
While the Crown Point resident has only been woodturning for the last three years, it was a lifelong dream of his.
"When I was a child, we were poor," Peladeau told West Carleton Online from his Ottawa River facing home yesterday (Oct. 19). "We were raised on welfare. I saw this mini-lathe and I wanted one, but we couldn't afford it."
After Peladeau retired, he started watching woodturning videos on YouTube. It piqued his interest, and he could now afford to buy his own lathe.
"I'm a self-taught guy," Peladeau said. "I watched for a year and a half."
Peladeau recently upgraded his lathe to a mid-tier" unit which costs about $4,000. With all the other equipment including tools, sharpeners, vaccums and more, he says he has probably invested more than $10,000 in his hobby.
His current lathe can spin wood at up to 2,000 revolutions per minute.
"I still have all my fingers," Peladeau said. "And I have developed my own style. It's challenging physically, it's creative mentally and every piece is different, every time. I like that."
Peladeau never cuts down a tree for his art, he always finds fallen trees and asks permission to take the wood. Peladeau began his hobby during a tragic time for the community, but one that would provide him with lots of material. He regularly uses ash, maple, oak and birch.
"I started when the tornado came," he said. "You're like a squirrell, you're always looking for fallen pieces of wood. We try to do as much hardwood as we can."
Woodturning is a lengthy and laborious endeavour. For Peladeu, finding the wood is the start of a two-year process.
"It can take one or two years to completely dry the wood completely," he said. "Some people will use a kiln to speed up the process."
Peladeau often uses a wet wood process, where he will take a log out early, do some of the rough woodturning and then put it back in to the bag to dry further.
"you have to dry slowly," Peladeau said. "If you don't dry, it will crack on you. I only use clear stains. The look of the wood is the story of the tree. I use all homemade, food-safe finishes."
In the three years, Peladeau has done about 120 pieces.
"Maybe 70, I have finished right now," he said.
This will be the first time Peladeau has been part of the Red Trillium Studio Tour.
"I'm very excited," he said. "It will be my first public sale. I've only sold to friends and family so far. I'm opening a web store after the tour. I'm a little anxious as it will be the first time I will be able to collect feedback."
Peladeau can be found during the tour in Constance Bay at the Art Gallery Bayka (367 Allbirch Road) with artist Bogdan Rodziewicz.
To see some of Robert Peladeau's work, visit his Facebook page here.
To see all of West Carleton Online's coverage of the Red Trillium Studio Tour, including several profiles on current and past artists, click here.
To see the map and all the artists on the Red Trillium Studio Tour this weekend, click here.