Corkery native sets up practice in Carp
By Jake Davies - West Carleton Online
CARP – Corkery native Dr. Jody Timpson has returned to her roots and has opened the doors on a cosmetic and sports injury injection practice in the Village of Carp.
Timpson recently launched Grace II Aesthetics, a combination of both sports and cosmetic injection medical services.
The doctor recently moved to Carp and has opened a separate clinic right outside her front door.
"I'm excited," Timpson told West Carleton Online from her Donald B. Munro clinic in the heart of the village on Friday, July 2. "This has been a hobby for a long time."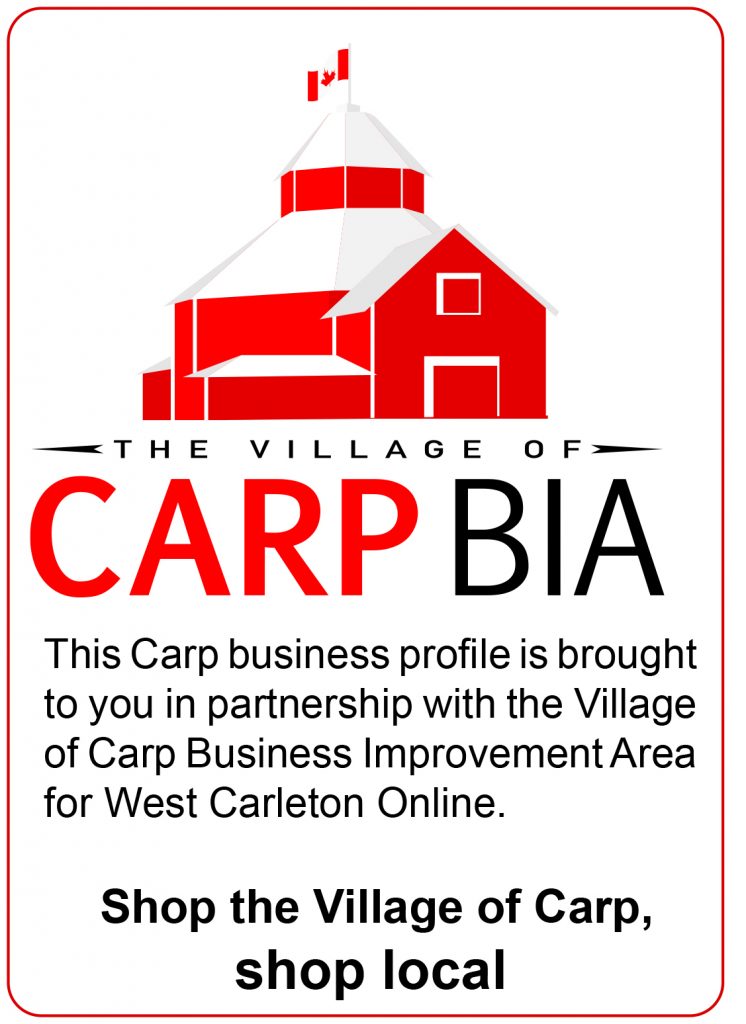 That 'hobby' is the practice of sports and aesthetic toxin (think products like Botox) injection.
Timpson started her medical career practicing family medicine in the Almonte area in 2008. Timpson moved in to sports medicine in 2015 and has been practicing cosmetic medicine since 2017.
Timpson grew up in Corkery and attended St. Michael's Corkery Catholic School before going to Trinity High School.
She spent a lot of time in Carp, a member of the West Carleton Figure Skating Club, taking piano lessons, and playing softball.
She can see the field off Langtaff Drive from her new clinic's location.
"I used to walk through the field after skating to my piano teacher's place," Timpson said.
Timpson completed her family medicine residency at Queen's University and was certified by the College of Family Physicians of Canada in 2008.
She also attended the University of Ottawa and completed a fellowship in Sport and Exercise Medicine, and has practiced at Almonte General Hospital, the Ottawa Family Health Team and Georgetown Hospital.
Timpson and her husband Justin bought a Carp home last March and while her clinic, located just across the drivewaay, was delayed due to COVID-19, she was able to open her practice last May when provincial restrictions were lifted for non-urgent medical procedures.
Timpson says people are somewhat surprised her practice involves both sports and cosmetic medicine, but it is not a stretch.
"We actually use all the same stuff in both practices," Timpson said. "The same stuff I put in joints for movement goes in to the face for wrinkles."
Timpson recently spent a year in Grand Cayman working in her field but is excited to be back home and starting her practice in Carp.
"Its where my clients are, my friends are, my family is," she said. "My practice has been slowly growing the last few years to the point I needed my own place. This practice is a love. This is a fun day for me. People are really happy to have me poke them with needles, and many have become close friends over the years. My hobby has turned in to a job I love and that is great."
Meanwhile, the sports aspect of her work still provides the mental stimulation Timpson seeks.
"I find it academically challenging," she said. "It's a different job, but as I said, they both use all the same stuff, so I find it a very good compliment."
Timpson says her practice is small – in fact, she is the only employee.
"I find people are more comfortable when they find out it is just me," she said. "I think they like that."
So for now, Timpson is working two to three times a week by appointment only.
Timpson says cosmetic injections is a practice growing in popularity and comfort level. It is no longer the taboo topic it once was.
"Hair loss repair is actually a huge part of the blood product," Timpson said. "The industry is growing very rapidly. Less than 10 per cent of people delve in to the world, but that figure is growing rapidly. People come to me all the time and say I didn't know people were doing this and then I found out my friends are doing it. It's growing exponentially."
The toxin being injected is Botulinum Toxin Type A. Timpson uses the brand Xeomin which is the same drug but different name and different drug companies manufacturing the product.
Xeomin is known as the 'naked botox,' Tipson says and is free of complexing proteins.
"I consider this a more pure form of the drug with less ability to form antibodies and become resistant to its effects," she said. "I'm a very conservative injector. People want to look natural. With aging, you look less normal as you go. Your facial muscles get stronger over time and start looking more prominent."
Along with toxin injections, the technology is improving to the point where there are injection products where you can use your own blood.
Timpson says people in their 30s are getting "baby toxins to prevent wrinkles."
Timpson says the industry is growing quickly for men as well. Obviously, hair loss is a big part of that.
"It's becoming more accessible," Timpson said. "The cost of toxins and treatments has remained stable. It seems to be going down as more products become available."
Timpson says toxins can cost between $10 to $12 per unit.
"I find the new companies' products are even better," Timpson said. "They're becoming more affordable and more flexible."
Timpson says cosmetic injections the effects last roughly 11 to 16 weeks.
"The product wears off on its own after that time," she said. "If you are consistent over a year or so, you can use less toxins or spread it out over a longer time, but it's like getting an oil change."
For hair restoration, Timpson says often there are a few treatments up front and then the client switches to annual treatments.
"Blood products have a regenerative quality, and the hope is, future study, you may not need to ret-treat," Timpson said.
The same products used for cosmetic injections are also benefiting clients suffering from long time "wear and tear" often as a result of a long time spent in sports.
"People managing arthritis," Timpson said.
For more information visit Dr. Jody Timpson's website here.