First Carp Scouts host Klondike Derby
CARP – Last Saturday (Feb. 26) was a windy, winter day, perfect for the Klondike Derby and for the First Carp Scouts to start hosting scouting events again after a nearly two-year COVID-19 ban on such activities.
One hundred, the exact COVID-maximum, area scouts spent Saturday in the forest of Five Star Camps (2013 Old Carp Rd.) just outside of Carp participating in the Klondike Derby, a day long workshop teaching members valuable winter survival skills.
The Klondike Derby involves local Scout Troops designing and building a klondike-style sled, capable of holding everything they bring in to the forest for the day which includes enough food to feed the entire team and the equipment to cook it. The scouts participate in workshops and competitions; prepare and cook a meal in the forest; and then pack up their sled and push it through a grueling course featuring hills and winter terrain.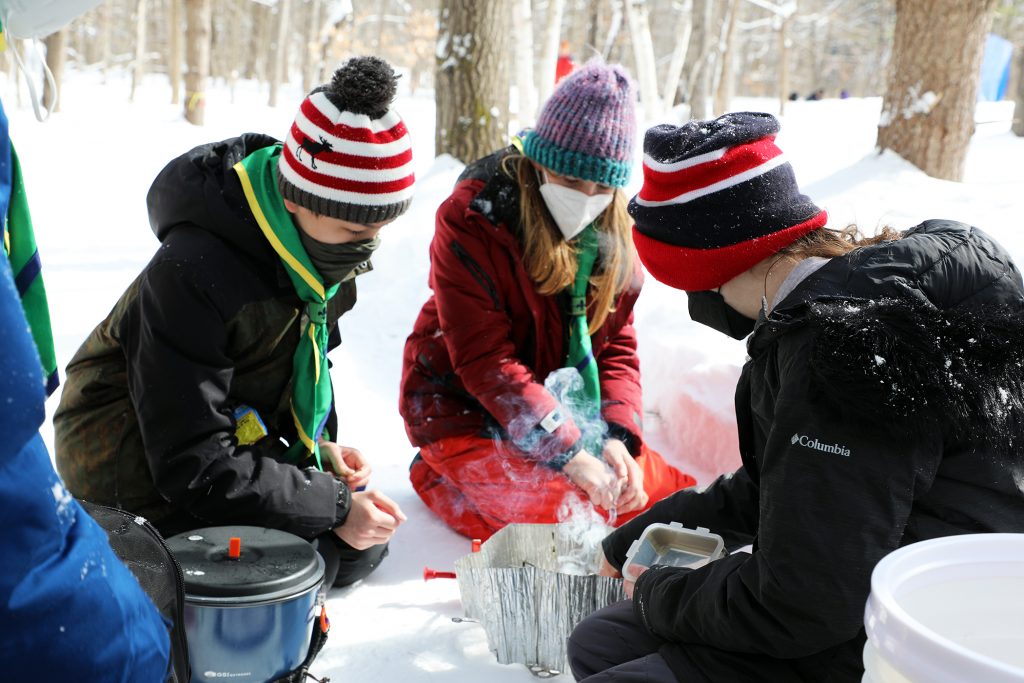 The First Carp Scouts haven't held the event since 2019. They haven't held any inter-troop or community events in pretty much the same time. That includes their annual Scout and Boogie Hallowe'en party or the massive Carleton Area Camporee held at Fitzroy Park that often attracted more than 750 scouts for the weekend event.
So, the return of the Klondike Derby marks the beginning of the return to normalcy for the Scouting groups – a group that prides itself in sharing knowledge and community.
First Carp Scouts leader and Klondike Derby volunteer organizer Ross Trusler said the day was a great return to multi-troop events.
"No complaints, the weather was very cooperative," Trusler told West Carleton Online today (March 4). "Everything ended in high spirits."
And that's how it started out too, as troops from Carp, Stittsville, Carleton Place and the Ottawa area built their klondike sleds and took over the forest at the eastern edge of the Carp hills. The event was traditionally held at the Carp Fairgrounds, but last weekend, that was taken over by the Carp Winter Carnival. The forest proved vital, keeping the strong winds at bay for those inside it.
West Carleton Online dropped by the Klondike Derby right as the troops were cooking their lunches. A variety of meals were being prepared over a variety of small camping stoves spread out throughout the forest including fettucine alfredo, Kraft dinner, various pasta and cold cuts and even a troop cooking hamburgers.
Trusler says even lunch time is a time for learning.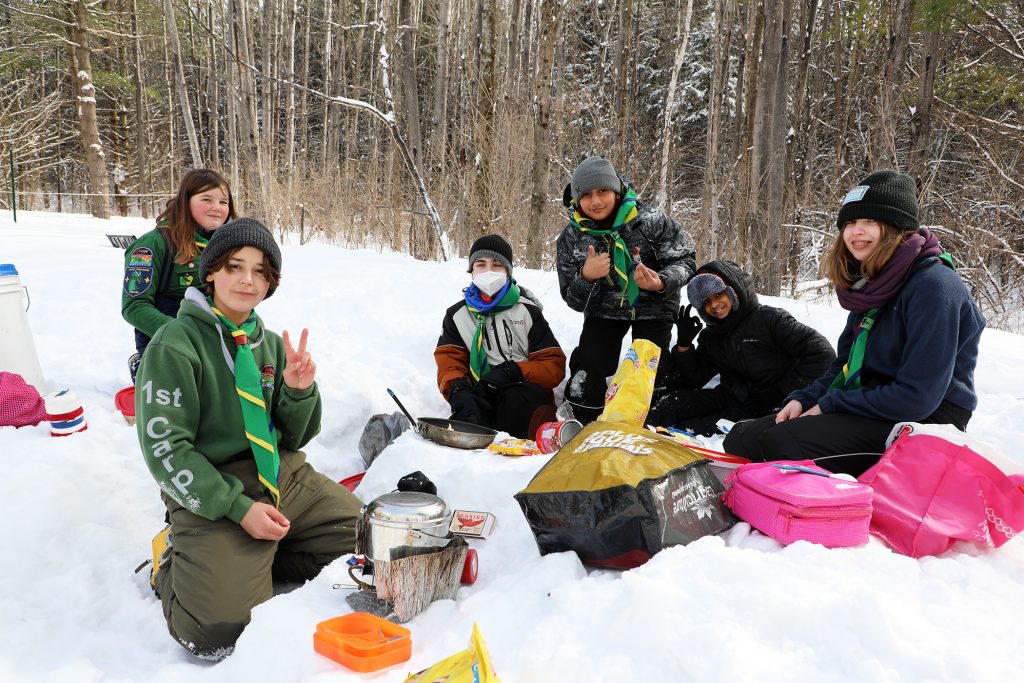 "There's a lot of preparing the Scouts have to do," he said. "And for many that includes building the klondike sled itself. There are all sorts of construction and organizing skills used. sled building; fire building; camp stove use; cooking in the wild; knot work; camping skills; and packing skills, it all has to fit on the sled, and they have to be able to push it. There's a variety of things to do all surrounding organizing and planning."
And at the derby, they are judged on all of it.
"I was impressed under the circumstances," Trusler said. "A lot of these troops haven't been able to meet. I was consistently impressed by the amount of youth leadership I observed."
During COVID-19, no more than a single section of a Scouting troop was able to meet together.
"And that's a common feature of scouting," Trusler said. "This is the first time all of these troops have joined together with other troops in two years."
Trusler says they were pretty happy with the new location of the derby as well.
"Most people felt it was a superior location with the forest and getting out of the wind," he said. "Five Star Camp has been very generous. Many Scouting troops lost access to the schools and churches they traditionally used."
Trusler says, while COVID cancelled all of Scouting's larger activities, at the small scale the organization has thrived during the pandemic.
"Scouting has been one of the most adaptable youth activities during the pandemic and one of the safest," Trusler said. "I'm really glad to see Scouting thrive during these times."
For Trusler and the First Carp Scouts, it will be back to the woods this weekend (March 5) as well.
"We're going camping this weekend," he said. "We typically have a couple of winter camps each year. We'll be construction snow shelters and various other temporary shelters. Sunday is going to be challenging (freezing rain is expected Saturday evening in to Sunday). We'll see what decisions the Scouts make. Those are learning opportunities as well."
If you are interested in more information on the First Carp Scouts or have a youth that would be interested in signing up, you can contact the Scouts at gc@1stcarpscouting.ca.