WCSS wins NCSSAA basketball title
By Michelle Russett - West Carleton Online
DUNROBIN – The West Carleton Secondary School (WCSS) junior boys' basketball team is the National Capital Secondary School Athletic Association (NCSSAA) Division A champion following an undefeated 2019-2020 season.
Teamwork is the most important skill an athlete can have, and the WCSS Wolves junior boys' basketball team reaped the benefits of their strong bond.
The Wolves (8-0) won gold in the Division A championships last Wednesday (March 4) against the visiting team the Gisele-Lalonde Titans (6-2) with a score of 79 to 61 in front of a jubilant home crowd.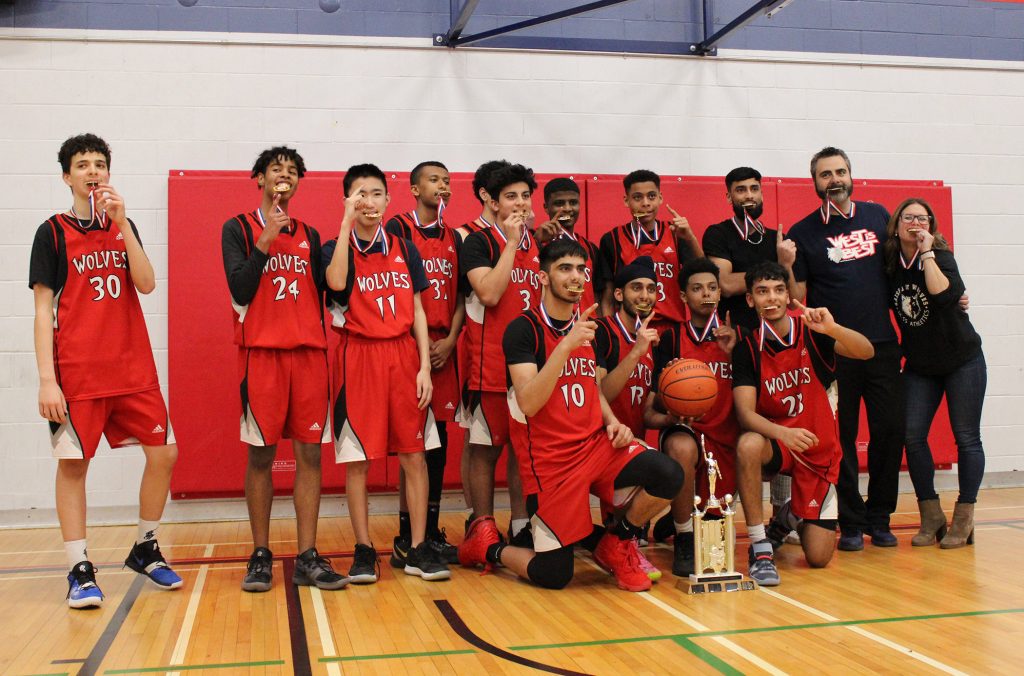 The WCSS victory was the result of the hard work of both long-time members and newcomers to the team.
"Last year we came so close, the season ended in a one-point game, but we finally got it this year," Grade 10 student and second-year player Karram Dhillon told West Carleton Online following the game.
Dhillon says teamwork was key to a great season.
"Teamwork, all of this communication, with all of the crowd right behind our backs," he said.
Coach Jayson Saikaley said it was a great season for the Wolves.
"It's been a great battle," he said. "They've fought hard and we won every single. We lost one game in a tournament and that was it all year long."
The WCSS team were good sports about the match.
"[Gisele-Lalonde] is definitely a good team, I have no questions about that," said Dhillon. "Definitely all their players were up to par."
Saikaley emphasized his pride for his team, which he coaches alongside teacher Rachael Sonego.
"I've taught them to work hard all season long," he said. "To never give up, to use their heads and be smart under pressure and they proved today that they can do anything if they follow those rules."
The Wolves rolled through the regular season – the closes game was a 14-point win over Sacred Heart on Dec. 18. The Preliminary Division games also proved fairly easy for the Wolves. They hammered John McCrae (4-4) 83-44 on Feb. 19 and pummeled Franco-Cite E. (5-3) 77-43 on Feb. 24.
That got the Wolves to the quarterfinals on Feb. 26, a home game against Sir Wilfrid Laurier (5-3). It would be their stiffest test of the season – a 65-64 nail-biter. It was an important win for the Wolves and gave the team a bye to the championship game against the Far East Division winners Gisele Lalonde E.
"I've been dreaming of this moment for a long time." Dhillon said. "It was a fun experience."