WC Remembrance Day service online again
Special to WC Online
CARP – For the second year in a row, COVID-19 has cancelled the West Carleton War Memorial in-person Remembrance Day service.
Instead organizers will hold a private service on Nov. 11 at the memorial located in the Village of Carp and broadcast it live on its Facebook page.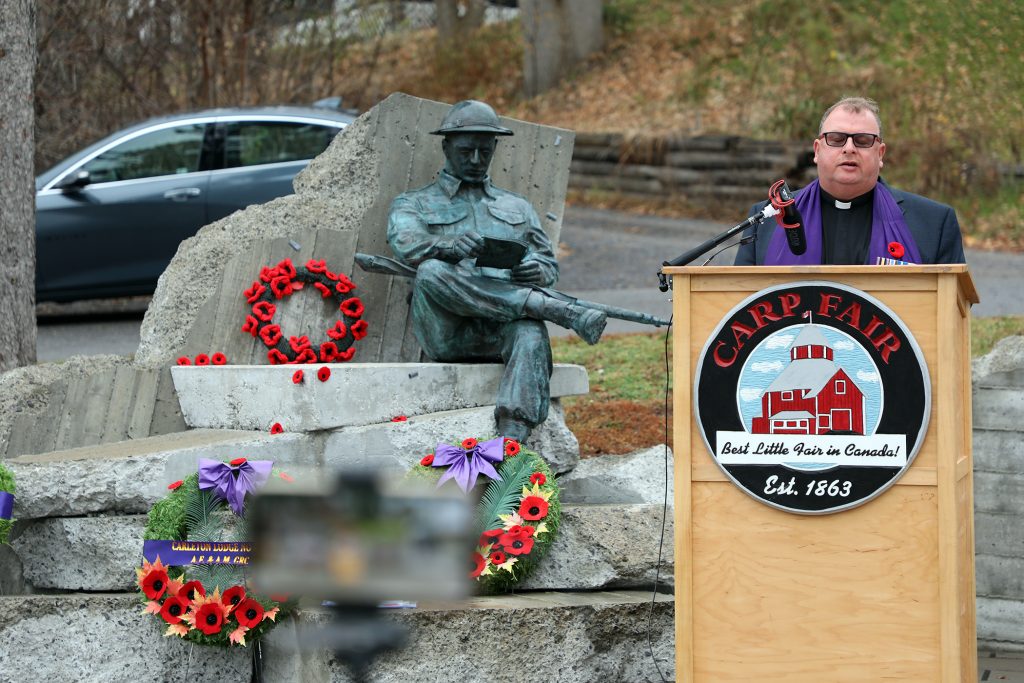 "It has obviously become necessary to cancel this year's Remembrance Day service this year," organizer and West Carleton War Memorial volunteer Stuart Hodge released in a statement yesterday (Nov. 3). "In its place, we will be holding a virtual service live-streamed from the site, commencing at 10:50 on the morning of Thursday, 11th November, 2021. Whilst traditionally we pay our respects at 11a.m., we cannot have more than 25 people onsite, so we are again allowing access in a safe manner throughout the day. We ask that anyone wishing to place a wreath or poppy to visit the memorial at anytime during daylight hours, from sun-up to sun-down, other than 10:45 to 11:15 a.m."
While the provincial government recently removed outdoor gathering restrictions specificially in time for Remembrance Day, Hodge and the organizing committee decided to err on the side of caution for this year's event.
"Ware using the previous limits as an effort to further protect the vulnerable population of veterans and to limit any spread of COVID-19 in our community," Hodge said. " Hopefully 2022 will be a different year for all of us."
To go to the broadcast of the event, click here: https://www.facebook.com/WCWarMemorial
Please feel free to email Stuart Hodge or Peter Maddocks if you have any questions or require a wreath: stuart.hodge@intellisyn.com and petermaddocks48@gmail.com.
"We hope that circumstances will allow us to have a full community service in 2022," Hodge said.
If you would like to visit the West Carleton War Memorial on Thursday, Nov. 11, volunteers ask you respect these guidelines:
Anyone wishing to place a wreath or poppy may visit the memorial anytime during daylight hours
We ask that you do not visit between 10:45a.m. and 11:15 a.m. to allow for a short prayer service
Social distancing must be observed, if there is anyone present on the flat area of the memorial, we ask you to please wait
Groups must not exceed the numbers mandated by the province and/or City of Ottawa (currently set at 25 maximum)
Each group has a maximum of 15 minutes, please respect this time allowance
The Constance Bay Cenotaph located at the West Carleton Royal Canadian Legion, Branch 616 will be holding a small service this Saturday (Nov. 6). The branch traditionally holds a service the Saturday before Remembrance Day so its members can attend the National Day of Remembrance Service at the War Memorial.
"A scaled back observance will be held," the branch executive released in a statement Oct. 13. "Wreaths are for purchase at the bar as usual. members of the branch executive will lay the wreaths for you. There will be no parade or invited guests. The public may observe the wreath laying. COVID-19 regulations will apply."
Last year, following the serivice, six veterans living in the Carp Commons Retirment Village, visited the memorial. Look back at that story here.