Easter market harkens to pre-COVID past
By Jake Davies - West Carleton Online
CARP – The first Carp Farmers' Easter Market in three years, held last Saturday (April 16), was a reminder of markets prior to the COVID-19 pandemic, something the vendors, the visitors and all involved hope this year's market season harkens back to.
For the first time in two years, the Carp Farmers' Market was able to hold an event without strict COVID-19 health protocols. While there was still plenty of hand sanitizer available, a monitored entrance, and several vendors and shoppers in masks, gone was the single-file procession and the encouragement to shop quickly and make room for the next shopper. In its place, shoppers were welcome to browse, eat prepared food on site, mingle at picnic tables and enjoy live music on the grounds – the first time that has happened at the Carp Farmers' Market since the start of the pandemic in March of 2020.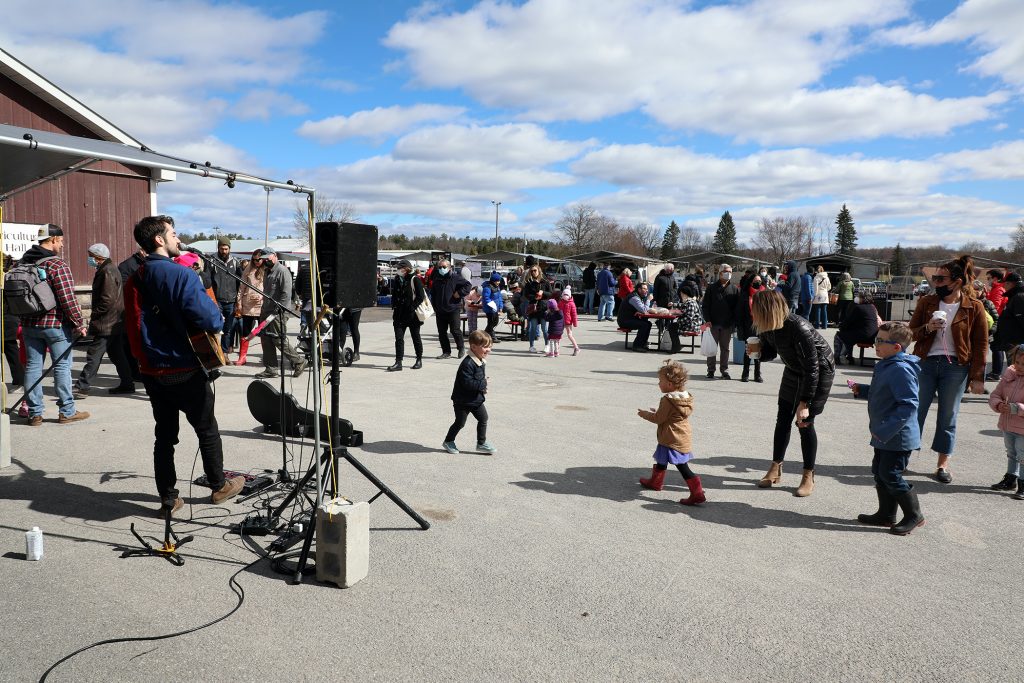 It was a welcome return, as the Easter market was a popular place for people to celebrate the Easter weekend.
"We've been steady since we opened," Carp Farmers' Market manager Ennio Marcantonio told West Carleton Online in between greeting shoppers and enjoying the many dogs who come to the pet friendly event. "It's great to see. People are happy to get out."
For many years the Easter market was the unofficial kick-off to the Carp Farmers' Market season, which officially gets underway Saturday, May 7. The Easter market was always a little smaller, usually a little colder, but definitely a taste of things to come.
This year there were just more than 40 vendors outside and inside both the Carp Agricultural Hall and the Exhibit Hall. Many focused on the season, offering Easter-themed treats and products. Several vendors dressed for Easter, and many brought Easter treats for the youngest shoppers.
"We're trying to make it a return to the normal market as much as we can," Marcantonio said. "We are still being extra safe. There's sanitizer everywhere and we encourage people to where masks, although it's not mandatory."
Dunrobin cakemakers The Girl with the Most Cake, Carp Farmers' Market vendors since 2004, were happy Easter was back at the Carp Fairgrounds. Baker Amy Forrest said customer response was brisk, and she and partner Linda Bartlett expected Saturday to be the start of a very busy season for the.
"We're glad to be back," Forrest told West Carleton Online. "I'm almost sold out and it's 11 o'clock. So, I couldn't be happier. I think people are glad to be back out, and it's a beautiful day. We lucked out that way. I think people are just enjoying being out in the community again, for sure."
Forrest, a Carleton University industrial design graduate-turned cakemaker, says the return to normal is going to be good for business this year.
"We do birthday cakes, wedding cakes," she said. "A lot of wedding cakes this upcoming year, because COVID cancelled a lot of weddings the last two years. So, we're going to have a very busy summer doing wedding cakes. And we're here at the market every Saturday too."