Burnt Lands tour covers all angles
By Jake Davies - West Carleton Online
CORKERY – A tour of the Burnt Lands Alvar by foot and by air Sunday (Sept. 17) afternoon provided more than 54 visitors a unique view of a rare ecosystem at threat from human pressures.
The Friends of the Burnt Lands (FBL) along with the Reform Gravel Mining Coalition (RGMC) hosted Help Save the Burnt Lands Alvar Sunday, with the goal of educating and raising awareness on one of North America's natural gems and the alvar's neighbour Thomas Cavanagh Construction's plans to expand its West Carleton Quarry in to it.
The afternoon began with a foot tour of a section of the Burnt Lands Alvar led by Carleton University adjunct professor and biologist Jeff Skevington.
An alvar is a biological environment based on a limestone plain with thin or no soil and, as a result, sparse grassland vegetation. Often flooded in the spring, and affected by drought in midsummer, alvars support a distinctive group of prairie-like plants. Most alvars occur either in northern Europe or around the Great Lakes in North America.
"This is not the peak time to see the flora and fauna of Burnt Lands," Skevington, who has done a lot of research work in the alvar over the years, said. "I really love habitats that are less common than others."
Skevington said there are only 112 square kilometres of alvar in North America.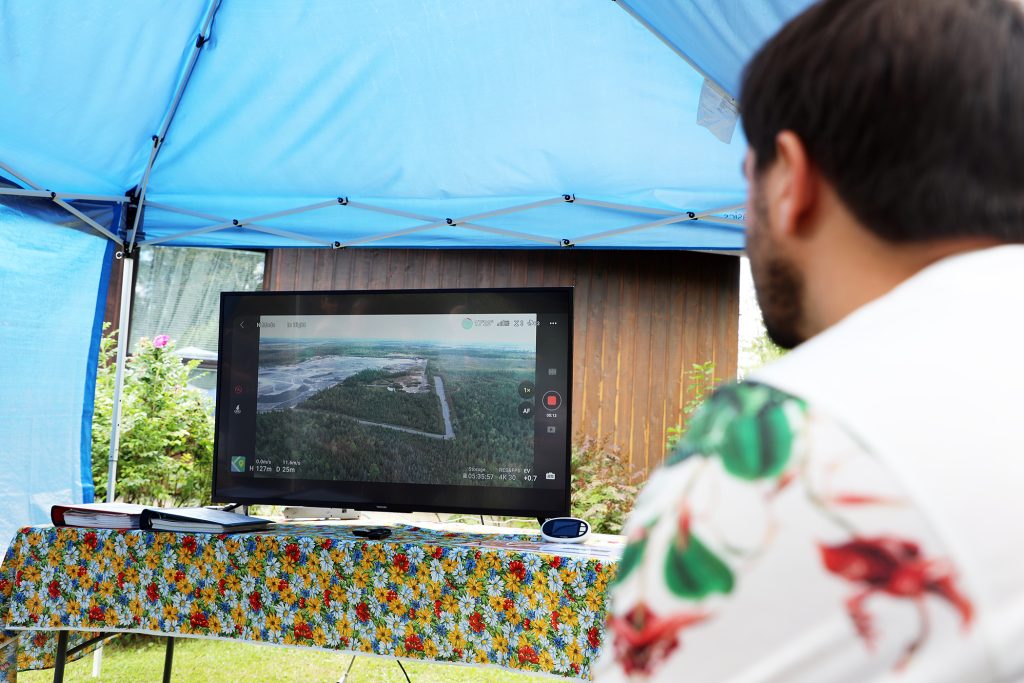 "It's one of the rarest habitats," he said.
Skevington says the alvar is a very popular spot for the Ottawa Field Naturalists' Club annual butterfly count held early each July, but has been home to many other research projects over the years as well.
"There's no other region in Ottawa with so many butterflies," Skevington said. "It has the highest diversity of butterflies anywhere in Ontario."
Skevington noted there was some hope to see some interesting stuff during the tour based on how green the area was after a particularly wet August.
"This time of year, it's usually pretty brown, pretty dry," he said.
Skevington says of the many species of birds that live in the alvar 11 species are at risk.
"Pretty high for a small area like this," he said. "A lot of grassland birds."
He named the clay coloured sparrow, grasshopper sparrow, loggerhead shrikes ("in serious trouble,"), sage thrasher, savanna sparrow ("the alvar is a sparrow haven,"), brown thrashers and bobolinks as some of those at risk species.
Skevington showed off dragonflies and small butterflies and found a few of the rare plants found in the alvar. He also noted there was an abundance of poison ivy in the alvar.
Skevington says biologists "don't really have a handle" on the different species of insects that call the alvar home but there is "profound diversity."
He says there are some freshwater turtles, all at risk, in the alvar and there are probably 3,000 species "maybe more" that either call the alvar home or make use of it during their lifespan.
Skevington, a Constance Bay resident, is firmly on the opposition side when it comes to Cavanagh Construction's zoning bylaw amendment application to expand its quarry operations at 4200 March Rd. by 18 hectares.
"There's no excuse for destroying habitat when there is only 112 square kilometres left," he said. "You can't rehabilitate alvar. If you put any fill in it, it is no longer alvar. So, rehabilitation plans are a joke."
Following the foot tour, participants gathered back at FBL member John Blais' house for an aerial tour of the alvar. A pilot took his drone out of Blais' backyard and into the sky for a bird's eye view of the alvar. Across March Road from the Burnt Lands Provincial Park, you could also see the scar of the quarry across the land.
RGMC President Mike Balkwill, along with honourary chair and well-known Kingston musician Sarah Harmer, spoke on the issue of the aggregate industry province-wide.
"The RGMC is a coalition of a dozen communities like you fighting applications," he told the participants. "You're learning very fast, under pressure. The system is rigged in their favour. We help groups like you get up to speed."
Balkwill pointed out there were more than 5,000 licensed pits and quarries in Ontario providing 13 times as much aggregate as there is need on an annual basis.
"There's no need for new quarries," Balkwill said. "We're calling for a moratorium on all new pits and quarries. If the asphalt industry was a country, it would be the third largest emitter of carbon. This pit is unnecessary. The only people who need that pit is Cavanagh. It's greed, not need."
Balkwill had some suggestions on how expansion can be delayed such as an interim control bylaw which effectively halts a project until further research is completed.
"It's a one-year moratorium with a one-year extension possible," he said. "That's a very specific thing your council can do. It's not a done deal. You are not alone."
Two area politicians attended the event in Ward 5 Coun. Clarke Kelly and Kanata-Carleton MPP Karen McCrimmon.
Kelly said the file has been pretty quiet for more than a year. Cavanagh was told to send their proposal to the province for environmental review, and the city has not heard back from the construction firm since.
"I have been hearing about this issue since I put my name on the ballot," Kelly said. "It's amazing to see the passion and the coalition is growing. I'm happy to bring this back to staff. There are key staff that are not in favour of this proposal."
McCrimmon also spoke.
"It's about finding likeminded issues," she said. "We have a fight on our hands. I'm new to this issue, but I'm with you. Thanks for caring. This is exactly what we need."
Blais, who has been leading the opposition to the expansion, says the day was a success.
"The purpose of the event was to educate both the public and the local politicians about the rarity and importance of Burnt Lands Alvar and contrast that with the unfettered and aggressive actions of the aggregate industry," Blais said. "Our local issue is the proposal by Thomas Cavanagh Construction Ltd. to expand its March Road quarry into 18 more hectares of the Burnt Lands Alvar which is a provincially designated Area of Natural and Scientific Interest. But this is not just a local issue. The same problem is being repeated all over the Province of Ontario. The aggregate industry is a very competitive one and every operator wants to have their own pits and quarries spread out over all the area in which they do business. The more pits and quarries they have to draw material from, the longer they can forestall any need to live up to their obligations to rehabilitate them. Pits and quarries can have an active life of a century. For the current management of these companies, rehabilitation will be someone else's problem in the distant future."