Birthday drive-by a party parade
By Jake Davies - West Carleton Online
KINBURN – If you can't have a birthday party in the age of COVID-19 a birthday parade is a pretty good Plan B.
Kinburn's Braydan Delahunt's birthday was April 20. Obviously, a party was off the table. So instead, friends and family got in their vehicles and held a surprise parade in Braydan's honour.
"He's an athletic, loving young boy who just wants to see his family, friends and peers during this hard time," his mother told West Carleton Online late last week. "We reached out to our community to come out and help us celebrate his birthday. A drive-by birthday party. His Hockey team the Dunrobin fire station and our councillor Eli El-Chantiry, Dunrobin Meat and Grocery owners and other familiar faces and business owners from our community."
The guests met and lined-up just down the road from the Delahunt's home just before 4 p.m. and then formed a short parade with lots of honking. Some brought bullhorns, all brought enthusiasm.
The parade turned down the Delahunt's driveway, participants rolled down their windows and wished Braydan a happy birthday from a safe distance before heading on their way. West Carleton Online counted about 15 vehicles in the parade when it kicked off, but more joined as the parade continued.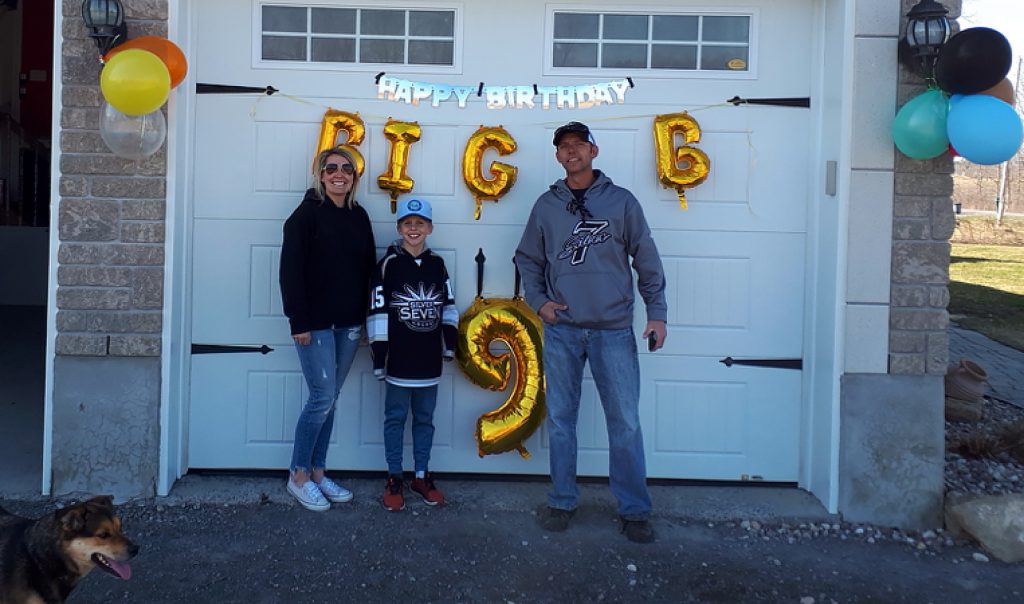 "It was a hit," mom Amber told West Carleton Online today. "We had people pulling in until 6 p.m. to wish Braydan a happy birthday."
The birthday boy was surprised and suitably impressed.
"Braydan was so surprised, shocked and so appreciative that everyone came out," Amber said. "We are so lucky to have such great friends and family. We are so thankful for making his birthday a one to remember in times like this."