Arnprior hospital received 40 community donations during pandemic
Special to WC Online
ARNPRIOR – In response to the COVID-19 pandemic, the Arnprior and area community continues to support Arnprior Regional Health (ARH) and its healthcare workers with donations of needed personal protective equipment (PPE), other medical and non-medical supplies and meals for staff and physicians.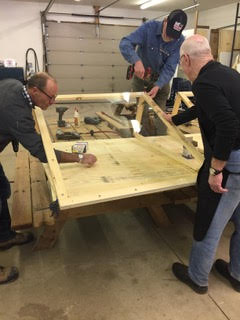 "When the health-care crisis began, our community immediately offered their support and asked how they could help our Hospital and Grove Nursing Home," ARH vice president of Support Services and Chief Financial Officer Brad Hilker said. "It's been an incredible response during challenging times."
Through the Arnprior Regional Health Foundation (ARHF), ARH has received approximately 40 community donations, to date. These includes thousands of PPE units, 15 staff and physician meals and more than 1,000 home-made items (masks, headbands etc).
"We have received an outpouring of support from local residents and businesses," emergency department nurse Victoria Holder said. "Each donation is sincerely appreciated and means more than we can ever express. In a time when we are physically remaining apart, we are drawn together by our sense of community. Knowing there are people in our community who are generously supporting us truly resonates that we are all in this together."
The ARHF team facilitates, coordinates and recognizes each community donation that continues to come in to support the ARH Team.
"It is overwhelming to hear and see the ARH staff and physicians' dedication, innovation and hard work to make sure that patients and residents stay healthy and safely connected to their loved ones during COVID-19 – and this community wholeheartedly agrees," said ARHF executive director Ben Gardiner said. "Through speaking with community members, it is obvious they truly value what front-line workers are doing – and our generous community wants to help out, provide support and show their appreciation in any way they can."
The ARHF continues to accept community donations in support of ARH's efforts during the COVID-19 pandemic. For more information, contact foundation@arnpriorhealth.ca.