El-Chantiry: Bi-weekly Ward 5 news for Aug. 23
The Councillor's Column

Congratulations to Ward 5 resident Ella Woodtke for participating in Camp FFIT

Photos by Helena Inaloz and Chris Bricker
Ella Woodtke, 16, of the Marchurst community in West Carleton-March, was one of 24 extraordinary young women from Ottawa and the surrounding area who took part in this year's Camp FFIT (Female Firefighters in Training) at the Ottawa Fire Services Training Division Building on Industrial Avenue the week of August 8. Congratulations Ella on taking part in this remarkable experience!
The City of Ottawa, in partnership with Fire Service Women Ontario (a not-for-profit organization for women and men in the Fire Service), presents this unique opportunity for young women, ages 15 to 19, to experience what it is like to be a firefighter. Camp FFIT is an annual week-long action-packed program that gives participants the opportunity to experience first-hand what it takes to be a firefighter – including physical fitness, being a team player and possessing a strong work ethic. It also gives young women the self-confidence to explore a career in firefighting, one of the most respected public service professions in the world.
Applications for next summer's camp will open in early spring 2023. Visit www.ottawa.ca/campffit for details.
Need for Volunteers from West Carleton-March

The Western Ottawa Community Resource Centre is recruiting community members to be part of its volunteer team. Volunteers are an invaluable support to WOCRC and its community, helping to provide quality programs and services.
Did you know that volunteering in your community can give you a purpose, provide a sense of community, help you meet new friends, improve self esteem, teach valuable skills, strengthen communities and bring fun to your life?
Available Opportunities:
Meals on Wheels drivers
Transportation drivers
EarlyON Child and Family Team support
Diners Club West Carleton support
Please contact Carol at 613-591-3686 or diguer@wocrc.ca to find out more.
Management of Wood and Tree Debris

Since the beginning of distribution on July 8, 1,750 cubic yards of woodchips have been delivered to seven City sites. Residents have picked up the equivalent of 64,545 standard garden mulch bags, creating a beneficial re-use of tree debris from the storm on May 21.
On August 5, the full log auction closed with 7,371 cubic meters of logs sold from the 16,628 cubic meters posted on the site. The remaining logs will be repurposed as firewood and block wood for distribution to the public.
Firewood and pieces of block wood from City trees damaged by the storm are now available for residents to pick up at no cost as of August 17 at the City of Ottawa site at 4061 Strandherd Drive. Other potential pickup locations are being considered and these will be communicated when confirmed. Please bring your own means for loading and transporting the wood. Please wear work gloves and appropriate footwear and be mindful of other people and vehicles to keep everyone safe. Please do not move the wood outside City of Ottawa limits.
Collection of Storm-Related Tree Debris
Public Works has been continuing to collect large storm-related debris on a service request basis. As the demand is much lower and staff need to start preparing for fall and winter operations, as of September 16 the removal of tree debris and organic waste will return to regular leaf and yard waste and staff ask residents to bundle and bag their leaf and yard waste appropriately as identified on the City of Ottawa website. Public Works also encourages residents to explore other beneficial re-use of their tree logs or firewood, such as posting on public sites.
Ottawa River Canoe Club Needs Volunteers
ORCC's annual Ottawa River Paddle Challenge is scheduled for Sept. 10. The Club is looking for help at this event. It's a great opportunity to help out the club, and a great way to get student volunteer hours. The club would love for you to stay the full day; however, many shifts are available in three-hour chunks (lunch will be provided). Volunteer tasks include but are not limited to registration table, motor boat drivers, timers, lunch servers, and more! As many shifts are only a few hours, you can mix and match what roles you take on. If you have any volunteer questions, please reach out to Samantha, the club's volunteer coordinator, at samanthawrightallen@gmail.com. To sign up, please click here.
Concerts in the Park Series – The Numbers are In!
This year's Concerts in the Park Series at Fitzroy Provincial Park, organized by volunteers with West Carleton Disaster Relief and sponsored by WM (Waste Management) and I, drew 1,250 spectators over four evenings in July and raised more than $5,000 for CHEO. Thank you to the organizers and to everyone who came out to enjoy the live music!
Report Speeding to Ottawa Police
Speeding continues to be of high concern in our ward. Speeding concerns should be reported directly to the Ottawa Police Service. Reports submitted online go directly to the Traffic Unit, helping identify chronic hotspots so that officers can strategically deploy to areas of concern. Call the Police Reporting Unit at 613-236-1222 ext. 7300. Traffic complaints can also be reported online 24/7.
Information needed when filing a report is available here: bit.ly/TrafficReportingInfo.
Submit a report here: bit.ly/OPSOnlineReporting
Your Councillor in the Community
Inferno Golf Scramble
I enjoyed taking part in the 4th Annual Inferno Golf Scramble at the Mississippi Golf Club on August 19. Proceeds raised during this event support the West Carleton Inferno Junior Hockey Club.
Station 64 Community Corn Boil & BBQ
I was incredibly moved that Firefighters with Station 64 in Carp and District 6 Rural Sector Chief Bill Bell surprised me with a plaque of appreciation at their Community Corn Boil and BBQ on August 18. Thank you for your thoughtful gift and for your dedication to the residents of West Carleton-March.
Meeting with Galetta Community Association directors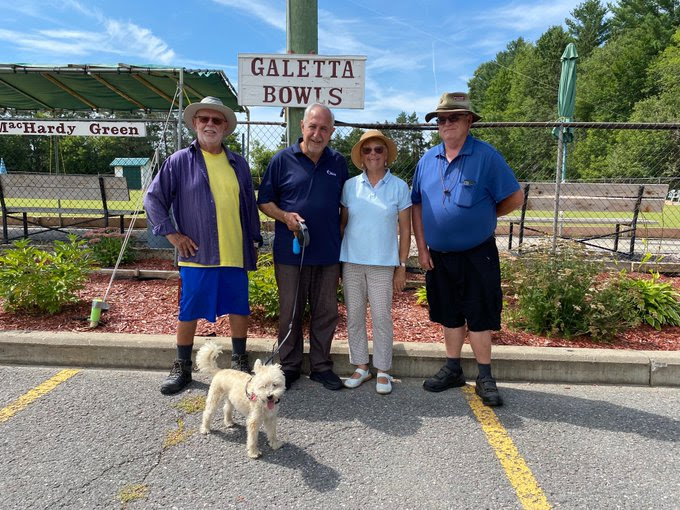 Thank you to directors with the Galetta Community Association – Dave, Pat, Norm, Sandra and Bruce – for meeting with me on August 18 to discuss your community's recreation needs. I wish Dave all the best when he represents Ontario in the Canadian Lawn Bowling Championships this week.
AMO 2022 Conference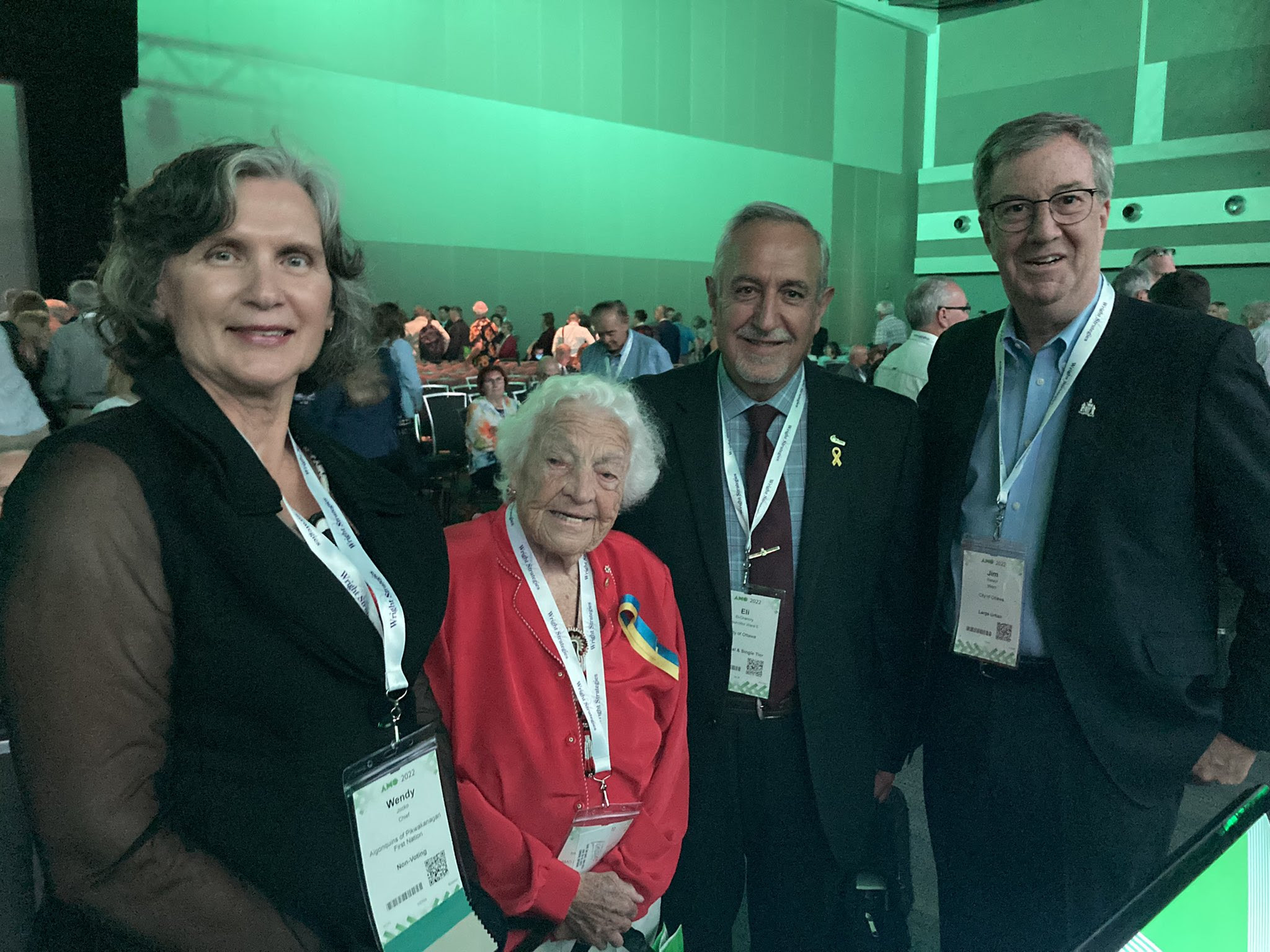 On August 15, I met with Mayor Jim Watson, Wendy Jocko, Chief of the Algonquins of Pikwakanagan First Nation, and Hazel McCallion, former Mayor of Mississauga, during the Association of Municipalities of Ontario's 2022 Conference in downtown Ottawa.
Next Generation 9-1-1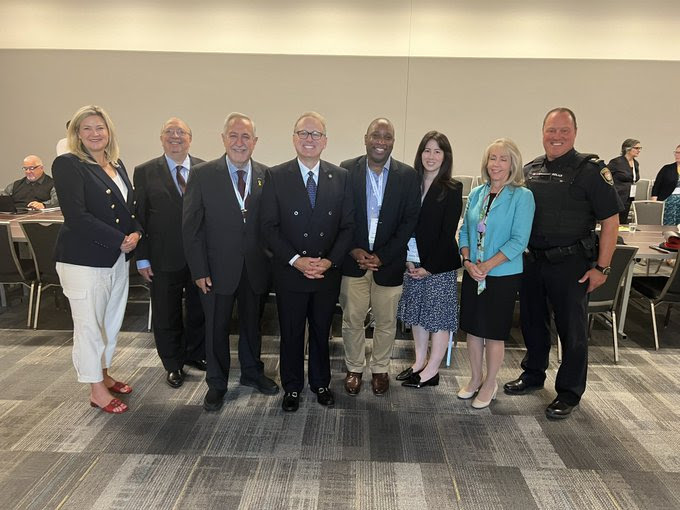 During the AMO Conference on August 15, I along with Councillor Rawlson King, City of Ottawa staff, and Ottawa Police and I met with Ontario Solicitor General Michael Kerzner and Kanata-Carleton MPP Merrilee Fullerton, Minister of Children, Community and Social Services, regarding Next Generation 9-1-1. This is an initiative intended to improve emergency management and communications for Canadians across the country.
ROMA Board meets during 2022 AMO Conferenc
On August 14, I participated in the AMO 2022 Conference in downtown Ottawa during which I attended an important board meeting with the Rural Ontario Municipal Association. I also welcomed my municipal colleagues from across Ontario to our beautiful city for the conference.
Capital Fair Opening Ceremonies


On August 12, I took part in the opening ceremonies of the Capital Fair with Councillor George Darouze.
Special Needs Day at the Capital Fair

On August 11, I was pleased to join Mayor Jim Watson, Councillors Catherine Kitts, Cathy Curry, Laura Dudas, Matt Luloff, Tim Tierney and George Darouze as well as staff from Hydro Ottawa for Special Needs Day at the start of the Capital Fair on the grounds of the Rideau-Carleton Raceway. I was delighted to be a part of this special day for children, youth and their families, and I also had a chance to reconnect with Constance Bay's Liam McKnight and his family during this amazing event.
Saint Charbel Parish celebration


On August 10, I was invited by Saint Charbel Parish to take part in their celebration of the Annual Family Gathering along with Mayor Jim Watson. I was also very humbled to receive a commemorative plaque during this event.
Mayor's Annual Golf Classic
On August 9, I joined Mayor Jim Watson and Councillor Cathy Curry for the 22nd Annual Mayor's Charity Golf Classic at the Marshes Golf Club in Kanata North. Thank you to the hard workers and volunteers who put it together. This tournament generated $72,000 in support of youth programs in Ottawa – the most ever generated in the event's 22-year history.
Ward 5 Development & Road Works News

Development Applications
Recently updated development applications can be reviewed at this link: Ward 5 – West Carleton-March. The City of Ottawa's Development Application Search Tool is also available by clicking here.
Culvert Replacement Work
As part of the City of Ottawa's annual infrastructure maintenance cycle, the following rural road culvert replacements will occur this summer to improve drainage and roadways. Construction is planned to begin in August 2022 and completion is anticipated by late November 2022.
Donald B. Munro Drive culvert – 0.01 km south of John Shaw Road (4 week duration)
Dunrobin Road culvert – 0.22 km north of Harwood Lane (2 week duration)
Richardson Side Road culvert – 0.25 km west of Carp Road (4 week duration)
Loggers Way culvert – 0.15 km north of Kinburn Side Road (3 week duration)
Upper Dwyer Hill Road culvert – 0.72 km south of Hamilton Side Road (2 week duration)
Upper Dwyer Hill Road culvert – 0.78 km north of Grainger Park Road Drive (2 week duration)
Upper Dwyer Hill Road culvert – 1.5 km north of Grainger Park Road Drive (2 week duration)
Road Works – Huntmar Drive Widening
The City of Ottawa has initiated the Huntmar Drive Widening (Campeau Drive to Maple Grove Road) and Stittsville Main Street Extension (Maple Grove Road to Robert Grant Avenue) Environmental Assessment (EA) Study. The project limits for the widening of Huntmar Drive starts from Campeau Drive in the north and extend to Maple Grove Road in the south. It is approximately 1.7 km long. The limits of the Stittsville Main Street Extension are from Maple Grove Road to Robert Grant Avenue. To get involved, visit the City's website to fill out the survey.
2022 West Rural 1 Resurfacing
Please be advised that all work related to the following resurfacing projects listed below was suspended earlier this summer due to a labour strike. As of July 24, 2022, the collective agreement has been ratified and work has resumed.
The work for the following locations was expected to start in May 2022:
Allbirch Road from Bishop Davis Drive to Shady Lane. – Completed.
Donald B. Munro Drive from Thomas Argue Road to March Road.
Huntmar Drive from 350m north of Campeau Drive to 2.7 km north of Richardson Side Road.
Madawaska Boulevard from 240 m north of Ottawa Road 29 to Connifer Lane. – Completed.
Old Carp Road from Old Second Line Road to 120 m east of Old Second Line Road. – Completed.
The work for the following locations was expected to start in mid-June 2022:
Marchurst Road from March Road (OR 49) to Murphy Side Road.
Torwood Drive from Thomas A. Dolan Parkway to Farm Lane.
The work for the following location is expected to start in early July 2022:
Greenland Road from Vances Side Road (OR 129) to Armitage Way
The work for the following location is expected to start in early August 2022:
Upper Dwyer Hill Road (OR 3) 240m north of March Road to Grainger Park Road.
For more information about road renewal, please visit ottawa.ca/constructionmap.
Ward 5 & City-wide Events

Youth ages 12 to 18 are welcome to drop into The Zone at the NorthWind Community Centre in Constance Bay every Tuesday from 5 to 7 pm. Details here.

Enjoy a self-guided or guided tour of Pinhey's Point Historic Site in Dunrobin. Click here for details.
Capital Pride Festival 2022 is August 21 to 28. The festival culminates on August 28 with the Pride Parade, beginning at 1 pm in Centretown. For the full lineup of festival events, please visit capitalpride.ca/signature-events.
St. Mary's hosts an Old-Time Corn Roast on August 24 from 5:30 to 7 pm at 2574 Sixth Line Road in Dunrobin.
For details, please click here.

The Western Ottawa Community Resource Centre hosts a Game Night for youth ages 12-18 at the Huntley Community Centre in Carp on August 26 from 6-9 pm. Details here.

The Ottawa Carleton Plowmen's Association Plowing Match is set for August 26 and 27 at Kings Creek Farm, 8472 Franktown Road, Ashton.

Saint Gabriel's next bottle drive fundraisers are August 27 and Sept. 10, from 10 am to 12 pm. Drop off your empties at 205 Bayview Drive in Constance Bay. Click here for details.
The Carp Farmers' Market hosts its traditional Garlic Market every Saturday in August, from 8 am to 1 pm at the Carp Fairgrounds. The market on August 27 will be the last garlic-themed market of the season.

The Fitzroy Harbour Community Association hosts a dinner and dance with live music on August 27, beginning at 4 pm, to celebrate the 45th anniversary of the Fitzroy Harbour Community Centre. For details and tickets, please click here.
The Bay Waves Square Dancing season resumes Sept. 9 at 7:30 pm at the NorthWind Community Centre, 262 Len Purcell Drive in Constance Bay. Singles are welcome. For details, email bay.waves@live.ca.

The Carp Fitness Park on Langstaff Drive will be feted in a Re-Launch Celebration and Tradeshow on Sept. 10 from 10 am to noon. The rain date is Sept. 11 from 1 to 3 pm.

The Kiwanis Club of Kanata-Stittsville invites kids and youth to submit video auditions by Sept. 16 for the club's Live Kids for Kids Talent Showcase. Learn more here.

The Constance Bay Community Market's season will continue at the NorthWind Community Centre in Constance Bay on Sept. 17, Oct. 8, Nov. 5 and Dec. 3. Visit marketinthebay.com for details.
The 12th annual West Carleton Terry Fox Run is scheduled for Sept. 18, 9:30 to 2 pm at the NorthWind Community Centre in Constance Bay. Click here for details.

The Carp Fair returns Sept. 22 to 25, 2022. Pick up your copy of the prize book at the Carp Fair Office and enter online at carpfair.ca by Sept. 19.

The deadline to register to participate in the City's Fall Cleaning the Capital Campaign is Sept. 30. Learn more here.

The Ottawa Centre Branch of the Royal Astronomical Society of Canada hosts its next free public Stargazing event in the parking lot of the Carp Library branch on Sept. 30. The event will begin after dark. Stay tuned for details. The rain date will be Oct. 1.

The Constance and Buckham's Bay Community Association hosts a Comedy Night and Karaoke at the NorthWind Community Centre in Constance Bay on Oct. 1. Doors open at 6:30 pm. For details, please click here.

The West Carleton Arts Society is is bringing back its signature "Expressions of Art" exhibition and sale at the Carp Agricultural Hall Oct. 7 to 9.

The Great Galetta Garage Sale is scheduled for Oct. 22 to 25. Volunteers and donated items are needed. Visit galetta.info for details.
The Rural Root Theatre Company presents A Red Plaid Shirt this November at the NorthWind Community Centre in Constance Bay. More details to come.

The CHEO Foundation hosts a 24hr Tremblant 2022 winter sport event and fundraiser Dec. 9 to 11. Click here for details.
For event details, please visit my website. To submit an event, please email Ward5@Ottawa.ca.