El-Chantiry: Ward 5 weekly news, May 25
The Councillor's Column
COVID-19 – LATEST NEWS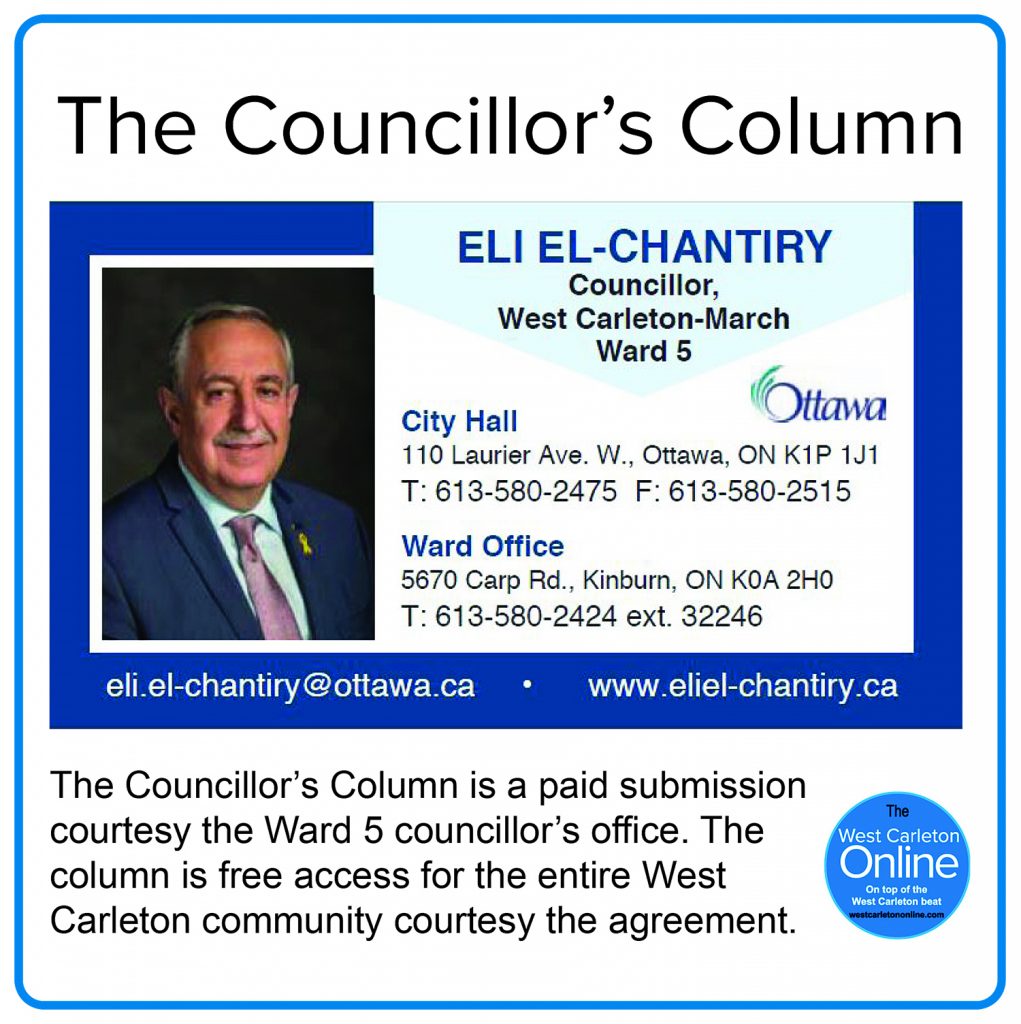 Additional vaccine appointments now available for aged 12 and over: Youth aged 12 and over in Ottawa can now book appointments to receive the COVID-19 vaccine at community clinics.
To book an appointment online, these individuals must already be 12 years old as of the date of their booking. The Pfizer vaccine is currently the only COVID-19 vaccine that has been authorized by Health Canada for use in individuals aged 12 and over.
Visit Ontario.ca/bookvaccine to access the provincial booking system or call the provincial vaccine booking line at 1-833-943-3900 between 8 a.m. and 8.p.m, seven days a week. Only book or call if you are eligible. As an alternative to community clinics, the Province also announced that youth 12 and above may schedule appointments directly through select pharmacies administering the Pfizer vaccine.
Province announces reopening plans: On May 20, the provincial government announced the reopening of outdoor recreational activities as of Saturday, May 22. Outdoor gatherings of up to five people are also now allowed.
The following outdoor recreational amenities may be open so long as they are in compliance with COVID-19 regulations:
parks and recreational areas and playgrounds
splash pads
baseball diamonds and batting cages
soccer, football and sports fields
tennis, platform tennis, table tennis and pickleball courts
basketball courts
BMX and skate parks
lawn game courts including lawn bowling, bocce and croquet
golf courses and driving ranges
marinas and boating clubs
boat and water craft launches
Frisbee golf locations
cycling tracks and bike trails
horse riding facilities
shooting ranges, including those operated by rod and gun clubs
ice rinks
tobogganing hills
snowmobile, cross country ski, dogsledding, ice skating and snowshoe trails
The province also outlined their three-step approach to the gradual reopening of Ontario as follows:
STEP 1 – Step 1 of the roadmap may begin after 60 per cent of Ontario's adults receive at least one dose of a COVID-19 vaccine and if public health indicators, such as hospitalizations, ICU occupancy and new admissions and case rates indicate the province can safely move to this step of the roadmap. The government expects to enter Step 1 of the roadmap the week of June 14. The province will confirm the date closer to the expected start of Step 1. Step 1 will permit the resumption of more outdoor activities with smaller, well-managed crowds where risk of transmission is minimized and will permit retail, all with restrictions in place. This includes allowing outdoor gatherings of up to 10 people, outdoor dining with up to four people per table and non-essential retail at 15 per cent capacity. Step One will be in place for 21 days.
STEP 2 – If at the end of the 21 days of Step 1 the province has vaccinated 70 per cent of adults with one dose and 20 per cent of adults with two doses and there are positive trends in public health and health system indicators, Ontario will move to Step 2. Step 2 will further expand outdoor activities and will resume limited indoor services with small numbers of people where face coverings are worn, with other restrictions in place. This includes outdoor gatherings of up to 25 people, outdoor sports and leagues, overnight camps, personal care services where face coverings can be worn and with capacity limits, as well as indoor religious services, rites or ceremony gatherings at 15 per cent capacity. Ontario will remain in Step 2 for at least 21 days.
STEP 3 – If at the end of the 21 days of Step 2 and the province has vaccinated 70 to 80 per cent of adults with one dose and 25 per cent of adults with two and positive trends in public health and health system indicators continue, the province will move to Step 3. Step 3 will permit the resumption of indoor services with larger numbers of people. This includes expanding access to indoor settings, with restrictions, including where there are larger numbers of people and where face coverings can't always be worn. This includes indoor sports and recreational fitness, indoor dining, museums, art galleries and libraries, and casinos and bingo halls, with capacity limits.
Below is a graphic which outlines the three-step reopening approach and the businesses and amenities that will reopen within each step. Click here to read the province's media release.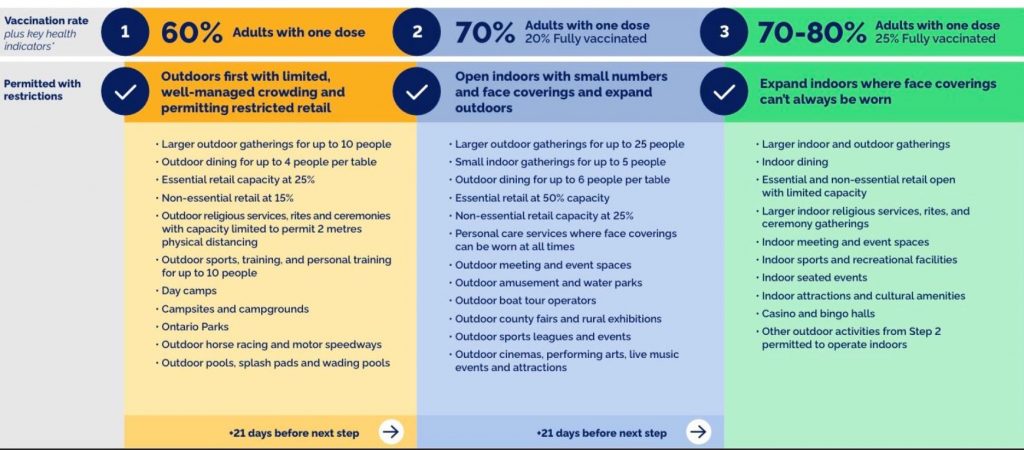 CITY OF OTTAWA'S SUMMER ACQUATIC PROGRAMS
The City of Ottawa's 2021 Summer Aquatic eGuides are now online at ottawa.ca/recreation. Registration for the COVID-modified aquatic program offerings starts on Wednesday, June 2 at 9pm. Click here for more information.
DOORS OPEN OTTAWA – JUNE 5 & 6
The City of Ottawa's annual Doors Open Ottawa event is happening on June 5 and 6 and is going virtual this year. Get your family and friends together to join in and discover secrets and stories about your favourite City of Ottawa buildings. Learn more here.
POISON IVY & WILD PARSNIP
I would like to highlight how residents should report poison ivy and wild parsnip to the City of Ottawa. (Please note: before making a report to the City, be aware that the City of Ottawa only deals with these invasive weeds on City owned lands. The City does not manage poison ivy and wild parsnip on private property).
If you see poison ivy or wild parsnip on City owned land, please report it by calling 311 or requesting service online at ServiceOttawa. This way your request for service can be tracked and directed to city staff appropriately. City staff will investigate to confirm the species of plant and will deal with if required. Click here for more information on invasive weeds Ottawa.
OTTAWA RIVER CANOE CLUB – ATHLETES HEADING TO THE OLYMPICS
The Ottawa River Canoe Club (ORCC), located at 1610 Sixth Line Rd. in Dunrobin, has announced that Brianna Hennessy a para athlete from Ottawa River has qualified for the Paralympics and will be racing both the kayak and Va'a canoe in Tokyo. Brianna was injured in November 2014, when she was struck by a car as a pedestrian in Toronto. The accident left her with a broken neck, which has resulted in her not being able to feel any of her limbs. Before her accident she was a National Team Rugby Player and Provincial Team boxer. Brianna came to ORCC in August last year when the COVID pandemic shut down her wheelchair rugby training. In ten short months, she has learned to paddle kayak and Va'a canoe, and last week at the Canoe Kayak Para World Cup in Hungary, Brianna finished 6th and 4th respectively to qualify for the Games. Brianna will be racing September 2-4, 2021.
Former ORCC paddler, Madeline Schmidt has also qualified for the Olympic Games. Maddy started paddling at ORCC when she was young and won a gold medal at the Ontario Summer Games and a bronze medal at the National Championships with her mom, her cousin, and her aunt as a 14 year old. The next season she moved to the Rideau Canoe Club to continue her paddling career. Maddy has qualified for the Olympics as part of the women's 4 person kayak event.
On a related note, ORCC paddler Mike Trauner raced at the Para World Cup last week. Mike was a soldier in the Afghan War and lost both his legs in an IED explosion. Mike is a double gold medalist at the Invictus Games for Canada and turned to Canoe/Kayak after the Games looking for a new challenge. Mike placed 4th in the B-Final at the World Cup and narrowly missed his goal of qualifying for the Paralympics. Mike will be racing at the World Championships in mid-September in Copenhagen, Denmark.
Congratulations to the athletes and best of luck to them!
OTTAWA POLICE INITIATIVE – PROJECT NOISEMAKER
The Ottawa Police's Project Noisemaker launched May 1, a traffic safety initiative aimed at speeding, stunt driving & excessive vehicle noise. See this media release for more information on this initiative. How can residents help? For traffic-related complaints, submit a report online: ottawapolice.ca/onlinereporting. The file will be reviewed within 24 hours. It's fast, easy and helps the police resolve these types of incidents in your community. There is additional information and help at ottawapolice.ca.
IMPROVEMENT TO PARA TRANSPO CUSTOMER BOOKING HOURS
There has been an improvement to Para Transpo customer booking hours. Customers can now call at any time between 7am and 5pm the day before their travel to book a trip on Para Transpo. There is no need for customers to call first thing in the morning and there is no longer a time reserved for only certain customers. Any customer can call at any time. Customers can also continue to call on their planned day of travel to ask about available capacity. Customers can visit OC Transpo's website for more details on booking travel with Para Transpo.
This improvement is being made following consultation with a working group comprised of Para Transpo customers, a representative of the Accessibility Advisory Committee, and members of the Transit Commission. The expansion of booking hours is one of numerous Para Transpo improvements made in recent years. Previous improvements include increasing capacity to accommodate more trips, improving the phone queue system, increasing staffing on the phone lines, simplifying the use of a Presto monthly pass on Para Transpo, and adding an online option for booking and cancelling trips.