Surfers, soldiers combine to help in Willola Beach
Special to WC Online
WILLOLA BEACH – A media plea for help brought out more than 700 volunteers, surfers and soldiers to the hard-hit community over the weekend.
But help is still needed.
A detachment of 13 TP D Squadron of the Royal Canadian Dragoons and club members from the River Surf Ottawa-Gatineau community were some of the worked side by side to help save homes and bolster the spirits of devastated Fitzroy Harbour residents on Sunday.
"The grateful residents of Fitzroy Habour were buoyed by the spirit of community champions that came together from all walks of life to come to their aid and plea for assistance in the ever growing flood crisis," said volunteer Britta Gerwin who has been in the area for the better part of a week. "Emotionally exhausted families were lifted by the reinforcement of support and continued battle to save their homes. Many residents who had almost given up hope shed tears of gratitude and relief, shoring them up for the uncertainty of the week ahead."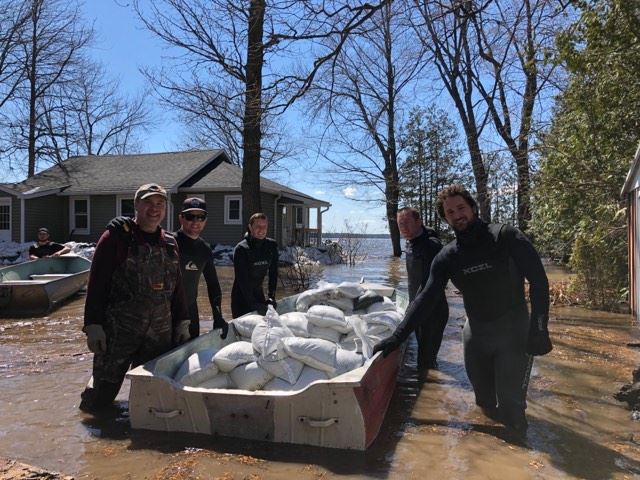 With the forecast of rain on Wednesday and water levels that are expected to peak tonight, families are anxious to continue efforts to reinforce sandbags and secure their homes.
There is a ongoing need for volunteers as military resources have been reallocated to help secure water treatment facilities serving Ottawa at large.
"Surfers and volunteers have pledged to return to assist on Monday (April 29) but the need is still imminent," Gerwin said. "The community finds shortages in water apparel, rubber boots, generators, water pumps, rolls of polyethylene plastic sheeting to cover bagged walls and prevent erosion. The needs list includes elevated vehicles to drive through submersed streets and driveways."
Coun. Eli El-Chantiry says the "number one priority today (April 29) remains filling sandbags and supporting homeowners."
"This morning the river is 10 centimetres higher than the May 2017 peak," he said this morning. "We are still expecting it to be 30 to 35 cm above the May 2017 peak."
He asks volunteers register at the Volunteer Check-In Centre at the Dunrobin Community Centre at 1151 Thomas A. Dolan Pkwy. The check-in centre is open from 9 a.m. to 7 p.m.
If you are self-evacuating your home, you are asked to register your household with the Red Cross to ensure you are eligible for all available support. You can register ad the NorthWind Wireless Fiber Centre where the Community Support Centre is located at 262 Len Purcell Dr. The community centre is now open 24-hours-a-day.
Along with the Canadian Red Cross, organizations such as St. John's Ambulance, emergency social services, housing and personal support and the Public Health Officer are on site. There are also showers, toilets, boiled water, food provided by the Salvation Army, electrical outlets and Wi-Fi.
Boaters are remined to stay off the Ottawa River. Navigation is currently prohibited on the Ottawa River. Wakes from passing vessels can damage sandbag walls. Fines of $5,000 will be issued to anyone caught on the Ottawa River.
The city reminds motorists to drive extremely slow over water covered roads due to damaging wakes as well. People in general are asked to stay away from affected areas and not impede flood response operations if they are not volunteers or residents.
For more information on flood relief, visit West Carleton Disaster Relief.