Sudds: Priorities for 2022
The MP's Report
Happy New Year to the constituents of Kanata—Carleton! My team and I have been hard at work responding to your phone calls and emails. Please reach out to me at any time. My team and I are here to assist however we can.
Priorities for 2022
With the New Year upon us, I am excited about the opportunities and work ahead. In this update, I want to share with you a few of my priorities for the next session of Parliament, sourced from the feedback that constituents have shared with me.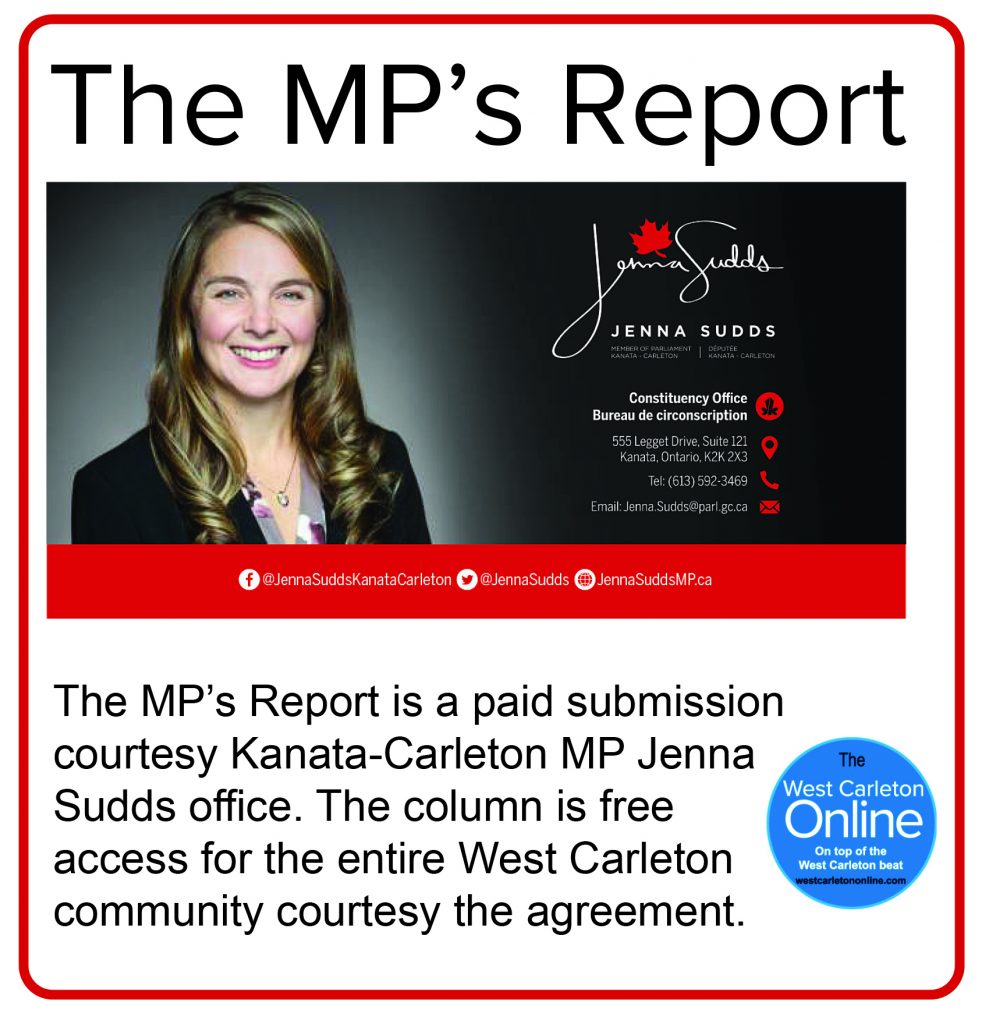 As your representative at the federal level, I am here to advocate for you. Please reach out to me anytime at Jenna.Sudds@parl.gc.ca with your ideas and suggestions on how to make our community and our country a better place to live.
I strongly believe the best way to serve our community into the future is to ensure that the local economy doesn't just recover, but to support it to become even stronger. Our government continues to be there for Canadians throughout this pandemic, and most recently approved Bill C-2 to ensure COVID supports continue to be available for Canadians and our business community.
We need to build on the strengths of our technology sector with robust innovation policies that enable and support Canadian innovators, including those in green technologies. I will aggressively pursue actions that mitigate our carbon footprint and address climate change.
We need to support our farmers and agricultural sector. The importance of their contributions to our economy and community cannot be understated. We need them and must ensure we are there for them as well.
I am committed to working towards securing LRT to Kanata—Carleton. I have been a strong advocate for this long overdue service and will continue to work with my municipal and provincial counterparts to pursue this.
Our friends and neighbours in the rural parts of Kanata—Carleton need to be connected to the digital opportunity the rest of us enjoy. I will work with the Minister of Rural Economic Development to secure the necessary investments to bring high-speed internet, a vital and necessary service, to our rural residents of Kanata—Carleton. Read more about our progress to-date on rural Internet, and view broadband projects in your area on this interactive map.
I believe these priorities reflect the needs and wants of the people of Kanata—Carleton. However, I recognize that they cannot come at a cost of future generations and our environment. Bold climate action is needed for the benefit of generations to come.
Our government is making smart investments to weather this pandemic. International supply chain issues and inflation have been difficult worldwide, and I know it's impacting all of us here in Kanata—Carleton. While inflation is a global phenomenon, it makes maintaining a sound framework for monetary policy in Canada even more important. We must continue to make the right, necessary investments while ensuring that we do not leave mounting debt for future generations. Our government is always focused on affordability and the cost of living, including keeping inflation under control.
We've got a lot of work ahead of us, but I am optimistic. 2022 is here and I am excited to work with our community to ensure our government continues to have our best interests at heart.
Get boosted
More than 8.6 million Canadians have gotten their booster already. That's a great start, and I want to thank everyone who has rolled up their sleeve. If you're eligible but haven't signed up for your shot yet, add that to your to-do list. The booster dose of the COVID-19 vaccine provides significant and important protection against hospitalization.
Canada also has enough doses for your kids between the ages of 5 and 11 to get both their first shot and their second shot. When you sign up for your booster, please make sure your kids are signed up for their shots as well.
As of Monday, January 10, Ottawa Public Health increased drop-in eligibility at certain community clinics to prioritize immunizing these four groups:
Individuals aged 60 and older
Educational and childcare workers
Healthcare workers
Pregnant individuals
Read more about priority drop-in groups here.
To those who were planning to travel this winter and spring, now is not the time. Due to the rapid spread of the Omicron variant on a global scale, our government is advising Canadians against non-essential travel at this time. Read the latest information on travel restrictions at travel.gc.ca.
I know it is discouraging to see this increase in cases; however, we know what we need to do. Please stay well and reach out if I can be of assistance as we navigate this wave.
Rapid test distribution
Last week, we announced that 140 million more rapid tests will be delivered to the provinces and territories in January — enough for one test per week for every Canadian this month — building on the more than 120 million rapid tests that we provided in 2021.
The federal government's responsibility is to procure rapid tests, which we then divide and distribute on a per-capita basis to the provinces. Ensuring that rapid tests are distributed fairly and efficiently to residents is the responsibility of the Province of Ontario.
To that end, I have heard the feedback of residents who have waited in long lines and struggled to access rapid tests. I know this has been frustrating for many. Ensuring that my constituents have access to free rapid testing is a high priority of mine. I have shared the suggestion of distributing rapid tests via Canada Post with Minister Filomena Tassi who has confirmed they are reviewing this. However, I would stress that unless the Province asks for assistance, it is a Provincial responsibility.
Enjoying the outdoors
Outside recreation is a great way to stay active in a COVID-safe manner. In true Canadian fashion, many of us are turning to outdoor rinks to get exercise and enjoy a game of hockey with friends. You can find a local rink near you here. Remember to abide by capacity restrictions and please thank your local volunteer ice team for ensuring that our community's outdoor rinks are ready for winter activities.
Canada Summer Jobs — employers, apply by Jan. 25
Calling all business owners in Kanata—Carleton! You may qualify for Canada Summer Jobs funding to create quality summer work opportunities for youth. Review the eligibility criteria and apply by January 25th at JennaSuddsMP.ca/canadasummerjobs.
Important dates
Canada Child Benefit: January 20 and February 18
Canada Pension Plan: January 27 and February 24
Old Age Security: January 27 and February 24
Veteran Disability Pension: January 28 and February 25
Canada Workers Benefit: January 5 and April 5
GST/HST Credit: January 5 and April 5
You can sign up for direct deposit to automatically receive the benefits in your bank account. To do so, visit the Canada Revenue Agency website or call 1-800-959-8281.
COVID-19 Update
As Omicron continues to spread, please continue to follow Ottawa Public Health guidance. The situation and advice have been changing with the increasing number of people impacted by COVID-19 and the Omicron variant. Please monitor ottawapublichealth.ca regularly for updates.
Lastly, please know that your community is here for you. Please reach out if you need assistance. The Mental Health Crisis Line (24 hours a day/7 days a week) is also available at 613-722-6914 or (if outside Ottawa) toll-free at 1-866-996-0991.
Available COVID-19 support programs include:
Canada Recovery Caregiving Benefit: $500/week
The Canada Recovery Caregiving Benefit (CRCB) gives $500 per week to employed and self-employed individuals who are unable to work because they must care for their child under 12 years old or a family member who needs supervised care. This applies if their school, regular program or facility is closed or unavailable to them due to COVID-19, or because they are sick, self-isolating, or at risk of serious health complications due to COVID-19. Apply here.
Canada Recovery Sickness Benefit: $500/week
The Canada Recovery Sickness Benefit (CRSB) gives up to six weeks of income support to employed and self-employed individuals who are unable to work because they are sick or need to self-isolate due to COVID-19 or have an underlying health condition that puts them at greater risk of getting COVID-19. Apply here.
Canada Worker Lockdown Benefit: $300/week
The Canada Worker Lockdown Benefit (CWLB) gives temporary income support to employed and self-employed people who cannot work due to a COVID-19 lockdown. Apply here.
Find benefits and services online
COVID Individual Benefits Calculator: covid-benefits.alpha.canada.ca
COVID Business Benefits Calculator: innovation.ised-isde.canada.ca
Federal Benefits Finder: benefitsfinder.services.gc.ca
Wishing you and yours a Happy New Year.