Sudds: Busy behind the scenes
The MP's Report
I'd like to start today's update with a shoutout to my team who is incredibly busy behind the scenes, assisting Kanata—Carleton constituents with various federal issues, such as passport renewal applications, immigration inquiries, work permits, tax filing services, and more.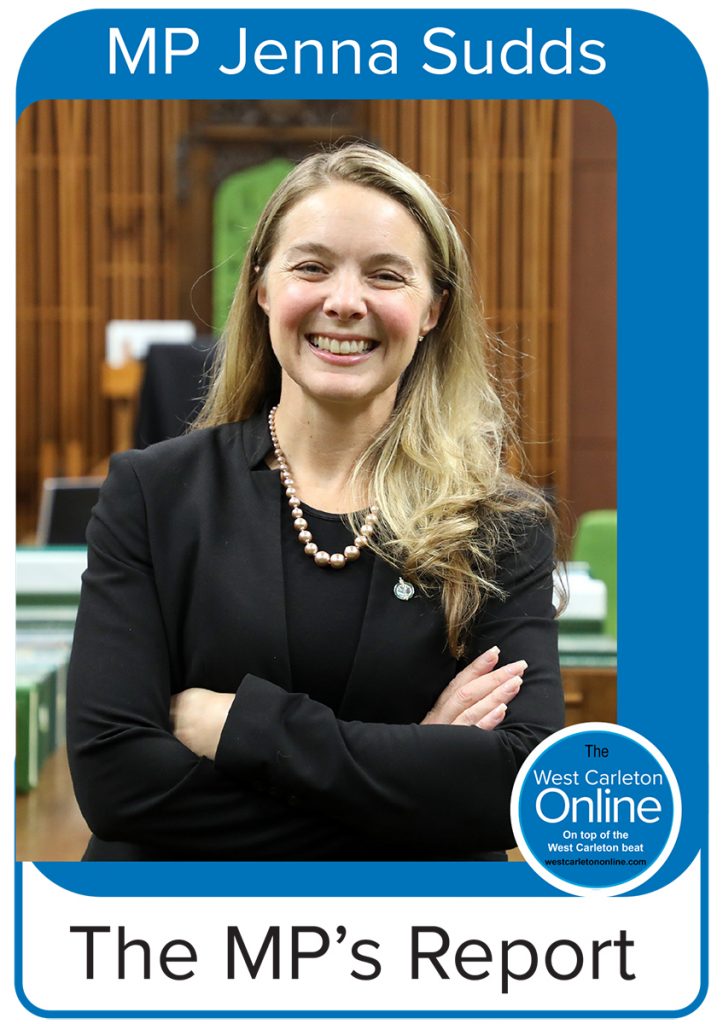 Assisting constituents in this way is some of the most personal and fulfilling work of being a Member of Parliament, but it wouldn't be possible without my team and their compassion.
As we solicit feedback from constituents we've assisted to help inform and improve our services, here are just two of the many responses we received from them:
"I would like to thank Jenna's office especially Shari-Lynn who has helped me in my mom's visa case. I can finally reunite with my mom after so many years. Shari-Lynn's efforts, dedication and care in helping me are heart-warming and greatly appreciated. I'm so proud to live in Kanata under Jenna's leadership and I will continue to contribute to our community."
— Sam

"MP Jenna Sudds" and her staff member "Emily" provided exceptional service in helping us with our IRCC application. Their professionalism, expertise, and dedication were evident throughout the process. They were prompt in their responses, followed up with the IRCC on our behalf, and provided reassurance during a potentially stressful time. Thank you for your exceptional service!"
— Arezou
Thank you to everyone who took the time to share their feedback about how my team has made a difference in their lives.
West Carleton Flood Relief
Another shoutout to everyone who stepped up to help with flood preparations in our community. Seeing family, friends, neighbours, and strangers come together in times of need is incredibly heartwarming!
Many thanks as well to the West Carleton Disaster Relief for tirelessly coordinating vital aid for our community in need. As the flood risk remains high and rain remains in the forecast, volunteers are welcome.
Climate Action Incentive Payments
On April 14, you might've woken up to a surprise boost to your bank account. Ontarians received their Climate Action Incentive rebate — upwards of $122 per household! It's tax-free and quarterly. In fact, 80% of households will get back more in rebates than they pay into the price on carbon. You'll see this rebate again in July, October, and January.
Additional details are available here.
(If you haven't yet received your Climate Action Incentive Payment, this may be because your income tax and benefit returns were not assessed before March 24, 2023. If your tax returns are assessed after this date, your April payment will be included in next quarter's payment.)
Prime Minister Visits Ericsson in Kanata
It seems like every time the Prime Minister and Minister of Industry visit Kanata, our government's commitment to supporting innovation gets stronger!
On April 17, Prime Minister Justin Trudeau and the Minister of Innovation, Science and Industry, François-Philippe Champagne, stopped by Ericsson's Kanata headquarters to announce a $470 million partnership that will see Ericsson further grow its Kanata workforce and invest in 5G and 6G network technologies.
I'm very proud to work on behalf of our incredible Kanata—Carleton community and bring support for our technology sector here in Canada's largest technology park!
PSAC Strike Action
After weeks of negotiation, over 155,000 federal public servants began striking on April 19th. Despite the resulting service disruptions, my Constituency Office team continues to work to the best of our ability to help constituents navigate issues with federal services.
The federal government remains committed to reaching collective agreements that are fair to public servants and reasonable for taxpayers. Like you, I expect both parties to bargain in good faith and find compromise to avoid disrupting the services that Canadians rely on.
Please note, the T1 tax filing deadline of May 1, 2023 will not be extended. Please ensure your return is filed electronically or by paper in time for the deadline, along with payment for any balance owing.
Healthcare Update in Your Mailbox!
Residents will soon receive a brochure in their mailbox outlining the details of the federal government's healthcare deal with the provinces.
Totaling almost $200 billion in federal funding, this healthcare deal comes with important conditions to ensure funding is being used responsibly and results are being delivered.
Bill Highlight: Bill C-27
Many of you have seen the recent rise in articulated intelligence. From ChatGPT to self-driving vehicles, AI is becoming commonplace.
Yet, Canada (and the world) do not yet have the necessary regulations in place to ensure that AI is developed responsibly, ethically, and within reasonable legal limits. Bill C-27 would create the first AI regulatory framework in Canada, and some of the first in the world!
Bill C-27 also tackles an urgent issue of data collection. From Apple Watches tracking our medical health to Amazon's Alexa listening to our living room conversations, data privacy is a growing issue for Canadians. We believe your data should only be collected knowingly, with your consent, and used transparently.
Through Bill C-27, we're updating national privacy laws to protect your digital privacy. Parents will be relieved that this bill also introduces important protections for our kids, ensuring they're able to explore the internet safely.
Important Dates
Canada Child Benefit: May 19 and June 20
Canada Pension Plan: May 29 and June 28
Old Age Security: May 29 and June 28 (Calculate the amount you'll receive through OAS here).
Veteran Disability Pension: May 30 and June 29
Climate Action Incentive: June 2023
GST/HST Credit: July 5
You can sign up for direct deposit to automatically receive benefits in your bank account. To do so, visit theCanada Revenue Agency website or call 1-800-959-8281.
Other Upcoming Dates
May: Asian Heritage Month & Jewish Heritage Month
May 3: World Press Freedom Day
May 5: Cinco de Mayo
May 5: Dutch Heritage Day
May 5: Red Dress Day
May 6: Opening Day of both the Kanata Farmers' Market and the Carp Farmers' Market
May 12: International Nurses Day
May 14: Happy Mother's Day!
May 17: International Day Against Homophobia, Transphobia, and Biphobia
May 20: Armed Forces Day
May 22: Victoria Day
May 25: National Missing Children's Day
May 29: International Day of United Nations Peacekeepers
Please Keep in Touch!
In addition to these monthly newsletters, I also provide regular updates about my work in the House of Commons on my website.
Again, please don't hesitate to reach out by email Jenna.Sudds@parl.gc.ca or by phone (613) 592-3469. I'd welcome your input and look forward to continuing to work together.
To read all MP Jenna Sudds columns, click here.
The preceding column was written by Kanata-Carleton MP Jenna Sudds, a monthly column for West Carleton Online, made available to the entire community through an agreement with the publisher.