South March robbery, assault suspect caught on film
Special to WC Online
KANATA – A man suspected of assaulting a victim during a private sale gone wrong near March Road, was caught on film and the police are looking for help.
The Robbery Unit of the Ottawa Police Service (OPS) is investigating a robbery that took place on Saturday, Jan. 19 at approximately 6:45 p.m. in Kanata.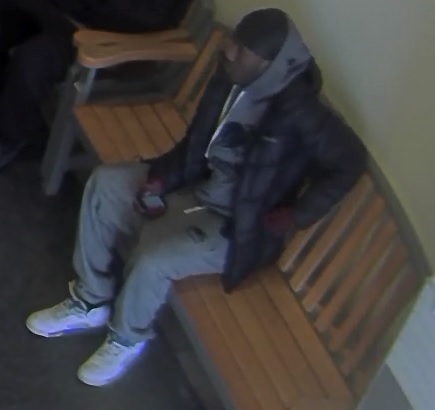 Two men came to a home to meet the seller of a phone, who had placed a classified advertisement online. The male suspects assaulted the seller and stole his phone. They left the area on foot.
OPS frontline officers attended the residence of the victim in the area of Marconi Avenue and Maxwell Bridge Road in the South March area. The victim suffered serious injuries.
The Robbery Unit continues to investigate and wish to identify one of the male suspects.
He is described as a Black male, stubble (unshaven), medium build (see pictures). There are no pictures available for the second male suspect.
Police offer the following safety tips for those who utilize social media sites to arrange meetings and transactions:
When buying or selling, you should meet in person to thoroughly inspect the product and then exchange funds. Meet in a public place with many people around, ideally one that is under video surveillance;
Attend with a second person, and consider leaving your item or cash in a vehicle or with the other person as you assess the credibility of the other party;
Sellers should always arrange to speak with the potential buyer over the phone ahead of the meet up. If something seems suspicious, walk away;
It's up to the seller to choose the location. The buyer should never dictate the terms. At the meeting, write down the licence plate of any vehicle number when they arrive at the meeting.
If you are purchasing a cellular phone, ensure you get the IMEI number and call any service provider to verify that it is not lost/stolen. Once you have acquired the phone, make sure the IMEI # is the same as the one you pre-checked.
Should you become a victim of a similar robbery, the following steps are recommended:
Do not resist your attackers, they may be armed and this could lead to serious injury or death;
Try and memorize their faces, clothing and license plates if they leave in vehicles;
Report the incident to Police as soon as possible.
Anyone with information regarding this investigation is asked to call the Ottawa Police Service Robbery Unit at 613-236-1222, ext. 5116. Anonymous tips can be submitted by calling Crime Stoppers toll-free at 1-800-222-8477 (TIPS), or by downloading the Ottawa Police app.