Rivermen to host Lexie Night Dec. 6
By Jake Davies - West Carleton Online
KINBURN – The Number One team in the Eastern Ontario Senior A Hockey League (EOSHL) will be playing for Dunrobin's Lexie York on Dec. 6 – a huge Rivermen fan and the victim of a brutal beating in Mexico on Remembrance Day (Nov. 11).
Alexandra York, 29, was on a family vacation in Cancun, Mexico at the Grand Bahia Principe Tulum resort early in November. Lexie, as she is known, went out for a bite to eat on Nov. 10 and was befriended by a couple at a restaurant whom she joined for dinner. Later that evening Lexie says the husband of the couple knocked on her door saying his wife had heard screaming.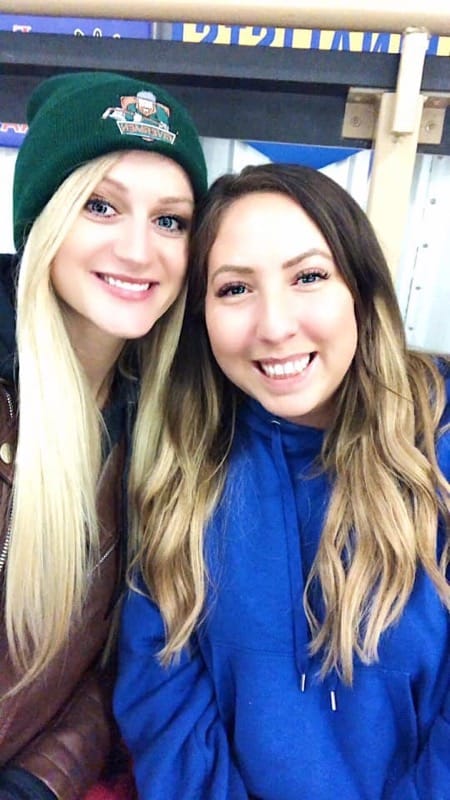 Lexie told the man she was fine, and he should leave. It was at that moment the man attacked Lexie and started strangling her. She fought back but eventually lost consciousness due to the violent attack.
When Lexie came to, she had lost vision in both eyes. She crawled out of the room and called for help. Lexie is now recovering at a hospital in Cancun.
Doctors are hopeful her vision will recover, and Lexie expects she will be able to return home in about a week.
Cancun police have not yet commented on the case. This Friday the Rivermen will be raising money at their home game against Deseronto.
Team owner/player Adrian Moyes calls Lexie a close personal friend.
"Lexie is one of the kindest humans we have had the pleasure of knowing and we love her and wish her all the best in her recovery," Moyes told West Carleton Online today (Nov. 20). "Lexie and I have been friends since high school. She was one of my wife's bridesmaids and we absolutely adore her. She was at our very first Rivermen game and also won the 50/50. The Rivermen want to help out as much as we can."
The game on Friday, Dec. 6 against the Cornwall Prowlers will be Lexie Night "and we will be donating all of our profits to Lexie to help out with anything she needs in her recovery," Moyes said.
Anyone who buys a ticket will automatically be entered in to a draw that will be held at the game. There will also be several items for a silent auction with all proceeds going towards the cost of Lexie's recovery.
"We will be pre-selling tickets for this game for $10 and we hope that everyone can purchase tickets and come show your community support for Lexie." He said. "If you would like tickets please private message us and we will arrange to get them to you."
Lexie's family Mathew York and Sandra Arbuckle have also created a GoFundMe page which can be found here. So far, 656 donors have raised a combined $52,091 for her recovery.
WC hockey this week
The Rivermen (7-0-1) are also at home this Friday (Nov. 22) night for a game against the Deseronto Bulldogs (3-4) starting at 8:30 p.m. at the Cavanagh Sensplex in Kinburn.
The Rivermen have yet to lose in overtime and sit atop the four-team league. The Cornwall Prowlers (5-1-2) are in second place, only three points behind.
Last Saturday (Nov. 9) the Rivermen put an 11-4 pounding on the Maxville Millionaire (0-7) while on the road.
Five goals in the first period pretty much sealed the deal for West Carleton. Former American Collegiate Hockey Association Player of the Year Alex Hulford had a hat trick and added an assist for a four-point night that earned him the first star of the game. Galetta's Moyes had a five-point game with one goal and was named second star. Ryan Lough was the third star with two goals and an assist.
Hulford is third in EOSHL scoring with 20 points in eight games. He's second in the league with 10 goals.
For this Friday's game, the Rivermen are putting Black Friday to shame. If the team gets 200 paying fans, the Rivermen will be giving away a television. The Ian Moyes Sales Representative – Royal LePage Team Realty Chuck-a-Puck Jackpot is up to $256.50. All paying fans will also receive a coupon for a free hot pretzel appetizer at the Ridge Rock Brewing Co.
Inferno back home Saturday
The West Carleton Inferno play on back-to-back nights this weekend, one on the road and one at home.
The Inferno (3-12) take on the Bytown Royals (6-7-2) Friday night (Nov. 22) at the Bernard-Grandmaitre Arena before returning home Saturday (Nov. 23) for a game against the St-Isidore Eagles (8-6-2) at 8:10 p.m. at the W. Erskine Johnston Arena in Carp.
The Inferno found the net eight times last weekend against two of the National Capital Junior C Hockey League's (NCJHL) best teams but were unable to register a win. The Inferno lost 6-4 to the league-leading South Grenville Rangers (12-2) and 9-4 to the North Dundas Rockets (7-6-1). The losses leave the Inferno five points out of the last playoff spot as the NCJHL approaches the halfway mark of the season.
Carp's Corey Symington leads the Inferno in scoring with 15 points. He had a huge weekend on the road scoring a hat trick against the Rangers including a short-handed goal. Symington followed that up with three assists against the Rockets.