Papa strolls through West Carleton
By Jake Davies - West Carleton Online
KINBURN – It was Day Seven yesterday (Aug. 30) for 82-year-old Russell 'Papa' Mackay as his journey from Beachburg to the Children's Hospital of Eastern Ontario (CHEO) took him down Donald B. Munro Drive through beautiful West Carleton.
Papa, an 82-year-old retired Beachburg farmer, is legally blind and suffers from diabetes. But that hasn't deterred him from his 125-kilometre fundraising hike. In fact, he's smashed his fundraising goals and is a couple kilometres ahead of schedule to boot as he hit West Carleton over the weekend.
West Carleton Online caught up with Papa Sunday afternoon, midway between Kinburn and Carp.
"It's going very good," Papa said. "I think we're up to about $62,000 today, it might be $64,000 tonight. We said $20,000, and I pledged $5,000, so we were hoping for $25,000, so we were up to $28,000 and then then next thing it was $30,000 and then the next day it was $40,000 and we're still going. So, I told Crissy (his daughter), $100,000, but I think we'll reach $75,000. We've got another four days to go."
The day before Papa and his team cruised through Arnprior. People lined up at Tim Horton's to meet the hero. Papa was also presented with a certificate of merit from Mayor Walter Stack and M. Sullivan and Sons Construction and staff raised almost $3,000 for Papa's Walk 4 Kids fundraiser.
West Carleton Facebook pages were full of chatter with plans to meet the brand-new legend as he passed through the community.
"You people are just great, you are out of this world," Papa said of all those donating to his cause. "It's you people that keep me going, that's giving me energy. You make me want to go. I want to go for you's. Just great, just 100 per cent."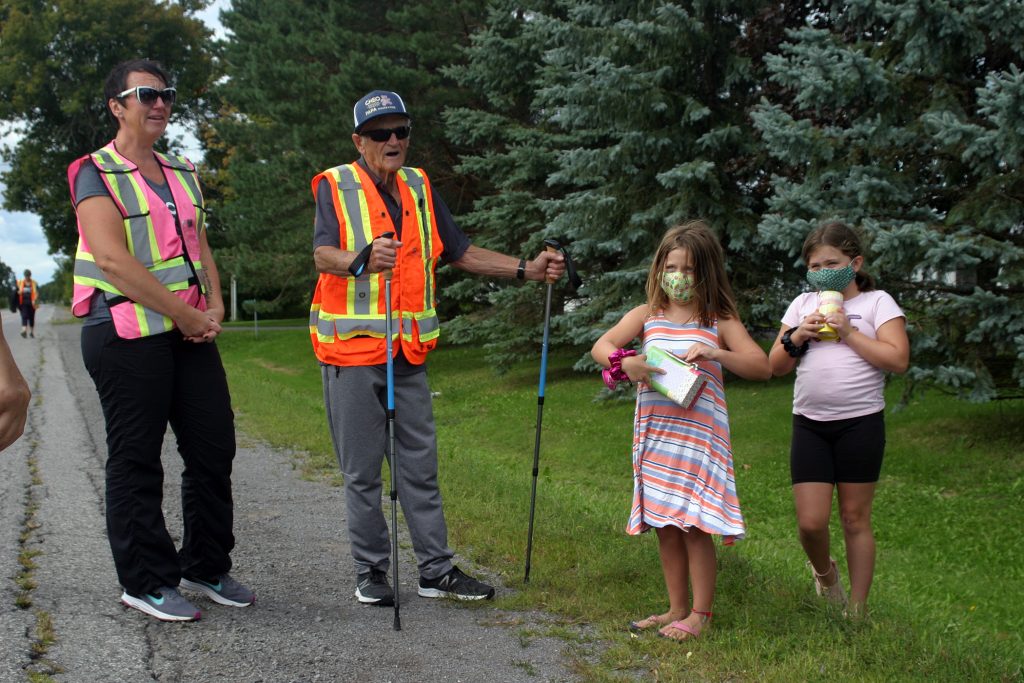 Just by Sunrise Farm, a couple of young fans had driven in from Bells Corners to meet Papa and make their own donation.
Payton, 8, and Mackenzie, 6, Buist, raised $150 for Papa through a lemonade stand held earlier in the summer.
"We've been following Papa since the beginning," mom Amanda Buist said. "I saw it on social media. We drove here because we wanted to meet him. It's incredible. Every part of the story touches me."
Papa has been walking roughly 12 kilometres a day on his quest. When West Carleton Online caught up to him, he was at 88 km.
The walking's been good. I had some trouble with this one muscle under my leg here. It needs to relax up a bit. But we rub it and its been not too bad. We just got to keep going."
Papa had three miles left to go Sunday, "six or seven kilometres on the way to Carp before we stop for the day," he said. "Thank you very much, we'll see you at CHEO."
Daughter Crystal Mackay was part of Papa's support team on the hike to CHEO. The team is expecting to arrive at CHEO on Thursday, Sept. 3 around noon.
"All the grandchildren and children want to do a bit of a parade with Papa, so we'll walk in to CHEO around 12:30 p.m. with the cheque presentation at 1 p.m.," she said.
Crystal is amazed at the response.
"The fundraising itself has just exploded," she said. "We're now at $62,500. No, not even, starting with the fundraising goal itself to all the people following along with us on social media, to the media itself, great people like you helping to share this story, it's really grown beyond anyone's imagination."