OFS Station 66 brings back breakfast
By Jake Davies - West Carleton Online
DUNROBIN – The volunteer firefighters of Ottawa Fire Services (OFS) Station 66 are finally bringing back the pancakes on Sunday, June 12.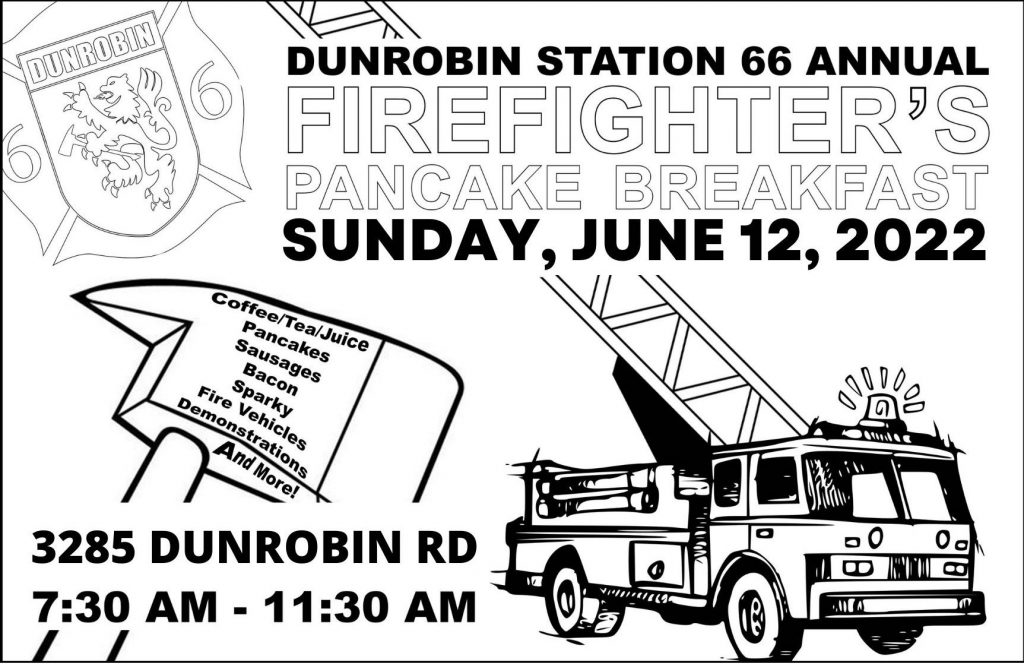 It's been three long years since Dunrobin's firefighters have hosted their super-popular Firefighter's Pancake Breakfast, an event that attracted more than 650 pancake (and firefighter) lovers the last time it was held in 2019.
It was another era as the event was also a fundraiser for disaster relief as the community continued to recover from the 2018 tornado and raised more than $2,500 for the cause.
On Sunday, June 12 the breakfast makes its triumphant return, and no one is more excited than the firefighters themselves.
"We are super-excited at Station 66 to finally be able to once again host our community pancake breakfast after two long years without the event due to the pandemic," volunteer firefighter and Dunrobin resident Alex Carlson told West Carleton Online yesterday (May 18). It is a long-standing annual tradition at our station, and it is always fun to interact with families from our community, see the kids' reactions to Sparky, and show the public a little bit more about what we do."
The event has always been about more than just breakfast.
"Our community volunteer firefighters will be once again serving pancakes, bacon and sausages, coffee/tea/juice and we would like to invite the community to come join us on June 12," Carlson said. "We will also have Sparky attending with lots of fun and activities for kids and families, as well as trucks on display, demonstrations, and public education.
OFS Station 66 can be found at 3285 Dunrobin Rd. and the breakfast runs from 7:30 to 11:30 a.m.