Oswald: The beauty of Carp living
By Andy Oswald for West Carleton Online
West Carleton Online is proud to introduce our newest columnist, Real Estate legend and Carp resident Andy Oswald. Each month Oswald will take a look at the Real Estate market in West Carleton as well as many other industry-related topics. In his debut column, Andy, a long-time Carp resident, kicks it off with a look at the Village of Carp.
Of all the rural communities within Ottawa, we believe the Village of Carp deserves much more attention.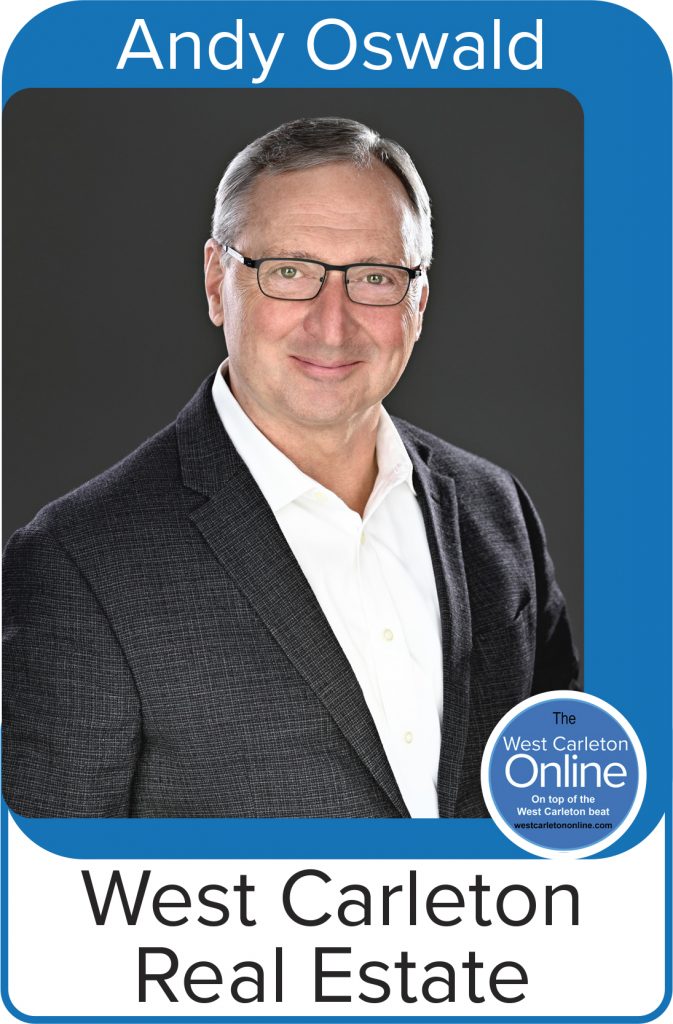 Its location on the Carp River runs right through the town, providing spectacular views that residents often compare with those of Gatineau Park.
While the scenery is unbelievable, it is only one of the many reasons we love the Village of Carp. Here are some other fun facts you should know.
Can you believe this scenic rural paradise is located just 33 kilometres from downtown Ottawa? You can get to the city in approximately 30 minutes, depending on traffic.
The tech park of Kanata is even closer, which makes the Village of Carp a highly desirable location for commuters.
Not that you ever need to go far to get what you need. Downtown Carp offers a host of conveniences like restaurants, quaint little boutiques, ice cream shops, and cafes. Here are a few of our favourite hotspots that alone make the Village of Carp worth a visit:
Want to know even more about the Village of Carp? Check out some of our other community posts below:
The Village of Carp is Safe and family-friendly
The quiet streets and friendly atmosphere make the Village of Carp a top choice for families with young children. There's something about a rural environment almost magical for youngsters growing up, where they can play, explore, and unleash their imagination to the fullest.
The Village of Carp is served by the Ottawa-Carleton District School Board, and Huntley Centennial Public School is located right in town. Those who prefer a Catholic education for their children can opt for St. Michael School.
Secondary students can opt for either West Carleton Secondary School in West Carleton or All Saints High School in Kanata. Both are within 15 a minute drive. Aspire Academy is one of the top choices for private schools for children from Kindergarten to Grade 8.
Plus, there are several preschools, nurseries, and extracurricular activities to help give children a head start in life.
Much fun to be had
Nothing beats the sense of community, outdoor adventures, and seasonal events that a rural town offers. And the Village of Carp does not disappoint.
Old or young, there's something for everyone, from breweries and pubs to farmer's markets and outstanding hiking and biking trails! Let's take a look at a few highlights:
The Carp Farmer's Market–Serving the area for 32 seasons, the Carp Farmer's Market is one of the town's top attractions. Not only will you find locally grown fresh foods, but the market also hosts some of the most widely anticipated local events. The Christmas Market and Garlic Festival are just a couple of the annual festivities you won't want to miss.
The Annual Carp Fair – The Carp Fair is one of the most anticipated attractions in Ontario. With a thrilling midway, games and exhibits, and outstanding musical performances, it is certainly the talk of the town! Bring your family to visit one year, and you won't be able to stay away.
A Network of Nature Trails – Carp's location right on the river offers some of the most beautiful scenery in the area. The series of trails operated by the Friends of the Carp Hills are ideal for hikers of all levels and are open all year round.
The economy is growing
From the outside, the Village of Carp may appear to be a sleepy, rural town that lies just 10 minutes away from the tech park in Kanata. Many professionals do seek opportunities just outside the village. However, what may surprise you is this small community is becoming a growing economic and recreational hub on its own. The downtown core already offers a thriving business improvement area, attracting new entrepreneurial-minded residents each year.
The City of Ottawa has created an ambitious plan for even more commercial and residential development over the next 20 years. We are excited to see how one of our favourite small communities will grow during this time!
Bonus fun facts about Carp
For a small rural community, the Village of Carp has earned its share of fascinating lore and tantalizing rumours. Here are a few fun tidbits we are happy to share with you.
If you guessed that the Carp River was named after the fish, you're 100 per cent correct. The river was overrun with them in the early 19th century. The problem has long been solved, but the name persists.
Canada's Department of National Defence once owned the Diefenbunker bunker, intended to provide shelter for government officials in the event of a nuclear war. It is now a museum open to the public and one of Carp's most popular attractions.
Carp is the scene of one of the most notorious UFO sightings ever reported. It happened in 1989, and the incident became such a source of fascination that it was featured on the television show Unsolved Mysteries in 1993.
Real Estate opportunities in the Village of Carp
Most residences in the Village of Carp are modern detached homes constructed in 2000 and later. You will also find many townhouses available, and a new assisted living facility provides independent and assisted living for seniors and retirees. If you can't find what you're looking for, you can always build it. For many, the Village of Carp is the perfect place to invest in a vacant lot to construct a dream house with every feature custom designed just for you.
As the town develops, more people from all walks of life are falling in love with this peaceful, scenic, and convenient community.
Realtor Andy Oswald has called Carp home since 2001. Oswald has been in the Real Estate industry since 1982 focusing mostly on west Ottawa. In his time in Real Estate, Oswald has been honoured with the Red Diamond Award for being in the top two per cent of sales nationally) as well as regularly being the Number 1 top sales producer for the Kanata Office. You can contact Andy Oswald today at team@westottawarealestate.ca or call 613-690-5993 to begin the conversation.