MVCA says flooding possible in WC Easter Weekend
Special to WC Online
WEST CARLETON – The Mississippi Valley Conservation Authority (MVCA) says flooding along the Ottawa River this weekend (April 15-19) is possible.
"A Flood Outlook Statement is being issued for areas along the lower Ottawa River, Arnprior to Hawkesbury," RVCA water engineering manager Brian Stratton released in a statement today (April 14). "Based on forecasted precipitation and anticipated snow melt, levels and flows along the Ottawa River are expected to increase over the next few days as a result of the onset of the spring freshet in the Ottawa River basin."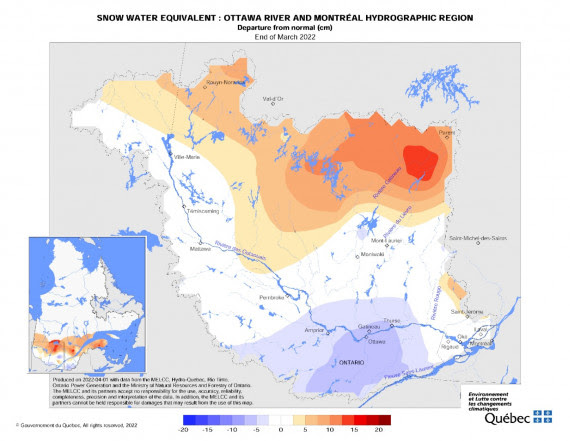 Snow cover varies significantly across the 146,300 km2 Ottawa River basin, with most southern areas having no snow cover at all. A large portion of snow cover in the northern regions had near-average water content at the end of March.
"Based on current weather forecasts, minor flooding may occur in low-lying areas generally susceptible to flooding along the lower Ottawa River starting this weekend," Stratton said. "Levels are not expected to exceed the peak levels observed in 2020, and little to no impact to houses and buildings is expected. Water levels are currently expected to remain below major flood thresholds in all locations."
While there are currently no flooding indicators of concern, it is still too early to forecast peak river conditions which remain dependent on rainfall amounts received and snowmelt.
Residents in flood-prone areas are encouraged to closely follow changing conditions and to take necessary measures. Residents are advised to stay away from watercourses where flows are high and where banks might be unstable. Parents are encouraged to explain dangers to children.
The Mississippi Valley, Rideau Valley, and South Nation conservation authorities monitor water levels and weather forecasts with the Ministry of Northern Development, Mines, Natural Resources and Forestry as part of the Flood Forecasting and Warning Program. Updates are provided as conditions change.
The Ottawa River Regulating Committee will be reassessing forecast conditions and
providing hydrological condition updates on its website daily at www.ottawariver.ca/forecasts/.
To view current flood warnings across Ontario, visit: www.ontario.ca/law-and-safety/flood-forecasting-and-warning-program.