Meals to Wheels already C Bay tradition
By Jake Davies - West Carleton Online
CONSTANCE BAY – The West Carleton Royal Canadian Legion's Meals to Wheels dinner night is a well-oiled machine that has become a community tradition in only a few short months.
Even the line-up has a tradition, with West Carleton legends, Dunrobin's Adele and Leo Muldoon regularly being the first car to kick off the bi-monthly tradition.
"They're always first in line," Branch 616 Sergeant-at-Arms Rob Gallant told West Carleton Online from the branch parking lot last Friday (April 2). "We're getting so many positive comments on how much they like it. Not getting out of their car. It couldn't be safer. We're a well-greased machine."
When the pandemic hit and regulations and COVID-19-safe policies were enacted, updated, changed, re-arranged and re-named, it hit Branch 616 hard. The branch creates a lot of its revenue just by hosting people at its popular public house. Not just members, but the entire community. The branch's popular darts night is the Legion's biggest source of revenue.
The revenue Branch 616 brings in doesn't just go to upkeep and maintenance. A lot of it goes right back in to the community. Anyone who needed temporary and/or immediate help during either the 2017 and 2019 floods or the 2018 tornado knows firsthand how the Legion contributes.
The challenges the Royal Canadian Legions across the country faced due to the pandemic has been national news.
Last fall, Branch 616 caught on to something that has taken the West Carleton community by storm – it's incredibly popular Meals to Wheels program where about 10 to 20 volunteers cook an incredible meal roughly every second Friday (the day sometimes change to suit special occasions and holidays). Branch 616 has sold out every single meal.
On Good Friday, the meal was Vic's Fish and Chips. It came with coleslaw and cheesecake for dessert and it was delicious.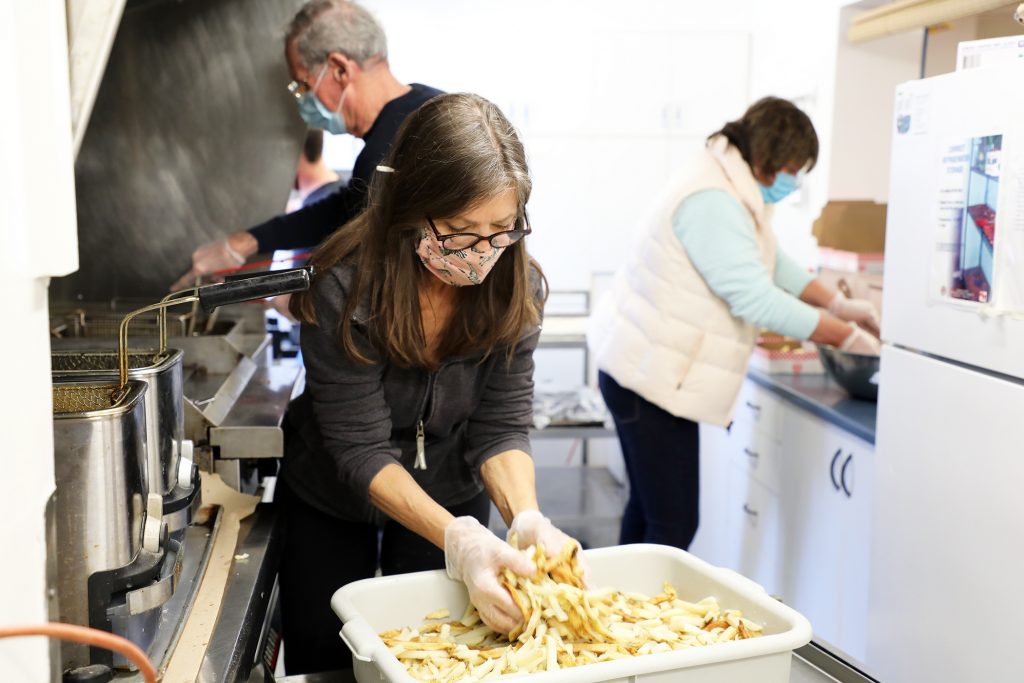 "It's been such great support," Legion bartender Denise Lyttle, who is credited with a lot of the Meals to Wheels coordinating and 'behind the scenes work,' said. "Tonight, we capped it at 150, but we could easily have done more. You could say the same for any of the nights."
Along with non-holiday dinners, the Meals to Wheels program has served a Thanksgiving dinner, Chinese food on New Year's (which brought in a record 250 dinners), the Good Friday diner and they will "probably do a Mother's Day dinner too."
"It's just kind of snowballed," Gallant said. "It's a monster we've create here. We've sold out every time. It's a good monster."
And it's a lot of work. It's not just dinner night volunteers are needed.
"We call it the Legion of Volunteers," Gallant said.
The team spends usually the two days prior to Meals to Wheels night prepping food. They want it fresh and they want to make sure diners get their meals in the cars right out of the oven. Volunteers like Lyttle and Gallant work on promotion, collecting orders in the lead-up (all meals must be ordered in advance) and then ordering the food the volunteers will need to cook.
"It's a lot of volunteer hours," Branch 616 member and volunteer Colin Burrill said. "On New Year's we had an assembly line that night. You're hanging out with friends and we have a good time. It's a fun night."
Following the pick-up, Burrill will take about six to seven meals and deliver them to seniors in the community.
"It's a lot of fun," he said.
Even putting the menu together is fun.
"We have a few beers, and someone will say do you want to try this?" Burrill said. "That's really how we decide."
And there are not too many chefs spoiling the broth.
"Tonight, we have five of our cooks, all with their own specialty and there is no one asking them to come, they just show up," Gallant said. "Each and every week we're learning. We just say, why can't we do this? Ideas are coming from everyone and it's working really well."
And they're pretty sure the lockdown is helping.
"People are just excited to have something to do," Gallant said.
On Good Friday, cooking a meal like fish and chips takes timing. Fries don't travel well, and volunteers want to make sure the meals go from the fryer to the plate to the car as efficiently as possible. So, the branch held two 'seatings.' Despite those efficiencies, the popular event's line up of cars circles the parking lot and heads down Allbrich Road with people from all over West Carleton and as far away as Kanata, Almonte and Arnprior.
Woodlawn's Nicole Bijkerk is one of those waiting for her Good Friday dinner.
"I don't think we've missed any of them," she told West Carleton Online. "They're good to go. They're really great."
The next Meals to Wheels will be held Friday, April 16 and feature Anita's Pork Snitzel Spaetzle, sauerkraut, red cabbage, bread and dessert for $15.
On Friday, April 30 the meal will be ribs, roasted potatoes, coleslaw and dessert for $15. To order you can call or text Rob at 613-859-4250 or Anita at 613-724-3551.