McCrimmon: Standing together
The MP's Report
Standing Together
We learned of a horrific and heartbreaking act of terrorism in London, Ontario on June 6th. On June 8th, I was proud to stand with members of the local Muslim community, and with people from across Ottawa, as we honoured and remembered the victims of this horrific act. We must always challenge hate and intolerance and stand up to Islamophopia and bigotry in all its forms. We can only overcome the darkness by standing together shoulder to shoulder; committed to a life, a country and a world free of violence and hate.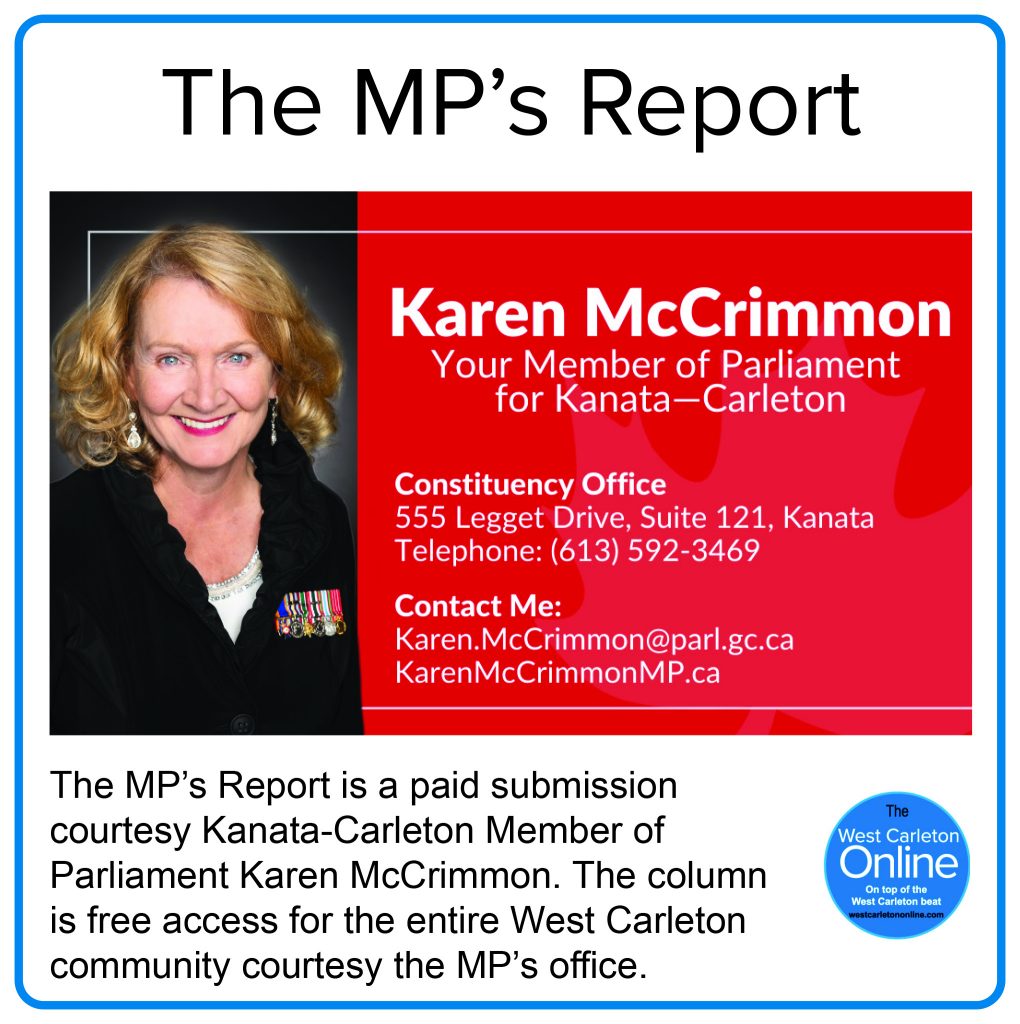 Kamloops, British Columbia
The devastating discovery of the remains of 215 children on the grounds of the former Kamloops Indian Residential School, is a reminder of a dark and painful chapter in our country's history. I believe in the existence of inter-generational trauma. We must remain steadfastly committed to supporting Survivors, their families and communities through their healing journeys which will be long and painful. We must learn from our mistakes and work together to build a better Canada for everyone.
COVID -19 Vaccinations
Pfizer has confirmed that Canada will continue to receive over 2 million doses every week through end of August! In June alone Canada will receive 19 million doses. We have what we need to get this done. After a thorough, independent review, the National Advisory Committee on Immunization has found mRNA vaccines (Pfizer & Moderna) to be safe for use as a second dose for those that received their first shot with the AstraZeneca vaccine. In fact, some research is suggesting that the combination of AstraZeneca followed by an mRNA vaccine like Pfizer or Moderna could provide a superior immune response. More research is needed but the preliminary reviews are extremely positive.
Get vaccinated when it's your turn to save lives and stop the spread.
Pride
June marks the start of Pride Season, a time to celebrate the resiliency and spirit of LGBTQ2 individuals and communities in Canada and across the world. Although Pride celebrations will look different this year due to the ongoing pandemic, Pride Season remains an important time as a celebration of strength and solidarity, and a call to action for the work that remains to advance LGBTQ2 rights around the world.
It's Okay to Not Be Ok
Canadians can access the confidential and free Wellness Together Canada online tool for support.
For immediate help, text WELLNESS to 741741 or visit wellnesstogether.ca
Proud To Serve You
It is such an honour and privilege to continue to serve as your Member of Parliament and I look forward to meeting and working with you all. Please feel free to contact our by email at Karen.McCrimmon@parl.gc.ca. Please follow me on Facebook at www.facebook.com/karenmccrimmon.ca/
Contact me at 613-592-3469
Follow me on Twitter @karenmccrimmon
Website:KarenMcCrimmonMP.ca