March 4 COVID-19 update: Ottawa numbers surge, vaccination guideline changes, Carleton Place pop-up clinic for pub visitors, Ontario stretches intervals
Special to WC Online
OTTAWA – Ottawa Public Health (OPH) reports 80 new cases of COVID-19 are confirmed today (March 4), and another resident has died due to the coronavirus.
There have now been 442 deaths linked to COVID-19 in Ottawa.
OPH says there are 517 active cases in the city, with 27 people in hospital after contracting the illness. Four local COVID-19 patients are in intensive care.
According to OPH's dashboard, 24 healthcare institutions are dealing with COVID-19 outbreaks, as well as four schools and two childcare centres. Health officials are also tracking community outbreaks stemming from one multi-unit dwelling, a community organization and a pair of workplaces.
It's been a week (Feb.25) since Ottawa's last shipment of new COVID-19 vaccine doses. To date, the city has received 61,820 doses of either the Pfizer-BioNTech or Moderna vaccine and has administered 54,345 vaccinations.
Residents being tested for COVID-19 in Ottawa are seeing positive results 2.1 per cent of the time.
There have been 14,950 lab-confirmed cases of COVID-19 in the city since March of 2020, of which 13,991 have been resolved.
Ontario is reporting 994 new cases of COVID-19 today, including nine in the Eastern Ontario Health Unit's region, 10 in the Leeds, Grenville and Lanark district, and two in Renfrew County.
Ottawa Public Health's chief medical officer of health, Dr. Vera Etches, released a statement yesterday evening (March 3), which stated while Ottawa currently remains in the orange-restrict zone, rates are no longer decreasing and the city is headed to "red category thresholds."
"The wastewater signal in particular has been increasing for over a week, suggesting more people are shedding the virus, perhaps unknowingly posing a risk of transmission to others," Etches said. "The number of people positive for COVID-19 who have been confirmed by genetic sequencing to have a variant of concern remains at 10. However, the numbers that have screened positive for an initial genetic indicator of a variant of concern has increased over the month to 73 now."
These screened positives, she explained, are likely to be confirmed as variants of concern when the genetic sequencing is completed, which could give a total as high as 83 people with variants of concern.
This news prompted a statement from Mayor Jim Watson.
"We are seeing some worrying indicators that cases are rising too quickly," he said. "I know this has been an exhausting 12 months to say the least. We're in the third period with the vaccine in sight, let's close this out successfully and not let the virus send us to overtime."
Every resident — including those who have been vaccinated — need to keep up with measures to stop transmission, Dr. Etches said.
The news comes after the city announced it was working on vaccinating residents in congregate care settings serving seniors like hospices and those in shelters.
With all shelters having now experienced a COVID-19 outbreak and one-quarter of the clients, about 220, having tested positive for the virus since mid-January, the city said an estimated 860 shelter clients will be vaccinated starting this week.
Ottawa had previously ended its red zone status and entered into the orange zone on Feb. 16 when the province lifted the lockdown.
Change in vaccine guidelines could speed up process
CANADA – The target date for completing immunizations in Canada could arrive early thanks to a change in vaccine guidelines and a potential fourth vaccine on the way.
Prime Minister Justin Trudeau has remained steadfast that all Canadians who want a COVID-19 vaccine will be able to get one by the fall. But with extended intervals between the first and second doses, the National Advisory Committee on Immunization (NACI) projects 80 per cent of Canadians over the age of 16 could receive a first dose of the Pfizer or Moderna shot by the end of June.
On Wednesday, Trudeau acknowledged changes in public health guidance regarding the timing of second doses would likely speed up the vaccine rollout and move up the target.
Additionally, Trudeau says the timeline set by the federal government didn't factor in the newly approved AstraZeneca shot, or the Johnson & Johnson shot that could be approved in the coming weeks.
NACI said yesterday (March 3) provinces can now wait up to four months before giving the second doses of COVID-19 vaccines. That is up from the three-week maximum first suggested when vaccines from Pfizer and Moderna were first approved.
The federal body is recommending "in the context of limited COVID-19 vaccine supply" the number of individuals benefiting from the first dose should be maximized.
What this means for Ontario's vaccine rollout remains unclear, but sources suggest the Ford government could provide a list of who will get vaccinated sooner by the end of the week.
"This will allow Ontario to rapidly accelerate its vaccine rollout and get as many vaccines into arms as quickly as possible and, in doing so, provide more protection to more people," said a spokesperson from Ontario's minister of health.
Timeline could move up even more if the single-dose Johnson & Johnson vaccine gets approved.
Health Canada officials say the decision on the Johnson & Johnson vaccine could come in the next few weeks after the U.S. Food and Drug Administration (FDA) recently approved the shot.
All three currently approved vaccines are 100 per cent effective against death and hospitalization as a result of COVID-19, but clinical trials suggested mRNA vaccines (Pfizer and Moderna) were more effective at preventing COVID-19 infections. NACI is not recommending the AstraZeneca shot for residents over 65.
Solicitor General Sylvia Jones was asked who in Ontario will receive the new AstraZeneca vaccine that has a shelf life of less than a month. Jones said she's not ready to release the details yet, but said it will go to those aged 60 to 64, and suggested it would be pharmacists administering it.
Carleton Place opens pop-up testing centre following pub spread
CARLETON PLACE – A pop-up COVID-19 testing centre is being set up at the Carleton Place Arena for anyone who attended the Thirsty Moose Pub and Eatery in late February.
Patrons who were at the pub on Feb. 21, 23, 25, and 26, between 4 p.m. and 10 p.m., are being asked by the Leeds, Grenville and Lanark District Health Unit to get tested for the virus.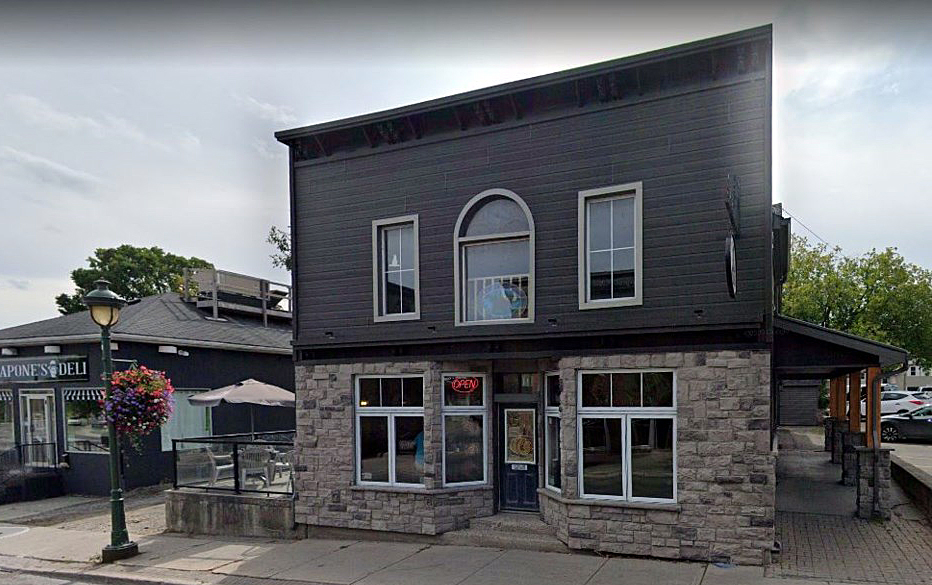 A COVID-19 outbreak in east Lanark County that started at a social gathering has now resulted in 20 people testing positive for the virus.
The Thirsty Moose Pub and Eatery in Carleton Place was not the root cause of the outbreak and was not closed by the health unit, but a statement on the pub's Facebook page said they are closed until further notice.
The testing centre at the Carleton Place Arena is open for Moose patrons on Friday, between 10:30 a.m. and 12:30 p.m.
Mayor Doug Black released a statement yesterday (March 3) on the spike of COVID-19 cases in the Carleton Place community as well as the news of a coronavirus variant being found in the Lanark County town.
"With the recent release of information from the Health Unit regarding the outbreak in our area, as well as a positive case of a variant of concern in our region, I can understand why anxiety levels in the general community are high right now," he said. "We have been relatively fortunate in our area until recently with case numbers being low in comparison to other regions and this sense of security can contribute to a rise in numbers when people start letting their guard down."
Black said residents must continue to be vigilant.
"I know fatigue is setting in regarding following public health measures and that many of us miss social interactions with friends and family," he said. "However, I cannot stress enough it is critical residents continue to follow public health measures as outlined by the health unit."
Black said one thing that can help with fatigue, is respecting privacy.
"Receiving a positive diagnosis is a significantly stressful situation," he said. "Respecting privacy and refraining from gossiping about suspected cases is of the utmost importance during this difficult time. Not only is it demonstrating compassion towards those who are navigating their way through a stressful and scary situation, but it limits the spread of misinformation and unnecessary fear in the community. Please know that it's ok to not feel ok. If you or someone you know would benefit from speaking with someone, Lanark County Mental Health has a Pandemic Health Line that you can call at 1-833-283-9979. They are available to offer support without shame or judgement."
Ontario stretches interval between vaccine shots
ONTARIO – Ontario will extend the interval between doses of COVID-19 vaccines to up to four months after a national panel recommended doing so, paving the way for an acceleration of the province's immunization effort.
A spokeswoman for Health Minister Christine Elliott said the province welcomed the updated guidance from the National Advisory Committee on Immunization (NACI) released yesterday (March 3) afternoon.
The recommendation came two days after Ontario sought advice on dosing intervals in an effort to speed up its rollout, which has been criticized for being slow.
"This will allow Ontario to rapidly accelerate its vaccine rollout and get as many vaccines in to arms as quickly as possible and, in doing so, provide more protection to more people," Alexandra Hilkene released in a statement.
The province said it will soon share details on an updated vaccine plan that accounts for the new dosing recommendation as well as expected supply of the recently approved Oxford-AstraZeneca shots.
Earlier yesterday, Ontario said it plans to administer the Oxford-AstraZeneca vaccine to residents aged 60 to 64.
Solicitor General Sylvia Jones said the targeted use of the vaccine will help cut illness and death across Ontario.
"We know that from age 60 and up there are, unfortunately, more hospitalizations when someone gets COVID," she said. "By focusing in on those parts of our population that are more vulnerable, what we ended up actually doing is tamping down and curbing transmission."
Jones said the Oxford-AstraZeneca shot will not be administered through mass immunization clinics but through a "different pathway," although she did not elaborate on what that would be.
Ontario said earlier this week it was following the advice of the national vaccine panel that recommended against using the Oxford-AstraZeneca shot on people aged 65 and older due to limited data on its effectiveness in seniors.
Jones also said the government has signed an agreement with the province's pharmacists' association to have COVID-19 shots administered in pharmacies in the coming months.
Ontario has so far focused on vaccinating the highest-priority groups, including long-term care residents and certain health-care workers.
The province said it aims to start vaccinating residents aged 80 and older starting the third week of March, though the timeline is subject to change.
Some public health units however, have moved ahead with vaccinations for the general population, starting with people aged 80 and older.
Those units are taking bookings for immunizations through their own web or phone systems as a provincial portal remains under development.
Ontario has administered a total of 754,419 doses of a COVID-19 vaccine so far.
Meanwhile, Ontario is expected to determine later this week if a number of COVID-19 hot spot regions will move back to its pandemic restrictions' framework. Toronto, Peel and North Bay remain under strict stay-at-home orders that are set to expire Monday.