MacGowan's a Christmas tree tradition
By Jake Davies - West Carleton Online
GALETTA – It's becoming one of the Ottawa Valley's newest Christmas traditions but growing the perfect Christmas tree is years in the making.
MacGowan's Christmas Tree Farm, just outside of Galetta (4611 Mohrs Rd.) was a project Mark and Marsha MacGowan started in 2005 after purchasing roughly 75 acres along the Mississippi River. Actually, the project started before that on another farm on Farmview, but those trees didn't quite work out.
"One of the biggest reasons we moved here was access to water," the part-time Christmas tree farmers told West Carleton Online from their farm last Friday (Nov. 26). "We wanted the rural experience. We liked tractors, but we didn't want animals."
The MacGowans grow Christmas trees on about 45 acres of land leasing the other 30 out for crop farmers.
Each year they plant roughly 3,000 white spruce, balsam fir and Fraser firs trees – a total of around 45,000 trees so far.
While the MacGowans started at their current location in 2005, they didn't sell a Christmas tree until 2012, when that first crop finally reached roughly six feet (two metres).
"In 2012 we kind of had our first tree that looked like a Christmas tree," Mark said. "It's quite an industry, quite an experience."
The MacGowans plant their trees at roughly four to five-years-old.
"And then you have to grow it for six to eight years," Marsha said. "The decision to pull a tree is made 10 years in advance."
All the while, not earning a cent, battling issues like disease, pests or the weather itself.
"Every year there's a new challenge," Mark said. "We're in management, so we're used to being in control. But out here, Mother Nature is in control. And you wait and you hope Mother Nature cooperates."
And it's not just growing. The MacGowans usually bring on three to four summer students to help shape the trees in to the perfect holiday dimensions.
"It takes a lot of work to get that Christmas tree shape," Mark said.
But then the holiday season arrives, and the fun part of the business begins. The MacGowan Christmas Tree Farm is open weekends (8 a.m. to 5 p.m.) only and this season opened for the first time on Nov. 20.
"It's just a blast," Marsha said. "It's Christmas. Everyone is in a good mood. It's an experience for the family. We always have a fire going."
If the ground is frozen enough, the MacGowans offer wagon rides around the property and that is expected to happen this year. There's hot chocolate and treats, and it's all included in the price of the tree – of which there are only two different prices. One for trees under 10 feet and a price for those over 10 feet.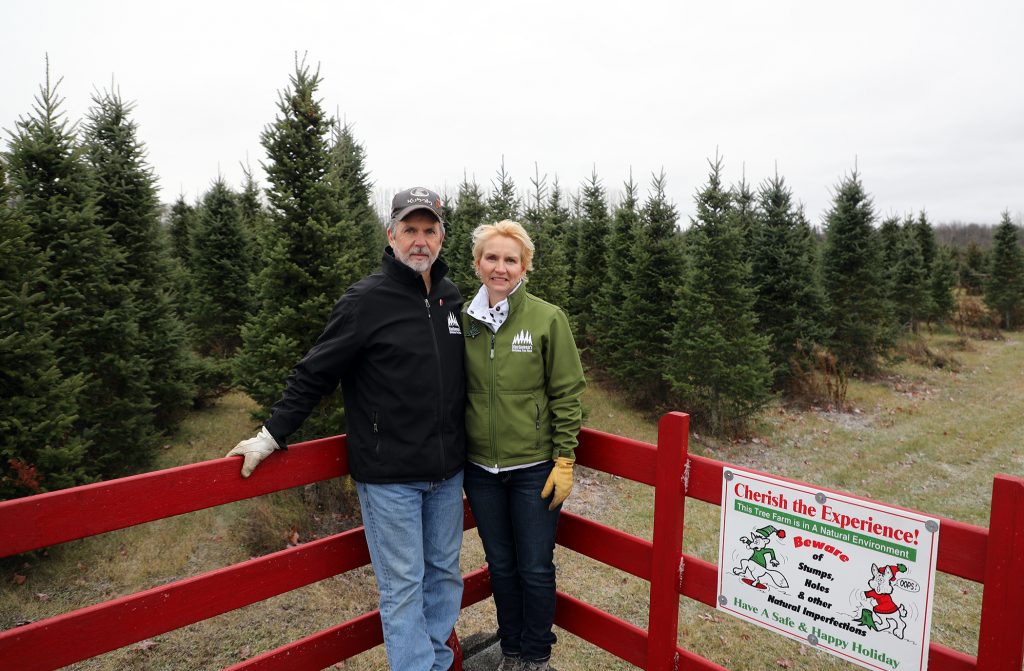 "I think we're very reasonably priced," Marsha said.
The MacGowans are very active in the industry and there is even a Christmas tree organization to support those in the business – the Christmas Tree Farmers of Ontario (CTFO).
"It's been interesting through COVID-19," Mark said. "Not every farmer is an expert in everything, growing, marketing, sales, pest and disease control. The CTFO helps us share our expertise with the entire industry. The industry is alive and well. With COVID, we notice our sales going up. I think many took that opportunity to come out as a family. We sell an experience. The young kids come, and they keep coming, and it becomes a tradition."
"We've seen kids grow up here," Marsha said. "People have established traditions. They don't want anything different; they want to come here and renew their tradition."
The MacGowan Christmas Tree Farm also offers homemade wreaths made from the farm's own Fraser firs as well as some specialty Christmas tree ornaments made in Germany.
For more information on the MacGowan Christmas Tree Farm including prices, visit their website here.