Letter: Flood relief a bonding experience
Letter to the Editor
To the Editor,
Some people don't set out to make a difference but that is what one family did in a very meaningful way.
John and Debbie Holtom, owners of Top Hat Home Comfort Services, started hosting one of our community's very hard-working Mennonite groups for lunches. Christian Aid Ministries (CAM) started working in our area yet again to not only help save homes, but now that the water is receding and damage has been estimated, they are also doing sandbag removal as well as debris and destroyed or damaged household item removal.
John sent me a message one day saying he had fed the guys BBQ hamburgers and they can 'just come back every day for lunch.' I was shocked and inspired. This group ranged from two to eight to four at any given time, but it didn't matter, they had it covered. Today (Saturday, June 1) just so happened to be well over 20 onsite. Again, no one went hungry.
The whole Holtom family has been involved in the flood relief efforts from the start, including coffee delivery daily by Taylor Holtom, soup and subs from Debbie and Donna, baked goods etc. to the food tent at the base of Greenland on Armitage. This all while they were dealing with major flooding in their own homes or property.
Each day the CAM group was happily met by 'Dixie' the flood relief pup. They washed up, said grace, enjoyed a delicious meal together and spent time getting to know one another in between the hectic schedule of pump watching and anything else required of them, literally around the clock.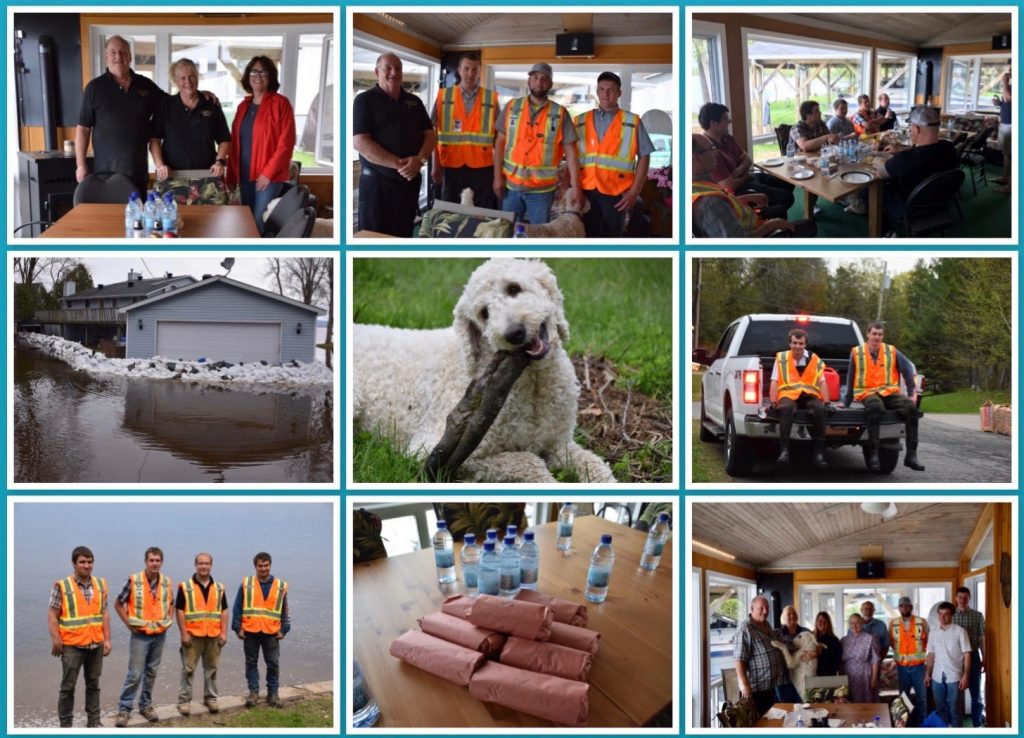 Once the food/rehabilitation tent closed up at Armitage where they recognized the huge need for help was, and focused on; concern for these hard working individuals became a priority. Adding in the fact this group leaves their jobs and families to set out working to help save our homes on their own dime; it just seemed right to set something up. There is a massive cost associated with travel, accommodation and meals to be here and they have asked nothing of us in return. We have had workers in from Alberta, Winnipeg and all across Ontario. That all adds up quickly.
I had a feeling it wouldn't be difficult to ask the public for help. They didn't disappoint!! In true Ottawa style, we've had everything from several offers at 'Bambu' restaurant on Riverside from the owner Jenny Lu, to invites into West Carleton homes that showed us just how small this world really is. Thank you to the King family for a special night for everyone. One woman, Manon Brochu, donated $100 cash to the men to offset costs for breakfasts etc. even though her property was completely flooded and she's been living on her own island. Manon is still wearing boots just to get in her front door but she wanted to help regardless.
A delicious dinner out at the 'Mandarin' with the MacLennan family and 'My Thai Kitchen' in Kanata has also hosted the group. The connections made and discovered are fantastic. We have had several ladies from Barrhaven area pick up or prepare and deliver delicious meals including cash donations. Thank you to LA Schmidt, Julie Steele and Linda Howie for all you've done and are continuing to do. Carol Asmis came by today with freshly baked banana bread, sandwiches along with other goodies in addition to John's famous BBQ burgers. It's never ending and heart-warming. Nothing short of incredible with many more stories to match these.
A huge heartfelt thank you to the Holtom family and to every person or business that donated to our Armitage Army site as well as to our long term, hard-working CAM crew. We have all made some wonderful new friends through these mealtime interactions, hopefully taking away the stress of the situation everyone is facing, even if just for a few moments.
Anyone wanting to donate a snack/meal for the group, host them in your home or restaurant then please reach out. They are truly a great group and expected to be in town another few weeks.
Thank you in advance.
1-780-404-4848 by phone or shelleysemailaddress@gmail.com

If you are in the market for Home Comfort then call Justin or Sean at 613-722-1226 or visit them on the web at tophatcomfort.com
Alternatively, if you are interested in learning more about the Christian Aid Ministries organization and all they do, then please check out the 40-plus programs that help with needs around the world. One we are all too familiar with being Disaster Response Services. They are always accepting donations and support. Many ways we can give back. christianaidministries.org
Shelley Welsh,
Marathon Village