Legion: Legion Week returns
By Arleen Morrow for West Carleton Online
CONSTANCE BAY – The West Carleton Royal Canadian Legion, Branch 616 is preparing for the triumphant return of Legion Week, kicking off Sunday, Sept. 19.
Branch 616 has embarked on the fall program and is pleased to announce COVID-19 protocols have relaxed enough to allow some back-to-normal activities.
Guests representing the Veterans of the Perley/Rideau Health Centre and the Centurion Sea Cadets were invited to the Branch for the presentation of our annual donations.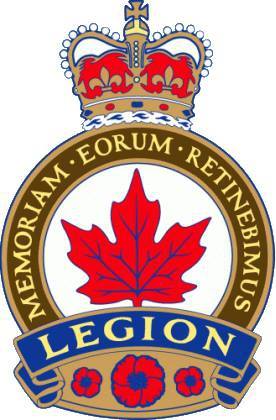 Executive Director Delphine Hasle and Development Officer Courtney Rock accepted our donation of $5,000 for the Perley/Rideau. Centurion Representative Jessica Notman received $1,500 for the Sea Cadets.
Last year, due to Covid19, The Perley/Rideau Centre was unable to hold the annual appreciation tour and luncheon for Legions. This year they will go ahead with it. Branch 616 has received the invitation to attend on Monday, Oct. 4. Reps will attend.
The 2022 Earlybird Membership Campaign is underway. Submit your 2022 dues in the next three months and you will get a discount plus your name in a draw for the money back. A lucky winner is drawn for each of the three months. On Dec.1 the campaign is over and the fee reverts to normal.
We ask you to please submit by Dec.31 to remain in good standing.
The Annual Alfie Currie Golf Tournament will be on Saturday September 25 as a fitting wind-up to Legion Week which starts on Sunday September 19. Ladies and Men's Dart Leagues will start up again: play is open to everyone during Legion Week. There is no activities scheduled for Monday, Sept. 20 due to the Federal Election.
The Community Picnic held at the Northwind Centre on August 14 was well attended by 250 patrons. Thank you to their executive and volunteers for a successful outing for the community.
Last Post: The Wurzler family thanks the many friends who attended the Celebration of Life held in honour of the late great Stephanie on Sunday, Aug. 22. The family of Comrade Bill Morrow will be honouring him on Sunday, Sept. 12. Everyone welcome, Covid19 rules applying.
Legion Week schedule
Sunday, Sept. 19: Honours and Awards, 3 p.m. Buffet to follow.
Monday, Sept. 20: Federal Election
Tuesday, Sept. 21: Ladies Open Darts 7:30 p.m.
Wednesday, Sept. 22: Branch closed.
Thursday, Sept. 23: Men's Open Darts 7:30 p.m.
Friday, Sept. 24: TGIF Meals to Wheels Dinner – perogies – 5:30 p.m. to 6:30 p.m. also Jim's Trivia 7 p.m.
Saturday, Sept. 25: Alf Currie Open Golf Tournament. Pre-registration only:
Registration deadline is Sept. 17. Forms at the branch. $80 per person. Includes golf, cart and meal. Members and non-members. Four-person best ball and back to the Legion for a great meal.
Coming up
Friday, Sept. 10: Meals to Wheels TGIF Dinner: Kabobs! BBQ Beef Kabobs, potatoes, veggies, dessert, $15.
Saturday, Sept. 18: Mixed Darts. Registration 11:00 am, play at 11:30 am. Blind draw doubles (1 man, 1 woman). Open to all 19 years of age and up. Call Jim Wilson at 613-832-3222 for more info if needed.
Sunday Sept. 19 to Saturday September 25, Legion Week. See attached schedule
Monday, Sept. 20: Booked for Federal Election
Friday, Sept. 24: Meals to Wheels TGIF Dinner: Bogies Perogies! Assorted Perogies, Sausage, Potato
Salad, Dessert, $15
Saturday, Sept. 25: Legion Annual Alf Currie Golf Tourney. Edgewood Links.
Friday, Oct. 8: Meals to Wheels, Thanksgiving Dinner by Harriet! Turkey dinner with all the trimmings: Roast turkey, gravy, dressing, potatoes, veggies, dessert, $20.
Friday, Oct.22: Meals to Wheels Dinner TBA
All Regular Meals to Wheels TGIF dinners are $15. Pick-up (vehicle only) is 5:30 p.m. to 6:30 p.m.
To order your dinner please call Rob at 613-859-4250, or Denise at 613-206-0513.
Cut-off day to order is the Tuesday prior. Please call the above numbers or check the Branch 616 Facebook page for availability: some meals sell out before the cutoff day. Thank you for supporting your Legion.
Next Branch meeting – Executive Monday, September 27, 6:30 p.m.